The Best Albums Of 2019.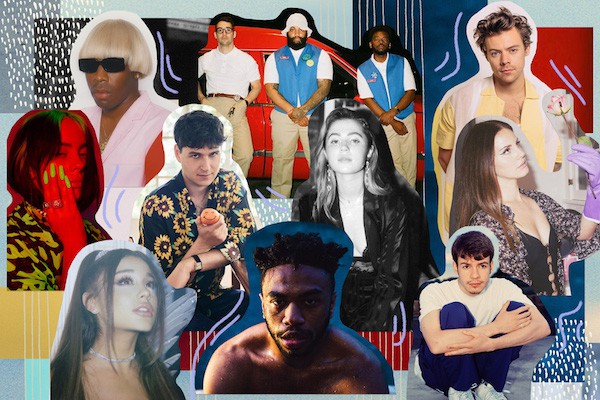 Christmas is next week and you probably don't have time to read lots of words, so here's a concise list of 2019's Best Albums as decided by us (and a lot of arguing and joint mathematics), which includes a key track for your listening pleasure (and the rather unsurprising realisation that Jack Antonoff is maybe the real winner of this year's albums list).
P.S. We also highly recommend Orville Peck's 'Pony' album (the other good 'Pony' album of 2019) and Electric Guest's album 'KIN'.
#10. 'THANK U, NEXT' - ARIANA GRANDE
BECAUSE: Ariana Grande changed history with her iconic song 'thank u, next', an ode to boyfriends of her past - and the accompanying album includes equally as powerful songs, like her ode to friendship in '7 rings' (which was co-written with some of her closest friends Victoria Monét, Tayla Parx, and more). Plus, who else has shouted out a Fenty Beauty kit in a song ('make up') in 2019?
KEY TRACKS: 'needy', 'NASA', 'fake smile', 'make up', 'thank u, next'.
#9. 'PONY' - REX ORANGE COUNTY
BECAUSE: Self-declared "walking emotion" Rex Orange County broke out with 2017's 'Apricot Princess' album and features on Tyler, The Creator's 'Flower Boy', but it's on 'Pony' that he really shines - tackling hard feelings and thoughts, his coming-of-age, and the difficulty of trying to remain the same person at heart in the face of infinite music industry complications.
KEY TRACKS: 'Never Had The Balls', 'It's Not The Same Anymore', 'Always', 'Face To Face'.
#8. 'ARIZONA BABY' - KEVIN ABSTRACT
BECAUSE: The follow-up to Brockhampton frontman Kevin Abstract's last solo album 'American Boyfriend: A Suburban Love Story' from 2016 saw him team up with Jack Antonoff on producing duties - in what makes an excellent, concise, and boundary-pushing rap album. Abstract tackles his issues with fame, growing up, queerness, and more.
KEY TRACKS: 'Peach', 'Corpus Christi', 'Crumble', 'Baby Boy', 'Georgia'.
#7. 'IGOR' - TYLER, THE CREATOR
BECAUSE: In the opening theme for the album, Tyler, The Creator establishes the musical and lyrical motifs for the album to follow in 'IGOR'. A complicated love triangle is played out throughout the album, with the addition of the Igor character adding depth, and a great two-tone suit and bowl cut wig as showcased in the 'What's Good' music video). It was always going to be hard to follow the much-beloved 'Flower Boy' album from 2017, but with 'IGOR', Tyler, The Creator manages to create something equally as important to the world of hip-hop, and the world of music.
KEY TRACKS: 'EARFQUAKE', 'I THINK', 'A BOY IS A GUN*', 'ARE WE STILL FRIENDS?'.
#6. 'RED HEARSE' - RED HEARSE
BECAUSE: Who knew that a secret super collective of musical extraordinaire Jack Antonoff, singer-songwriter Sam Dew, and TDE producer Sounwave would deliver us our dream album that we've always wanted, but just didn't know? The trio's self-titled debut is the perfect amalgamation of their respective talents, and together, they're unstoppable - every song on this album will get stuck in your head.
KEY TRACKS: 'Half Love', 'Red Hearse', 'You Make It Easy', 'Born To Bleed'.
#5. 'FINE LINE' - HARRY STYLES
BECAUSE: Free from the expectations and pre-judgements of his 2017 self-titled debut (and first post-One Direction album), Harry Styles continues to be a poster boy for wearing your heart on your sleeve. Perhaps the cure for toxic masculinity, Styles is sometimes whimsical and self-indulgent on 'Fine Line', but always heartfelt and charming.
KEY TRACKS: 'Adore You', 'Sunflower, Vol 6.', 'Golden', 'Canyon Moon', 'Fine Line'.
#4. 'WHEN WE ALL FALL ASLEEP, WHERE DO WE GO?' - BILLIE EILISH
BECAUSE: Billie Eilish single-handedly conquered 2019, with her debut album 'When We All Fall Asleep, Where Do We Go?', which has not only been certified multiple-times-platinum in most places in the world (and has notably been streamed over 3.5 billion times worldwide), and led to six Grammy nominations for Eilish - but the album itself is an ode to her and her brother Finneas' ability to create a body of work that reflects Eilish's vision entirely. The album was written, produced, and recorded entirely in their Highland Park childhood home, and feels like Eilish inviting you into her brain, from the triumphant 'bad guy', the declarative 'you should see me in a crown', to the completely heartfelt songs like 'i love you'.
KEY TRACKS: 'xanny', '8', 'my strange addiction', 'i love you'.
#3. 'NORMAN FUCKING ROCKWELL!' - LANA DEL REY
BECAUSE: Where her 2017 'Lust For Life' album saw features from The Weeknd to A$AP Rocky to Stevie Nicks to Sean Lennon, 'Norman Fucking Rockwell!' showcases Del Rey's vocals and immense songwriting talents front and centre; this time with no features at all. Armed with Jack Antonoff as her producer, who added lush strings and atmosphere to each of the 14 songs, Del Rey reflects upon love, the destruction of our planet ("L.A. is in flames, it's getting hot," she sings on 'The Greatest'), and life itself.
KEY TRACKS: 'Norman fucking Rockwell', 'How to disappear', 'The greatest', 'Venice Bitch', 'Love song'.
#2. 'IMMUNITY' - CLAIRO
BECAUSE: During metamorphosis, caterpillars fully digest themselves and release enzymes to dissolve their insides, undergoing a complete bodily transformation before emerging as a butterfly. Not too dissimilar, has been Claire Cottrill's own journey from the cozy cocoon of bedroom pop, into spreading her wings with debut album 'Immunity' -  an eleven-track record that plays out like a late-night call with your best friend ("You can't listen to this album and not understand that there's an end to all things bad," she told us earlier this year), and adeptly aces that rarest of musical feats; that the album resonates more and more powerfully with every successive listen.
KEY TRACKS: 'Alewife', 'Softly', 'North', 'Sofia', 'Feel Something', 'I Wouldn't Ask You'.
#1. 'FATHER OF THE BRIDE' - VAMPIRE WEEKEND
BECAUSE: The first new Vampire Weekend album in six years was always going to be a special occasion, but with 'Father Of The Bride', frontman Ezra Koenig more than proved, yet again, why he is one of the most important musicians of his generation. On this double album, with cohort/co-producer Ariel Rechtshaid, Koenig is still on a never-ending quest to find meaning in life ("What's the point of human beings? / A Sharpie face on tangerines / Why's it felt like Halloween since Christmas 2017?" he deadpans in 'How Long?', still as humorous as ever), but also delves into themes of ecology and environmentalism. There's something for everyone on this 58 minute opus - from three duets with Danielle Haim and harmonies weaved entirely all throughout, to a pair of winsome Steve Lacy-featuring "sibling" songs, and the more classic cut 'Bambina' for those hesitating to dive headfirst into previously uncharted waters.
KEY TRACKS: 'How Long?', 'This Life', 'Stranger', 'Flower Moon' feat. Steve Lacy, 'Harmony Hall', 'Bambina'.
Or if you prefer to listen to all ten albums one after the other all together in one handy playlist:
Load next