Coup De Main x NZ On Air | The Map Room
Coup De Main x NZ On Air | The Map Room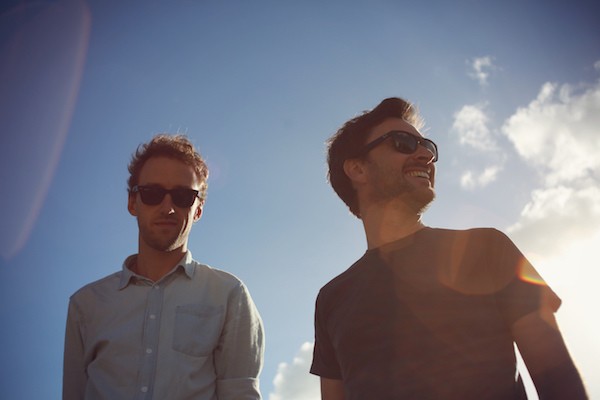 Ahead of the release of their upcoming new album, 'Weatherless' (out on April 7th), we talked to The Map Room - New Zealanders Simon Gooding and Brendon Morrow - about the dangers of technology and their brand new single 'Other Animal', which Coup De Main is delighted to be premiering exclusively today.
Listen to 'Other Animal' below...
COUP DE MAIN: You've said that your new song 'Other Animal' is about "the perils of living in our ultra-connected digital world." Do you think parents have a responsibility to limit their children's use of technological devices, so as not to normalise usage so early on?
THE MAP ROOM: Yeah I think so, it kind of freaks me out when I see kids glued to an iPad in an airport lounge. I can understand that it must be very tempting for parents to use these but I definitely wonder about the long-term effects. I can't imagine what it is like growing up now with access to social media from a young age - all the judging and comparing that goes on is hard enough for adults to deal with! I did spend a lot of time playing 'Alex Kidd' when I was growing up, so I guess that's our generation's equivalent of being glued to that screen.
CDM: Have you watched 'Black Mirror' yet? It touches on the same anti-technology themes.
THE MAP ROOM: I actually just watched the first episode the other night and it was so good! I think this could be my new binge-watch. I loved the sly commentary on the voyeuristic nature of us all these days.
CDM: What was it like recording your new album 'Weatherless'?
THE MAP ROOM: We've had a great time making this album and I think we learned a lot from the process. An unhealthy amount of time was spent playing around in the studio experimenting with different sounds and approaches to recording, which is probably why there has been a three year gap between records. And this time around we have an excellent band together, so a few of the songs were recorded live in the studio, which was new/scary for us!
CDM: Do you have a favourite song on the new album?
THE MAP ROOM: Hmmm for me at the moment it is probably 'Hold Me Up To The Sun'. This one is an example of a slightly more electronic sound for us and we have a video in the works for this one too.
CDM: When can we expect the new album to be out?
THE MAP ROOM: 7th April 2017! Big glorious vinyl will be available too.
CDM: Why did you decide upon the title 'Weatherless'?
THE MAP ROOM: It's a line from a book I love called 'The End Of The Road' by John Barth, where the character describes being constantly aware of all the possibilities in his life but feeling a bit paralysed by all that choice. On these 'weatherless days' he finds himself in an empty mental state but feels strangely calm. It really stuck in my head and I think it fits well with some of the record's themes of trying to find clarity and optimism by being present in the moment and not looking back or forward too much.
YOU WILL LIKE MY MUSIC, IF YOU LIKE... Big melodies, weird sounds, smooth tunes...
WATCH THIS VIDEO, BECAUSE... It's the best loop video of all time! Childish Gambino's 'Sweatpants' feat. Problem.
And watch our 'Hold Me Up To The Sun' video when it comes out in a month or two!
MY TOP FIVE MUSICAL CRUSHES ARE... Solange, Caribou, St. Vincent, Spoon, Mitski (current crush).
YOU KNOW YOU'VE MADE IT WHEN... All of your band shirts have been copied and mass-produced in emerging markets.
CDM: If you were to curate your own music festival, who would you want to play and what would the festival be called?
THE MAP ROOM: It would be an intimate affair on the Auckland to Devonport ferry, with Solange, Spoon, Caribou and Beck playing sets on the top deck. It would be called 'Total Logistical Nightmare'.
CDM: What's the most despicable thing you've ever done?
THE MAP ROOM: I once dented a rental car but managed to cover it up and somehow they never noticed. Yikes.
CDM: If you could pick any five people (living or dead) to be in your entourage, who would you choose?
THE MAP ROOM: Larry David, Tom Waits, Amy Poehler, Shaquille O'Neal, Marge Simpson.
CDM: Who is your most famous fan?
THE MAP ROOM: I don't think we have any famous fans yet, unless Paul McCartney is streaming us daily and Spotify is holding back that info…
CDM: How long could you go without talking?
THE MAP ROOM: I'm sure I could do a week; that would be quite weird.
CDM: If you could steal one thing without consequence what would it be?
THE MAP ROOM: Everything about 'God Only Knows' by The Beach Boys or The Big Santa from Queen Street.
CDM: What is the most heroic thing that you've ever done?
THE MAP ROOM: I'm not sure I've ever done anything super heroic, but I know Brendon saved a kid from drowning when he was 10!
CDM: Have you ever written a love letter?
THE MAP ROOM: I've written a love postcard, does that count??
CDM: What is your first proper memory, ever?
THE MAP ROOM: Digging tunnels on the beach and playing in the sand, and getting very upset when the tide came in.
CDM: Stretch your right arm out as far as you can reach, what can you touch?
THE MAP ROOM: My cold cup of coffee.
For more The Map Room, check out:
facebook.com/themaproomband
twitter.com/themaproomband
Watch The Map Room's music video for 'Pilot' below…
Load next