Interview: 2018 Must-Know - Noonie Bao
Interview: 2018 Must-Know - Noonie Bao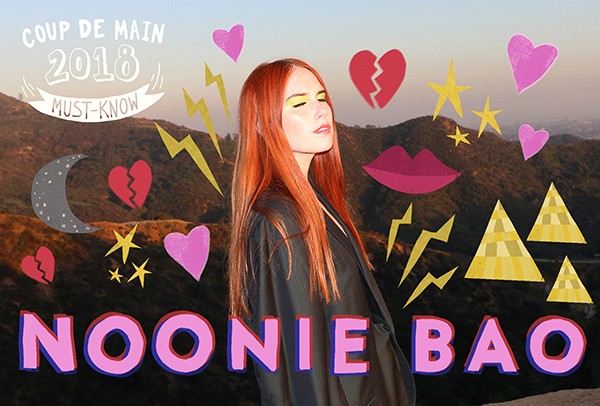 Already responsible for some of our favourite pop songs of recent times (Carly Rae Jepsen's 'Run Away With Me', Charli XCX's 'Need Ur Luv', and more recently Camila Cabello's 'Never Be The Same'), Noonie Bao has a knack for writing undeniably catchy melodies.
With her last solo release a string of singles back in 2016 with 'Reminds Me' and 'Sorry Not Sorry', we have no doubt that future Noonie Bao music will inform the future of pop music to come.
MUST-LISTEN: 'Reminds Me', 'Sorry Not Sorry', 'Pyramids'.
YOU WILL LIKE, IF YOU LIKE: Charli XCX, MØ, Tove Styrke, ALMA, Tove Lo, Camila Cabello, Carly Rae Jepsen… and appreciating that perfect sax solo in a pop song.
COUP DE MAIN: You last released music under Noonie Bao back in 2016 with 'Sorry Not Sorry' and 'Reminds Me' - do you have plans to release more solo music in the future?
NOONIE BAO: Yes, I have songs that I definitely wanna release under my own name in the future. But right now it's been so much fun writing for others.
CDM: What else do you have planned for 2018 so far?
NOONIE: Just being in the studio as much as possible. Feels like I'm in a really great flow right now!
CDM: How does your songwriting process work?
NOONIE: I usally don't prepare that much before I go to the studio, I take it as it comes. This sounds very hippie-ish but I feel like the song sort of wants to write itself and I just wait until it comes to me. That's the best feeling in the world, when the topline and the production comes together like it was just meant to be that way. Not trying to force.
CDM: Do you write your lyrics specifically for the songs, or do you write poems or prose and then evolve them into song-form?
NOONIE: I always start with the melody, I've never really listened that much to lyrics to be honest. The words have to flow and sound right to the melody.
CDM: How do you decide when a song is going to be for yourself, or for another musician?
NOONIE: That's decided before I start writing. If I write for an artist I try to think about what would sound great for their voice, what they wanna say, and what I wanna hear the artist release.
CDM: How do you approach songwriting sessions with other writers? Is there something that will define when a session is going to be successful, in your mind?
NOONIE: I think it's important to leave your ego behind and just go with the flow. It's not about what parts you wrote or didn't write, it's about creating something amazing as a team. I also like working with songwriters that have a totally different sound than I do. That makes me grow as a writer and in the end it adds a great mix to the song. Karma is really important to me too. I wanna be surrounded with great energy and have fun with the people I work with!
CDM: What do you think is the strongest human emotion?
NOONIE: Cliché alert: LOVE.
CDM: Lyrically, what's your favourite song that you've written
NOONIE: It's not written yet. Will hopefully happen this year.
CDM: What do you think is the difference between a good song and a great song?
NOONIE: A great song makes you feel something. A good song doesn't.
CDM: At what age did you write your very first song ever, and what was it about?
NOONIE: I was about nine-years-old and it was about how all the girls in my school  were just talking about boys all the time and how boring I thought that was. It was written for my one-man band called 'Dream Girl' featuring me on drums and vocals.
CDM: You're one of our 'must-know' artist picks for 2018... who are yours?
NOONIE: SOPHIE.
Watch the 'Reminds Me' music video below…
Load next