Coup De Main x AllTracks | Madeira
Coup De Main x AllTracks | Madeira
[Photo Credits: Johanna Macdonald]
With only one song to her name thus far, Madeira is taking enormous strides. She's the former vocalist for fellow New Zealand group Yumi Zouma, and her solo pursuit is making waves - 'Let Me Down' was premiered on Ryan Hemsworth's record label, and she's been listed in many 'Ones To Watch' lists for 2016.
She featured on Cyril Hahn's EP of last year, and worked with Boycrush on his single 'Flirt' as well - and she's multi-talented too, directing the music video for 'Let Me Down'!
We spoke to Madeira about collaboration, new music, and more...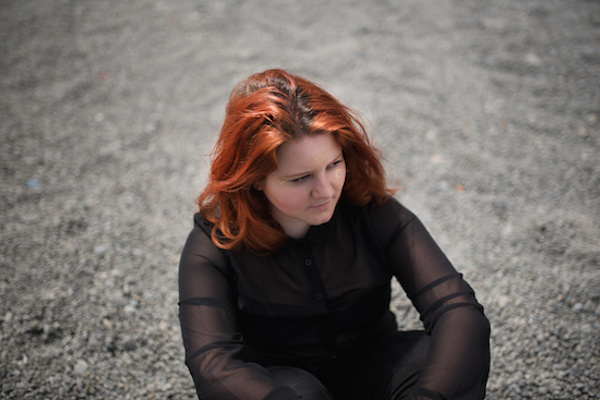 COUP DE MAIN: You worked with Boycrush on 'Flirt', which I love! How does your collaborative process work compared to just working on your own?
MADEIRA: Thanks! It's always such a great opportunity to work alongside such talented musicians and producers. On paper it's much the same process, as a lot of people I work with are in different locations to me, so I end up working on ideas by myself. For me it's the easiest way to work – lots of time to muse and experiment without watchful eyes to witness my process of trial and error. I'm not much of a sit and jam type of person, which I suppose forfeits me the volley-style of writing with others present - feeding off collective energy to create spontaneous magic and such, rather I tend to be more calculated and perfectionistic in my creative processes - a lot of internal processing you know? Which, in the end is the trickiest part of working collaboratively – letting go of ideas, or sometimes, entire songs. But I think it's a positive thing, it's good to learn you're not always right. It is possible to become too emotionally invested in the process, which is not always best for the song, and it takes guts to stand back and accept that.
 
CDM: 'Let Me Down' premiered on Ryan Hemsworth's record label - how did that come about?
MADEIRA: I'd been meaning to reach out to Ryan for a while, and it just so happened he beat me to it, emailing to see if I wanted to work with him on some stuff. His email began with "meow" – so that, because cats, plus the timing was spot on.
 
CDM: You filmed the music video yourself too - has videography been something you've always wanted to be a part in, as well as music?
MADEIRA: Kirk, my brother was actually the cinematographer, I directed it. I feel music videos have the power to be such a great extension of the music, and can really make a song for me. I always seem to have loads of ideas for videos, and directing is a way to bring those ideas into fruition. Sure there are videos that are like short-films, a piece of art in their own right, but I like the idea of a music video being a subtle commentary on the song and adding to it rather than being a stand alone piece. If you are able to find a director that understands your vision and can bring strong ideas to the table that's ideal, otherwise it's good to self-direct and really stick to your guns about what you want to portray.
 
CDM: When will we be hearing new music from you?
MADEIRA: Not too far away I promise. My debut EP is due for release in the second half of the year and I'm sure there will be some teasers for you all along the way!
 
CDM: Our column is all about NZ artists, so what other NZ musicians are you digging at the moment?
MADEIRA: Zen Mantra's new album was just released, so that's on high rotation. It's pretty nostalgic for me as I was camping out in a loft in New York with Sam while he wrote and recorded good chunks of it. And The Mint Chicks' album just got reissued, so I've been playing that, reliving the golden days when shreddy guitar goodness was in vogue. Also been listening to the new Street Chant album too.
YOU WILL LIKE MY MUSIC, IF YOU LIKE... a glass of cool sparkling water on a warm afternoon.
 
IF YOU ONLY LISTEN TO ONE OF MY SONGS, YOU SHOULD LISTEN TO... 'Let Me Down' - because it's the only track out so far!
MY TOP FIVE MUSICAL CRUSHES ARE... currently: Blood Orange, Bonzai, Ramona Lisa, Billie Eilish, St Vincent.
 
YOU KNOW YOU'VE MADE IT WHEN... when you can sing your own song at a karaoke bar.

 
CDM: If you were to curate your own music festival, who would you want to play and what would the festival be called?
MADEIRA: Anyone who knows me knows I'd have a female artists based festival. After seeing those images last year of the Reading festival etc with all of the male artists blanked out, the Broadly article on how we need a female festival and the general vibe out there right now (and forever) for females in the industry, a showcase of female talent would be fantastic. Teams of female roadies, sound people and the like would be running the show to not only showcase the artists but also the behind-the-scenes workers too, and to encourage more women to pursue dreams of working in the industry. There would be workshops on producing, writing, sound engineering etc, and it would most definitely raise money for Woman's Refuge and great initiatives like that. Right now I'd like to watch Grimes, St. Vincent, Empress Of, Class Actress, M.I.A, MØ and so many more. Not sure what I'd call it, but probably something with Cleopatra in it – she was pretty badass.
 
CDM: What's the most despicable thing you've ever done?
MADEIRA: I really wanted to pull out all the stops here, but truth is I've always been a bit of a goody good so can't think of anything overly despicable off the top of my head. You may need to dig your dirt elsewhere! I'm sure one of my siblings would have a suggestion or two.
 
CDM: If you could pick any five people (living or dead) to be in your entourage, who would you choose?
MADEIRA: I'd like to have an entourage full of introverted, strange and eccentric people so I wouldn't feel out of place, or perhaps it should be bold, challenging people… god, I don't know. Maybe an odd mix like: Malala, Jean-Paul Sartre, Björk, Pema-Chödrön and Stephan Fry. It will probably change again tomorrow.
 
CDM: Who is your most famous fan?
MADEIRA: There was a moment where Melissa Joan Heart (Sabrina the Teenage Witch) followed me on Twitter, but I later heard it was just a bug on her account. I actually felt most special when Bic Runga started following me, she's from Christchurch too, and her music makes up an important part of my life.
 
CDM: Do you believe in magic?
MADEIRA: I do believe in the multiverse and infinite possibility.
 
CDM: What is your spirit animal?
MADEIRA: I'd like to think it is Snowy the dog.
 
CDM: How long could you go without talking?
MADEIRA: Talking specifically - probably quite a while, singing on the other hand, I don't think I ever shut up.
 
CDM: If you could steal one thing without consequence what would it be?
MADEIRA: Someone's heart (figuratively of course).

 
CDM: What is the most heroic thing that you've ever done?
MADEIRA: Not sure it was heroic, but after the earthquake in Christchurch I helped a frightened woman to get her elderly parents out of their penthouse apartment five stories up. Water was gushing into the lower levels like a scene from the Titanic, and the stairs all the way up were cracking and breaking. The big aftershock hit when I was up there and I thought I was going to die. Christchurch is full of heroes after that day, so my story certainly isn't unique by any reach.
 
CDM: Have you ever written a love letter?
MADEIRA: Probably too many, and not sure if any of them really did any good.
 
CDM: What is your first proper memory, ever?
MADEIRA: The problem with memory is it's always being altered and re-remembered. I vividly remember fighting over a large bunch of snow with my brothers right before I drowned (this interview is taking a somber tone isn't it!). It didn't happen like that though, because my brothers weren't with me at the time.
 
CDM: If you were a country, what would be your national anthem?
MADEIRA: 'Heal The World', hands down.
 
CDM: Have you ever had an out-of-body experience? If so, tell us.
MADEIRA: Sometimes I have sleep paralysis, where I step out of my dream and shout at my dreaming self to wake up. It's a bit Inception-y.
 
CDM: Stretch your right arm out as far as you can reach, what can you touch?
MADEIRA: 'The Unabridged Journals of Sylvia Plath'.
For more Madeira, check out:
facebook.com/madeiramusicnz
madeiramusic.net
twitter.com/MADEIRA_MUSIC
soundcloud.com/madeira_music
+ for more new music suggestions, check out AllTracks >> alltracks.co.nz
Listen to 'Let Me Down' below…
Load next