Review: Jelly Tip July desserts.
Review: Jelly Tip July desserts.
It's no secret that Jelly Tip July has been going down a treat across New Zealand. First, we had the AMAZING Whittaker's x Tip Top Jelly Tip Chocolate, then Griffin's turned the ice-cream into a biscuit - and now, Auckland eateries are creating their own renditions on one of the country's most beloved ice-creams.
Coup De Main was lucky enough to get a taste of some of Jelly Tip July's finest offerings. Here's what we thought…
Giapo's contribution to Jelly Tip July is just as lavish and beautifully-crafted as you'd expect from Auckland's Haute Ice Cream parlor. This 18+ (it contains alcohol!) delicacy offers a drool-worthy combination of vanilla ice cream and cru dark chocolate, plus Saint Claire, Pioneer Block 3 and Sauvignon Blanc wines which all fuse harmoniously together to make quite possibly the most amazing looking (and tasting) ice cream on the planet. The raspberry top (or 'jelly tip') looks exactly like a giant replica of the fruit and was made using a 3D printer to create the moulds. Plus, the waffle cone is hand decorated to look like something that should be in an art gallery - in true Giapo style, of course. Speaking of the waffle cone, the flavours packed into this part of the ice cream were superb: a super crunchy waffle shell topped off with a thick coating of deliciously bitter dark chocolate. The entire thing was almost heartbreaking to eat because I didn't want to see such a beautiful piece of art fall to pieces before my eyes - but boy, it was worth it! Being Giapo, of course, their vanilla ice cream is never just ordinary 'vanilla' - this version contains Tongan vanilla pods and consequently turned ice cream's most basic flavour into a memorably mouthwatering treat. I could eat this ice cream every day and not get sick of it! The only sad thing about Giapo's Jelly Tip ice cream is the fact that only small number are made each day due to the amount of labour that goes into creating these ice creams/works of art. If you want to try this one out (which you DEFINITELY should), get in as early as possible!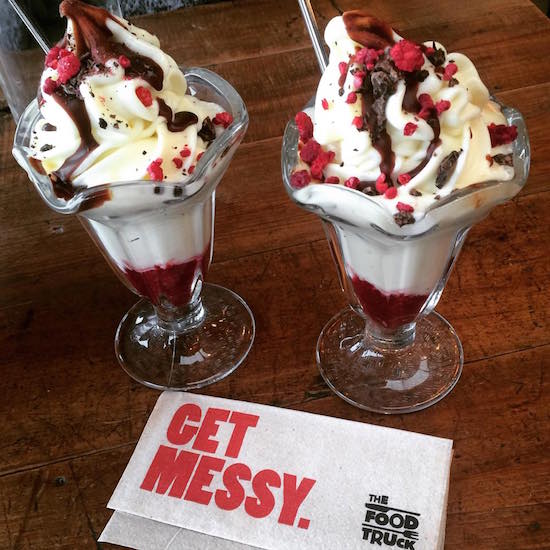 Auckland's favourite healthy restaurant, The Food Truck Garage have two offerings for Jelly Tip July: a salad and a sundae. The Jelly Tip salad consists of vanilla goat whip, beetroot, raspberry vincotto and dark chocolate bits. The sundae is jam-packed with probiotic frozen yoghurt (vanilla flavour, of course), dark chocolate and raspberry chia seed jelly. Being a lover of all things sweet, I opted for the sundae as my Food Truck Garage dish of choice (although I'd recommend trying the salad if you're a little more daring!). As someone who used to work in a frozen yoghurt place, I'd like to think I know a bit about froyo, and I can say with conviction that this version tops off everything I've ever had - it's the perfect mix of sweet and tart, and it's one of those things that you can eat loads of without getting bored of the taste. The chocolate and raspberry bits sprinkled over the top worked really well with the frozen yoghurt, and if you put your spoon at the bottom of the dish and pull up the chia seed jelly, everything mixes together so well. It's a pretty decent sized serving, but the sheer deliciousness of it left me wanting another one.
If you're looking for Jelly Tip on a plate, then look no further than Al Brown's rendition at Depot. This dish is a decadent serving of homemade hokey pokey ice cream planted on a cookie base, coated with a dark chocolate shell and served with passionfruit jelly - could this get any more Kiwi? Never one to shy away from originality, Depot swap out the Jelly Tip's typical vanilla and raspberry flavours in favour of hokey pokey and passionfruit - and it's, of course, a great success. This restaurant is renowned for presenting gorgeous dishes packed full of elaborate flavours, and this Jelly Tip dish is a beautifully-appropriate addition to the menu.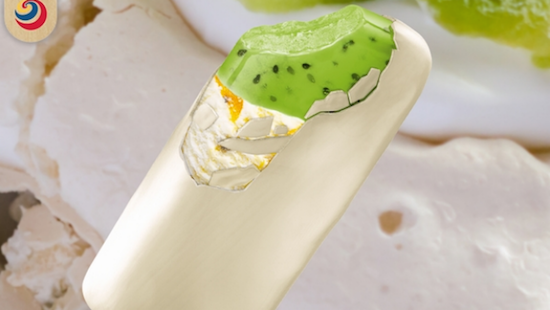 As if Jelly Tip July couldn't get any crazier, Tip Top have just announced the winner of their month-long competition to design a new flavour. The Pavlova Jelly Tip is now the supreme ice cream winner, with 500 sticks of this flavour being produced to taste. This new creation is made of kiwifruit flavoured jelly dipped in white chocolate. Yum! But be quick - you can't buy these in stores! These can only be won through ZM and through Tip Top's Facebook page. 
Since all these dishes are for Jelly Tip July, you need to be quick to get into these food places since there's only a few days of July left. These dishes would be shame to miss, so get in quick! And if you do sadly miss out, there's always the Whittaker's chocolate, Griffin's biscuits and Tip Top ice creams still available to help you ease the pain. 
Giapo Haute Ice Cream's Jelly Tip is available for $20 at 279 Queen Street (for people 18 years and older).
The Food Truck Garage offers the Jelly Tip Salad for $8 and the sundae for $6.50, which are both available at the Wellesley Street restaurant. 
Depot's Jelly Tip dessert is available at 86 Federal Street until the end of July.
Load next