Wanna re-enact 'Sleepless In Seattle' with Vampire Weekend's CT?
Wanna re-enact 'Sleepless In Seattle' with Vampire Weekend's CT?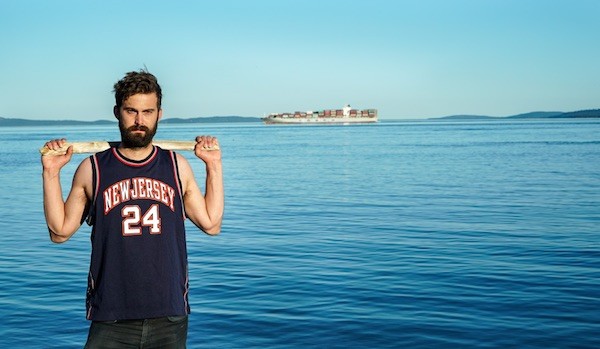 During Vampire Weekend's hiatus, drummer CT, a.k.a. Dams Of The West, has released his debut solo album, 'Youngish American', which he is currently peddling on Pledge Music with some exclusive fan-packages - with the USD$10,000 'Meet Cute' experience being particular note-worthy.
"You will have a meet cute at the top of Rockefeller Center a la Sleepless in Seattle. After you take in the sights and talk about "the best pizza in the city," a paid Stanley Tucci impersonator will attempt to mug you. You can choose to either protect CT or have CT protect you but either way the plot will be foiled.
Feeling full of adrenaline, you will descend onto the streets on NYC and head straight to the Guitar Center on 44th street. There, CT will play you one (1) Dams of the West original or one (1) Blink-182 cover song right in the middle of shred-heavy chaos. If you play guitar, you will then have the option to jam on the Hotel California outro solo with CT, although CT will insist that he play Joe Walsh's part and if you force him to play Don Felder's part he will pout for approximately fifteen (15) minutes afterwards.
Now that you've worked up an appetite, CT will take you to this "great little spot (he) knows nearby." That spot is actually Guy Fieri's American Kitchen & Bar which, to be fair, is pretty great but not exactly little. You can order anything off the menu except for the Motley Que Ribs because even though CT likes puns he thinks that one is too corny. This isn't guaranteed but CT will almost definitely tell you about the bluegrass gig he played nearby at a bar called Siberia "like 12 years ago" that has since closed and then go on a long diatribe on how "the city has changed." Feel free to look at your phone during this portion of the evening.
For the big finale, you and CT will go out to Times Square, awkwardly stare at all the lights and people and simultaneously exhale with existential dread. You will then have the option to take a picture or maybe even a smart phone vid of everyone saying "Only in New York!" with one of those fake Disney characters (CT will take care of tip). You will then embrace CT for up to 30 seconds, all the while knowing that the two of you will forever be bonded by this magical evening.
Then CT will turn and stride purposefully away wanting you to think of him as some sort of Central NJ Leonard Cohen-type figure but, we assure you, as soon as he's out of sight he will check Instagram and then the score of the Nets game to see how much they lost by that evening."
If the above sounds like you, you can purchase the 'Meet Cute' here.
Watch Dams Of The West's 'Death Wish' music video below...
Load next