An Ariana Grande x 'Dangerous Woman' appreciation post.
An Ariana Grande x 'Dangerous Woman' appreciation post.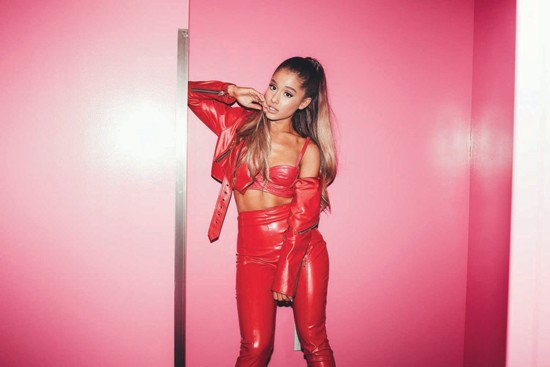 To celebrate the release of Ariana Grande's new album, 'Dangerous Woman', we thought we'd compile a couple of our favourite things about the pop powerhouse.
'Dangerous Woman' is the third album of Ariana's, and it's set to be her biggest release thus far in her career.
Without further ado, here are five things that we currently appreciate about Ariana and her music…
#1. With a new album cycle brings new album merchandise. Ariana has channeled minimalism with the new merchandise - and I kinda love it. Get your dose of merchandise HERE, and check out some of it below:
#2. 'Into You' is the second single from the album - and it's incredible. Since its release, Ariana has received praise from our fellow-fave Lorde, who had the following to say about the song:
also the first sentence, that "i'm so into you / i can barely breathe" is like maybe the closest thing to pop perfection i've ever heard

— Lorde (@lorde) May 9, 2016
Listen to 'Into You' below:
#3. Ariana appeared recently on Jimmy Fallon's show, and she bought her adorable new dog with her. Watch the hilarious video below:
#4. 'Dangerous Woman' features a number of collaborations with other artists, including the likes of Nicki Minaj, Macy Gray, Future, and more. I'm always 100% down for new Nicki + Ariana songs, so I can't wait for 'Side to Side'.
In the meantime, listen to her Lil Wayne collaboration 'Let Me Love You' below:
#5. When Ariana launched the new album, she took to 'Saturday Night Live' to debut a couple of songs for the very first time - and she killed it, as per usual.
Watch her performances of 'Be Alright' below:
For a bonus, you absolutely must watch Ariana impersonating Jennifer Lawrence below:
Ariana Grande's new album 'Dangerous Woman' is out today - click HERE to purchase it.
Watch the 'Dangerous Woman' music video…
P.S. Read our interview with Ariana Grande HERE.
Load next