Coup De Main x NZ On Air | k2k
Coup De Main x NZ On Air | k2k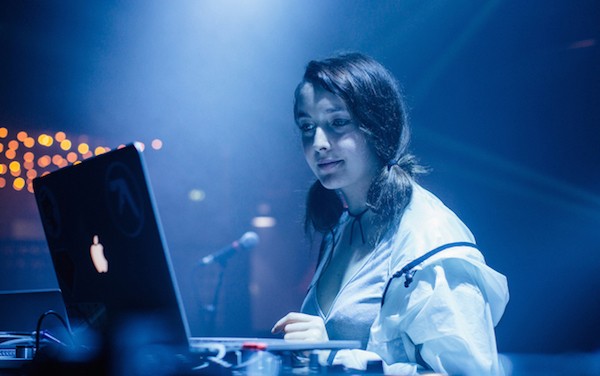 Hailing from Wellington comes k2k, a producer and vocalist with a love of electronic music - creating her own through a mix of samples and her own vocals, mixed atop lush soundscapes of synths and beats.
She plays DJ sets on the regular, but has yet to play a show as k2k - something that will happen once she finds a way to match the recordings she creates. She also organises shows with her friends as Inky Waves - a group who are "dedicated to dance," as their Facebook description explains.
We spoke to Katherine about her production-process, her singing, and pop music…
COUP DE MAIN: You're a huge fan of pop music, which we also love. What is, in your opinion, the best pop song of all time?
K2K: Ahhh too many tbh! Was obsessed with Aaliyah's 'One In A Million' for a long time, and a huge Ja Rule and Ashanti fan growing up. This week I've had Sade's 'Couldn't Love You More' on repeat and that's definitely a contender.
 
CDM: You taught yourself production and using music technology - what's the #1 tip you'd give someone wanting to start to learn?
K2K: Not to judge your work so harshly. It took me a few years of producing music I hated until I actually made something that I thought was okay. It's super easy to give up if something isn't immediately rewarding, but as with anything, it's the people who stick at it that eventually get the results they want.
CDM: At what age did you start making music, and what did it originally sound like?
K2K: I've been making music on and off for as long as I can remember. I used to make up songs on my piano and record them on tape, and when I was a teenager I'd record guitar tracks on my computer. For electronic music though I started in 2013 when I was living in Melbourne. I made a horrible mash-up of 2 pop tracks on Ableton with some cheesy synth pads on top.
CDM: You perform live doing DJ sets - have you played any shows as k2k? How does that process of live shows differ, and is there one you prefer?
K2K: I actually haven't played a live set as k2k. As all my tracks are pre-made pretty slowly while sitting at a laptop, I don't really see the point of taking them apart again so I can trigger samples live to end up with something less polished than the original. Once I figure out a fun way to perform my stuff live I definitely will though. At the moment I'm having a good time with DJ sets, where I get to play out all the tracks I'm currently feeling to my pals on great speakers :)
CDM: In an interview with The Audience, you said: "I'm torn between singing and sampling on my songs." Have you become more confident in your own singing voice over time? Or are there other reasons you choose to use samples as well?
K2K: I was taking vocal lessons for a while but ultimately felt pretty insecure about my voice. I'd record so many takes to get something I was happy with, which was pretty time consuming, so I've stayed away from using my own voice on recent tracks. I love a good pop vocal sample, but am a little conscious of the copyright issues. I'm planning to have pretty minimal vocals in my future tracks, but will be playing around with my voice a bit to get something I'm happy using.
YOU WILL LIKE MY MUSIC, IF YOU LIKE... Moon B.
 
IF YOU ONLY LISTEN TO ONE OF MY SONGS, YOU SHOULD LISTEN TO... 'Let It'.
WATCH THIS VIDEO, BECAUSE... Moodymann is a beautiful genius :')
MY TOP FIVE MUSICAL CRUSHES ARE... Nina Kraviz, Delroy Edwards, Huerco S., Xosar, and Kyle Hall.
CDM: If you were to curate your own music festival, who would you want to play and what would the festival be called?
K2K: Me and a few pals put on shows around NZ pretty regularly, so would just follow on with that and call it the same name, Inky Waves! My ideal line-up would feature Laurel Halo, Huerco S., Kyle Hall, Beautiful Swimmers, Underground Resistance, DJ Stingray, Peggy Gou, DJ Sotofett, Moodymann, Theo Parrish, Karenn, and all the Inky regulars!
 
CDM: If you could pick any five people (living or dead) to be in your entourage, who would you choose?
K2K: Holly Herndon, Hamilton Morris, Terence McKenna, Richard D. James, and Rihanna. Whatta crew.
CDM: Who is your most famous fan?
K2K: DJ Kush Boogie.
CDM: Do you believe in magic?
K2K: Yep, of course! I don't think humans have figured out half as much as they think they have.
 
CDM: What is your spirit animal?
K2K: A sloth, which is unfortunate for my productivity.
CDM: How long could you go without talking?
K2K: In the right place, a very long time! Will give it a go once I inevitably retreat to a remote island and become a hermit.
CDM: If you could steal one thing without consequence what would it be?
K2K: I'm sure there are bigger and better things I could wish for, but all I'm thinking is a TR-909.
CDM: What is the most heroic thing that you've ever done?
K2K: Once I nursed a baby bird back to health after it lost its mother! 
CDM: Have you ever written a love letter?
K2K: Yeah when I first met my Canadian BF and had to leave the country because of my visa expiring, we'd write letters all the time! Tragic.
 
CDM: If you were a country, what would be your national anthem?
K2K: 'The House Is A Nation' by Mr. G ;)
CDM: Have you ever had an out-of-body experience? If so, tell us about it.
K2K: Not yet!
CDM: Stretch your right arm out as far as you can reach, what can you touch?
K2K: Actually just got my first track released on vinyl in the mail today and it's within reach! Bless.
For more k2k, check out:
facebook.com/k2kokay
soundcloud.com/k2kokay
Listen to 'hey deejay' below…
Load next