Mini Mansions announce new B-Sides release 'Flashbacks' + watch the 'Fiona' music video.
Mini Mansions announce new B-Sides release 'Flashbacks' + watch the 'Fiona' music video.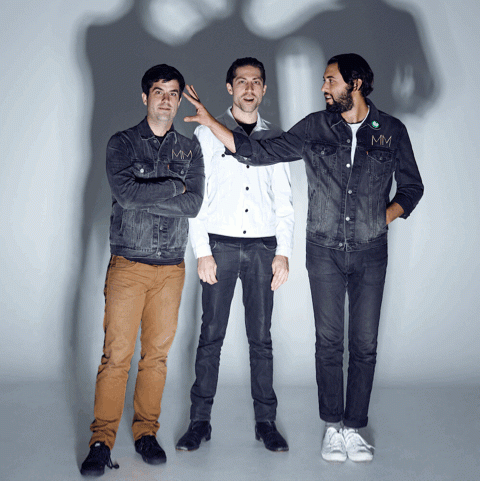 Ending the great TLSP-induced drought of 2016, Mini Mansions have now announced that they will be releasing their "lost ark tunes" - i.e. unheard songs from 'The Great Pretenders' album recording sessions - as a new B-Sides release called 'Flashbacks'.
The band have launched a store on Pledge Music, offering pre-orders of the new record on vinyl, as well as suits worn during their last album cycle, Tyler Parkford's touring keyboard, a limited number of collage paintings, guitar pedals, music video props, and their jackets worn in the 'Double Visions' music video.
YOU CAN ALSO BUY MINI MANSIONS' LIMITED-EDITION WHITE DENIM 'THE GREAT PRETENDERS' JACKETS AS MODELLED BY MICHAEL SHUMAN IN MM'S 2015 COUP DE MAIN COVER-SHOOT - I.E. THE ONE IN THE ABOVE PHOTOS.
True fact.
About their upcoming release, the band say:
"To all our Mansion Ambassadors,
We wanted to take a moment and give you an update on the state of the Union. To begin with, we would like to extend our deepest thanks for all your love and continued support during The Great Pretenders campaign trails.
Before the tour commenced, we had a slate of songs left on the white board that we couldn't quite squeeze onto the wax of The Great Pretenders. It feels unfair to leave them dancing with themselves on said whiteboard in our studio. Because these tunes were recorded and mixed to tape, the most appropriate trajectory would yield you, spinning the songs on vinyl in the comfort of your own home.
Now, between becoming pirate wine distributors and denim jacket racketeers – we have started making a new record. But we wanted to make these lost ark tunes available to you before the next record is finished and available, as any other way would be a bit backwards.
We are making our next LP independently so thank you again for your support and bearing through the process with us. We have set up a page of some special items for some special fans. If there is anything you would like to see here that you don't (and you think it's within reason) please let us know and we will do our best to make it available.
As soon as make any Pledge, you will receive a FREE download of the song "FIONA". We have also shared a video of "FIONA" which will be on the album. The video was made and directed by Erik Anders Lang in 2014.
Lots of Love
MM"
Click here to pledge your allegiance to Mini Mansions and give them all your money.
Watch the music video for 'Fiona' below...
P.S. Click here to read our latest Mini Mansions interview.
Watch the music video for 'Fiona' below...
Load next