Q&A: BLACKPINK's Lisa on being appointed as M·A·C's new global brand ambassador.
Q&A: BLACKPINK's Lisa on being appointed as M·A·C's new global brand ambassador.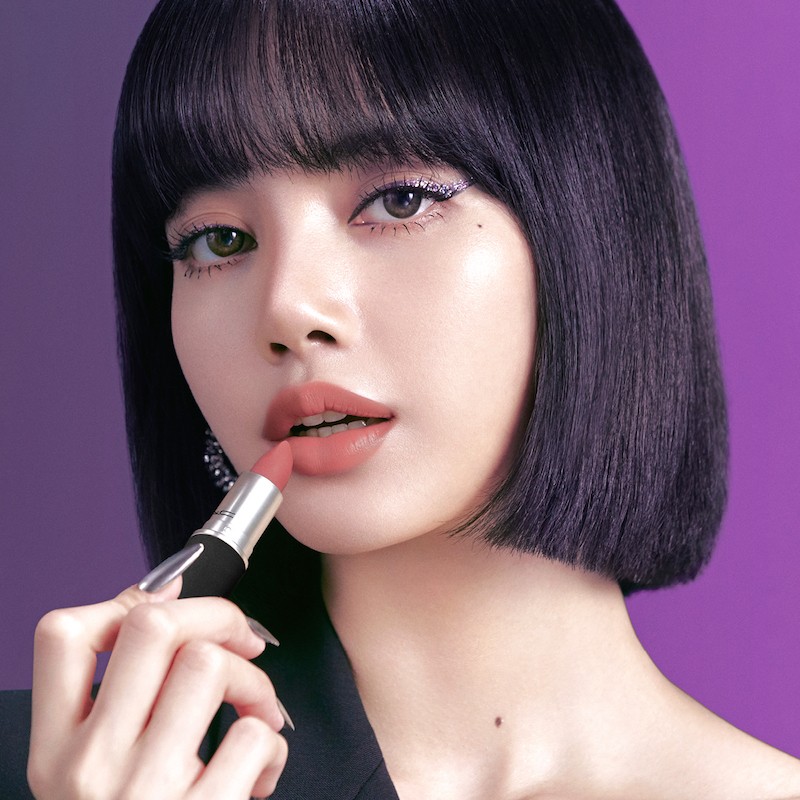 M·A·C has today announced Lisa from BLACKPINK (Lalisa Manobal) as their new global brand ambassador, with a long-term partnership beginning this month, as the first female K-Pop artist to be appointed such a title.
As M·A·C's global brand spokesperson, Lisa will be the face of upcoming M·A·C collections and key campaigns, and will also work with M·A·C makeup artists to showcase her signature looks, share beauty secrets, and skincare regimens.
About the partnership, Lisa says: "I have always been a big fan of M·A·C! I like how the brand turns makeup into a form of self-expression which always gives me great confidence on stage. Together with M·A·C, I am excited to invite and empower more audiences as we both have individuality and diversity at our core."
Drew Elliott, Senior Vice President and Global Creative Director for M·A·C Cosmetics, says: "Lisa's unparalleled talent and bold, fashion- forward style make her the perfect match for M·A·C. Always confident and never one to shy away from risks, she embodies our commitment to individuality and self-expression above all else. We can't wait for her fans to see what she has in store for them through our collaboration."
Read a Q&A with Lisa below...
How do you feel to be the newest brand ambassador for M·A·C Cosmetics?  
I'm a huge fan of M·A·C and have been a loyal user for a long time, so it's really a dream come true to have the opportunity to serve as an ambassador for the brand. M·A·C is truly at the forefront of trendsetting, which I am reminded of every time I see a M·A·C campaign or the incredible looks their artists create backstage at fashion weeks around the world. It's an honour to partner with a brand with such an incredible heritage and unrivalled expertise in makeup artistry. I am thrilled and looking forward to this journey!  
What was your first ever MAC product?
The first M·A·C product I used was a lip product. I'm still a huge fan of M·A·C's lip products and love playing around with the countless number of colors and textures to choose from to help perfect my look.
When did you realise your love for makeup? What about it do you love?
Since I was a little girl, I have always been interested in makeup and fashion. But if I had to choose a time when I officially fell in love with makeup, I would say that was after my debut. When we release a new album or when I'm on set for a magazine, I enjoy suggesting a makeup look that I've always wanted to experiment with.
What does beauty mean to you and has it been an empowering tool?
To me, beauty is confidence. I think beauty comes from one's confident inner self and one's attitude. Make-up and styling are the cherries on top of your beautiful inner-self!
Any beauty routine/ regimens you want to share?
On a casual day, I usually apply a little bit of makeup for a natural look. I like to start with a simple base and finish with a slightly bolder lip color to add some vibrance. 😊 Especially for lip makeup, I like to make an ombre lip that naturally gradates by tapping from the center of my lips!
Where do you get your colour make up inspiration?
I am constantly reviewing makeup looks for inspiration. When I'm on set, I like suggesting makeup styles that I have been eager to try. I will work together with the makeup artist to finalize the look over different attempts, that eventual fits the vibe I am trying to express in the shoot.
We know you like taking photos with your cameras. Can you share tips on how to take good photos of make-up looks?
Because of the texture of the film grains, the photos produced by film camera are less sharp unlike digital cameras. So I often draw my eyeliner a bit thicker and bolder than usual to make my eyeliner look clearer in pictures.
You left home at a young age and life in show business has not always been easy. What is your drive throughout all these years?  
I would say BLACKPINK members and my fans are my driving forces. Thank you for always being there for me through all the happiest and the saddest moments. I am truly grateful for all my members and fans.
What would you say for the girls/ boys out there that are aspired to be you one day?
Never give up on your dreams, no matter how painful and difficult your journey is. If you trust in yourself and fight for it until the end, your dreams WILL come true. You can do it!
If you were not an idol, what would you be?
When I was a little girl, I had thought that maybe I could become a model. However, photography seems to have caught my attention more lately. Had I not become a singer, I may have been a photographer!
Load next