An online accompaniment to CDM #4 - The Love Zine.
An online accompaniment to CDM #4 - The Love Zine.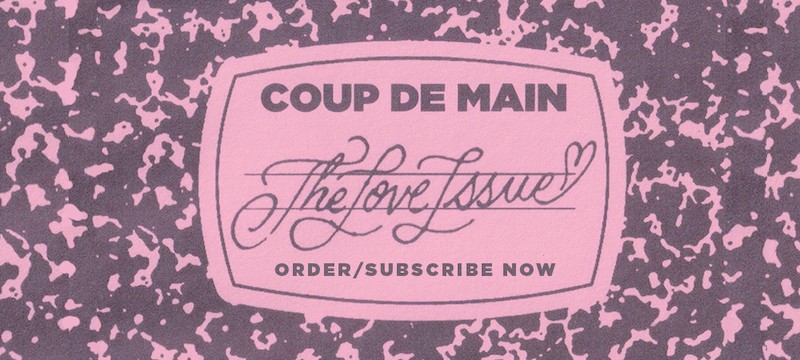 The theme of this month's DIY zine is 'love' - and we have contributions from guest curators: Del Water Gap, Girl In Red, Holly Humberstone, Omar Apollo, Quen Blackwell. Our friend Willa Bennett has also guest-edited this particular issue. 
Exclusively for this print zine, each guest curator has put together two pages relating to what love means to them. 
Here's a li'l rundown of our curators this month: 
DEL WATER GAP 
Currently residing in Brooklyn, New York, Del Water Gap (a.k.a. S. Holden Jaffe) is a singer, songwriter and producer. He describes himself as being inspired by "romantic encounters and dimly lit rooms." 
His newest self-titled 'Del Water Gap' project dropped earlier this year along with the music video for his song, 'Perfume'. 
GIRL IN RED 
Norwegian singer-songwriter Marie Ulven (a.k.a girl in red) recently dropped her entirely self-written debut album 'if i could make it go quiet' earlier this year. 
The lead single 'Serotonin' is a must-listen and is co-produced by our past cover-star and friend, FINNEAS.
HOLLY HUMBERSTONE
Just last month, we had the pleasure of chatting to British singer-songwriter Holly Humberstone. Check out our full cover story here where you can learn everything you need to know about enduring loneliness, finding closure, and her new EP, 'The Walls Are Way Too Thin'.
"Writing has been the one constant throughout the whole of it and the one safe space that I've had, and especially, after the year of being trapped inside, it's helped me to become a more solid person on my own and it's helped me work through things and feel like so much more of an independent person. I'm ready to move back to London now, and be like, 'Fine, now I can do it and I don't have to live in an awkward house share and feel lonely like I did when I was writing Walls.' Especially this year, I've kind of emerged out the other side and I feel like I've learned quite a lot about myself, like, with being creative and not putting pressure on myself, and all the different stresses of social media - just one of the many stresses that everyone's experienced this year." 
OMAR APOLLO 
23-year-old R&B singer-songwriter Omar Apollo started plucking away at his guitar at only 11-years-old. He's gearing up to release his next album as we speak, but for now, it's a must to check out his 2020 quarantine project, 'Apolonio'.
"I used to think I wasn't built for this because I'm just a kid from Indiana, but that thought is gone now. I know what to do. Everything just feels right."
QUEN BLACKWELL 
20 year-old Dallas, Texas native, Quen Blackwell first established her internet presence over Vine and has continued to grow since then. Blackwell is most active over on her Instagram profile and displays her passion for journaling and writing on there, as well as in our zine this month. 
WILLA BENNETT
Our friend Willa Bennett is a queer writer, editor, content strategist, and public speaker in New York. She is the first woman to lead the social team and strategy at GQ Magazine. Bennett has used her platform to advocate for underrepresented emerging voices on social media, in a new video series, and articles in Vogue, Teen Vogue, Them, and more.
She also has a poetry book called 'i think there are goose eggs in my belly' which you can check out here. 
Order this month's DIY zine here or below. 
Load next