Interview: Haim [and 'Days Are Gone'] time with Alana, Danielle & Este.
Interview: Haim [and 'Days Are Gone'] time with Alana, Danielle & Este.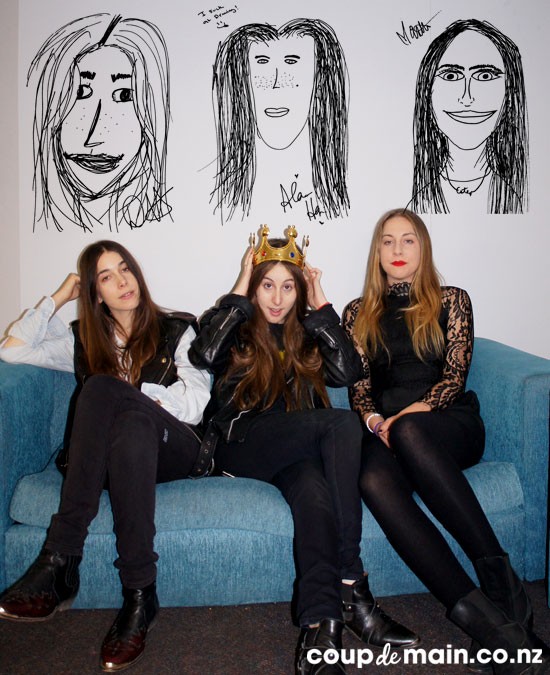 Haim are in the building. I know this, because the sound of One Direction's latest single 'Best Song Ever' being sung in a pitch perfect three-part harmony, is currently travelling towards me through the venue that the band are playing tonight in Sydney, as a Splendour In The Grass 2013 side-show.
Finally, a flurry of leather jackets, Chelsea boots and Disney Princess hair, bursts through the backstage door and into the green room - with their [tourist-ing] parents, Papa Mordechai 'Moti' Haim and Mama Donna Haim, in tow.
IT'S HAIM TIME...
"Do you want a drink? Water? Pepsi?" offers Danielle Haim. She and her sisters only arrived at the venue mere minutes ago after commuting across the city from their Australian record label offices where they'd officially turned in the final master of their debut album, but she's already graciously playing the role of hostess with much aplomb. On-stage, Danielle is a lean, mean shredding-machine - who in the past has played guitar on tour for The Strokes' Julian Casablancas, Jenny Lewis and Cee-Lo Green - but off-stage with her affectionate demeanour, it's not hard to imagine her perfecting her culinary skills. "Cooking is my jam", she says.
Youngest sister Alana, makes a joke later that "Danielle doesn't talk". Danielle is the kind of rare creature who is sparing with her words, so when she opens her mouth - whether it be to speak, or to sing - those listening tend to memorise every word of wisdom that is bestowed upon them.
If Danielle is the Yoda of the group - as her elder sister, Este, describes her - then Alana Haim is the 'Clueless' Cher of the band. Bright-eyed and bushy-tailed, endearing and winsome - words upon words tumble out of Alana in a constant stream-of-consciousness running dialogue. She loves nail-art, puppies, cut-off shorts, sour candy and her NME Award for Best Twitter. 'Baby Haim' rocks rhythm guitar, keys and percussion during their live shows, with many a joyful Tigger-like bounce from one side of the stage to the other.
Alana describes the oldest Haim sister, Este Haim, as fearless and that she is "crazy and literally has no filter and if she is dared to do anything, she will do it." Infamously, Este gave out her number during their iTunes Festival show last year, which was broadcast for free on iTunes everywhere around the world. It was Este's real mobile number. Alana says: "We got so many weird text messages. We still get text messages to this day of people sending us weird pictures and weird texts."
Bass-face, Este - equal parts wise-cracking Buffy The Vampire Slayer and gum-snapping Veronica Mars heroine - is sassy and street-smart. She's also super competitive. Whilst reigning victorious over her sisters during our interview, she says: "I love winning things! It's my favourite thing in the world." Este is also the kinda girl who knows all the choreography from the Britney Spears 'Oops!...I Did It Again' music video, and at one point during our time spent together, Este changes the lyrics of One Direction's song 'Kiss You' to something a bit more explicit, singing "let me f*** you", much to her sisters' embarrassment. Alana shushes her.
Haim finish each other's sentences (Alana: "I'm taking..." / Este: "Artistic license?"), they gleefully bully the youngest sister ("Alana is always wrong!"), and they burst into perfectly harmonised sing-song at whim. Their harmonies are so in demand, that they've been hired to sing backing-vocals for the likes of A$AP Rocky, [Donald Glover a.k.a.] Childish Gambino, Kid Cudi and Major Lazer, as well as appear alongside Primal Scream at Glastonbury this year to perform backing-vocals on three of their songs. Haim were also asked to sing on the forthcoming new Arctic Monkeys album, 'AM', but sadly had to turn down the opportunity in order to finish recording their own album.
...and did I mention that Jay-Z is [technically] their boss? Haim are signed to Hova's Roc Nation management group.
On July 7th, 2007, Haim played their very first show ever - separate from their family band, Rockinhaim, and with Danielle and Este's tween 'The Sisterhood Of The Traveling Pants' soundtrack featured girl-group, Valli Girls, all but a distant memory. But it wouldn't be until the year of their sixth anniversary as a band together - and at least five discarded EP's later - that the sisters Haim would officially have a debut album to their name. Like they say, good things take time... and sometimes the very best things, take a very long, long time.
I was first introduced to Haim over two years ago in an interview with The Hush Sound's Greta Morgan - during which she named Haim as one of her favourite Los Angeles bands - but it wasn't until a year later when the band first released their 'Forever' EP as a free download on their official website, that I had my first real taste of what the band describes as "some old, some new, some borrowed, some blue." With influences ranging from Sam Cooke, Joni Mitchell, Tom Petty, Harry Nilsson, Randy Newman, Prince and Fleetwood Mac, Haim marry Americana guitar licks with flavours of nineties R&B.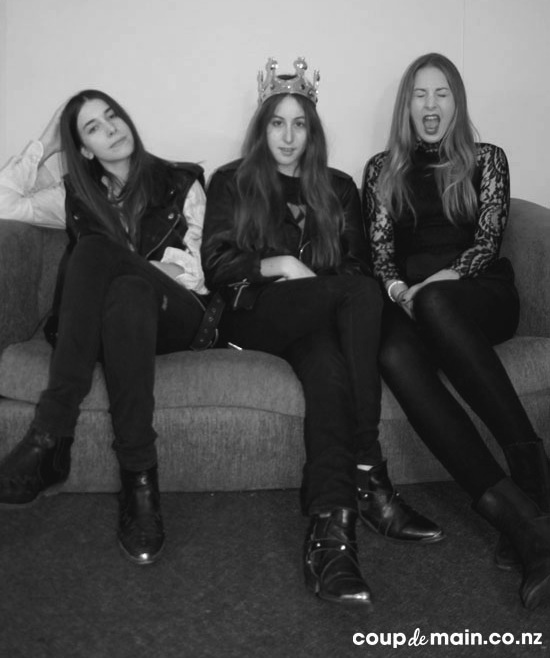 After having been trickle-fed Haim singles one-by-one over the course of a year - 'Forever', 'Don't Save Me', 'Falling' and 'The Wire' - when listening to their debut album for the very first time, it feels like everything has finally fallen into place. It's a perfect track-listing. When a Haim sister falls in love, she falls hard - and the 'Days Are Gone' album plays out like stages of a relationship, from falling into the unknown, to miscommunication and weak romance, misplaced denial and then... girl-power! It's like reading your cool older sister's diary.
From the revved up battle cry of 'My Song 5' ("You've been lying, so honey I'm not your honey-pie...") - which has a killer key change, FYI - to the falsetto and disco vibes of the album's title-track [co-written with Jessie Ware and Kid Harpoon], 'Days Are Gone' ("You can have my past, I'll never get that back, I'm moving on because those days are gone..."), and the contemplative nostalgia of 'If I Could Change Your Mind' ("But if I was to say I regret it, would it mean a thing? Because every time I think about it, memories take me back to all of our wildest times..."), every Haim song is a chapter in their search for true love.
True love is something Haim really believe in. About their song 'Forever', they say that it "is about trying to make love last in a world where people are kind of sarcastic about true love." And although true love seems to elude Haim more often that not - Danielle sings "love wasn't what I thought it once was..." in track five, 'Honey & I' - every lesson learnt is a lesson well earned. Like their album's opening-track, 'Falling', advises: "Never look back, never give up."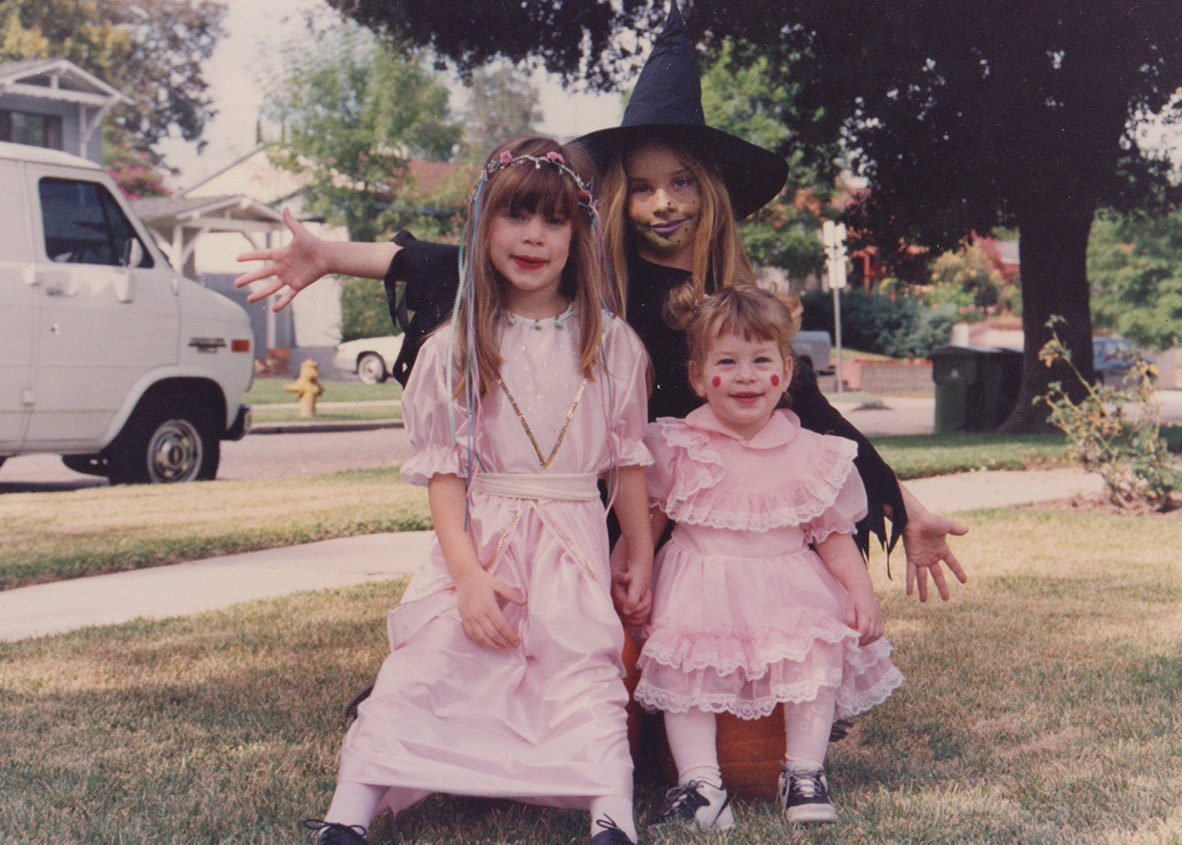 Haim is more than a band; Haim is a feeling. Haim is the feeling you get listening to empathetic earworms that perfectly capture how you feel in your heart, even if you didn't already know you were feeling that way. On their album's closing-track 'Running If You Call My Name', Danielle sings [with perfectly dazed intonation]: "I went back to a room and every memory came rushing back too soon, as I packed my bags and I lied down, I felt the bed sink in and the cover surround." With just a couple of lines, Haim spirit you away to nostalgic contentment, and that's a place I'd like to stay forever.
IT'S THE YEAR OF THE HAIM - a.k.a. "Hard Ass Ill Muchachas".
Watch our new interview with Haim below...
HAIM BEING HAIM:
BEING ALANA...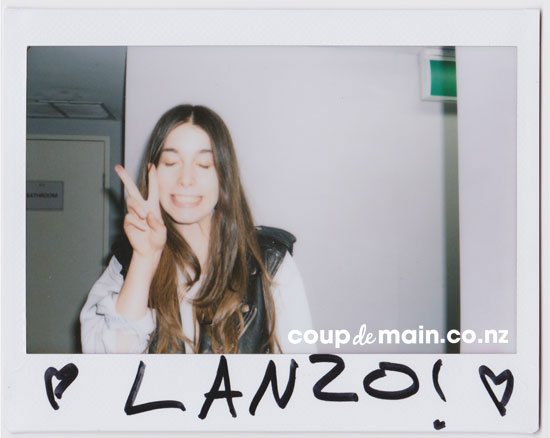 BEING DANIELLE...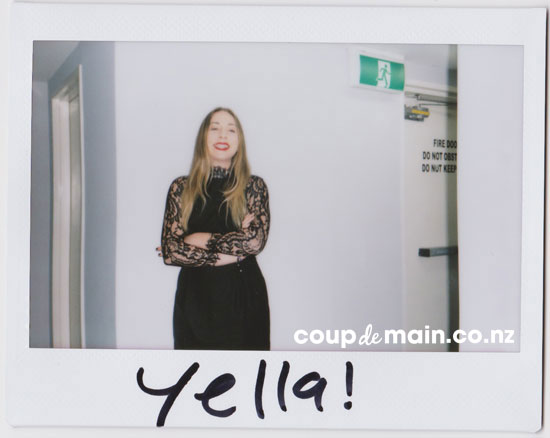 BEING ESTE...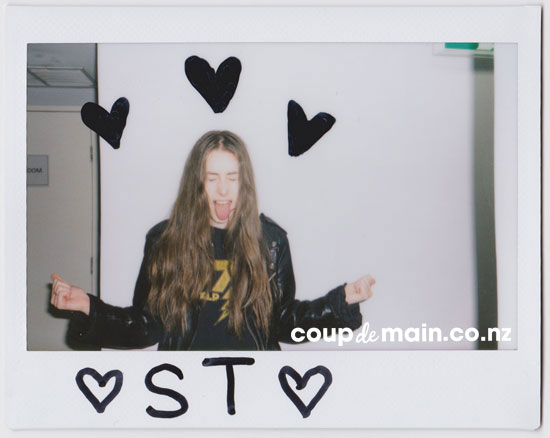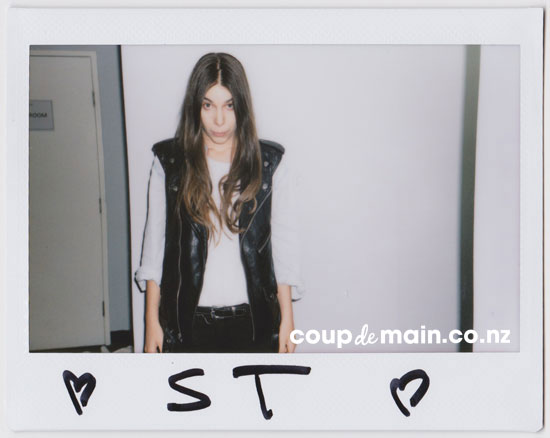 ...and a quick chat about 'Days Are Gone' and other important things...
COUP DE MAIN: Do you have a favourite song on the album?
ESTE: It's like picking your children...
ALANA: I think my favourite on the album is 'Honey & I', that's mine.
ESTE: I still think my favourite song is 'Forever', personally.
ALANA [to Danielle]: What's your favourite song?
DANIELLE: I like... I don't know! I think 'Honey & I' is one of my favourites.
ESTE: 'Forever' is my favourite to play live too, that's the most fun.
CDM: Do you have any favourite lyrics on the album?
ALANA: My favourite lyric still is: <sings> "Never look back, never give up..."
ESTE: That is a good one.
ALANA: That's my favourite, still to this day.
DANIELLE: Inspirational!
CDM: Do you have any favourite anecdotes from recording the album?
ESTE: I think we just had a really good time recording the record. I think that and maybe hanging out with Jessie Ware.
ALANA: Yeah! We met up with Jessie Ware when we were in London and hung out with her while we were making the record - she's the best vibe.
ESTE: Her and also hanging out and being able to collaborate with Twin Shadow, was really cool. We wrote with him, he's awesome and so much fun to hang out with and really creative - like so creative, I don't know where his ideas [come from and] how they come out of his brain.
HOW I FEEL ABOUT THE 'DAYS ARE GONE' ALBUM...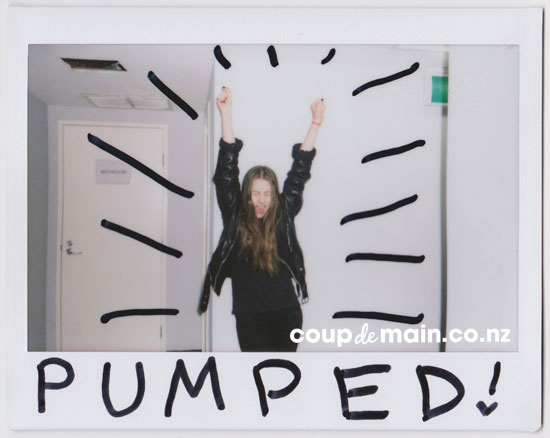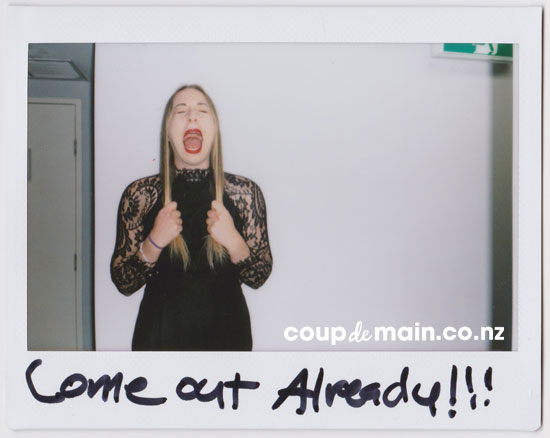 CDM: What was it like working with Ariel Rechtshaid?
ESTE: Amazing.
ALANA: Ariel's the best! The best dude in the world. It was just so crazy, because he worked with us right after the Vampire Weekend record and we were working with him when the Vampire Weekend record came out. That record is such a masterpiece and we were so in awe of him. We're his biggest fans also. He is an amazing producer and we're just so lucky that we got to work with him and got matched up with him before he became crazy and didn't have time for us!
ESTE: He's also just a lot of fun.
DANIELLE: He's actually from The Valley, like literally the next neighbourhood over, so it felt like we had a lot in common.
CDM: And when's the album coming out?
ALANA: The album is coming out...
DANIELLE: September 27th - woo!
ALANA: YAY!
CDM: And on September 27th, once fans have bought the album, what should be their immediate next course of action?
DANIELLE: Go and have a raging party.
ALANA: They should put it on and get really wasted and party and dance.
ESTE: And then tweet at us where their party is.
ALANA: And if we're in the same city, we'll go visit them!
ESTE: I wish we were in New Zealand when it came out, that'd be really, really fun!
CDM: Well, when are you going to finally visit us?
ESTE: Sometime next year, we're going to be there - if it's the last thing I do.
ALANA: New Zealand's definitely on our routing, for sure!
IF I HAD A DAY OFF IN NEW ZEALAND I WOULD WANT TO...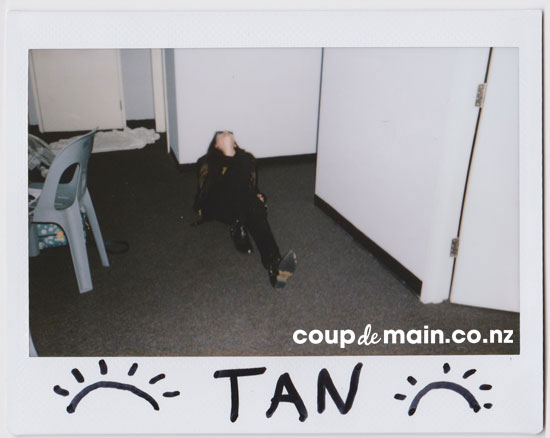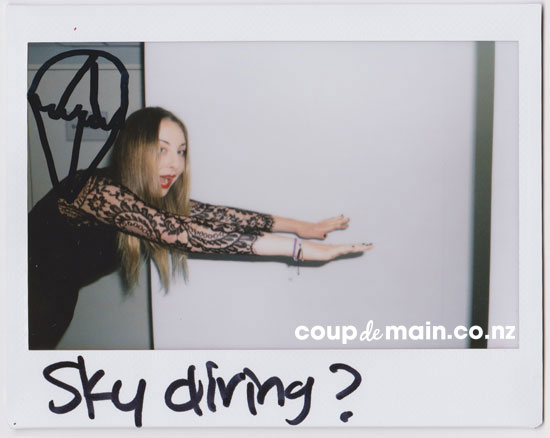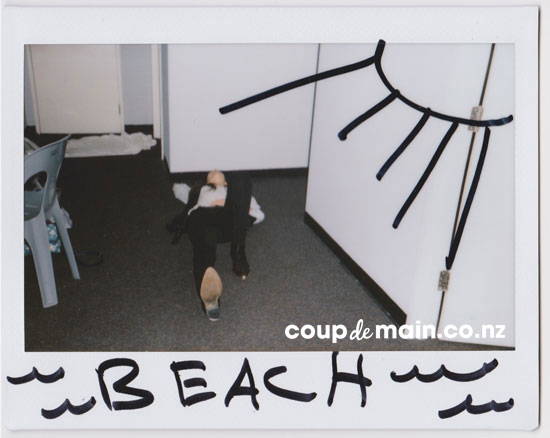 HAIM's debut album 'Days Are Gone' - featuring the singles 'Forever', 'Don't Save Me', 'Falling' and 'The Wire' - is out on September 27th. Click HERE to pre-order it now via iTunes.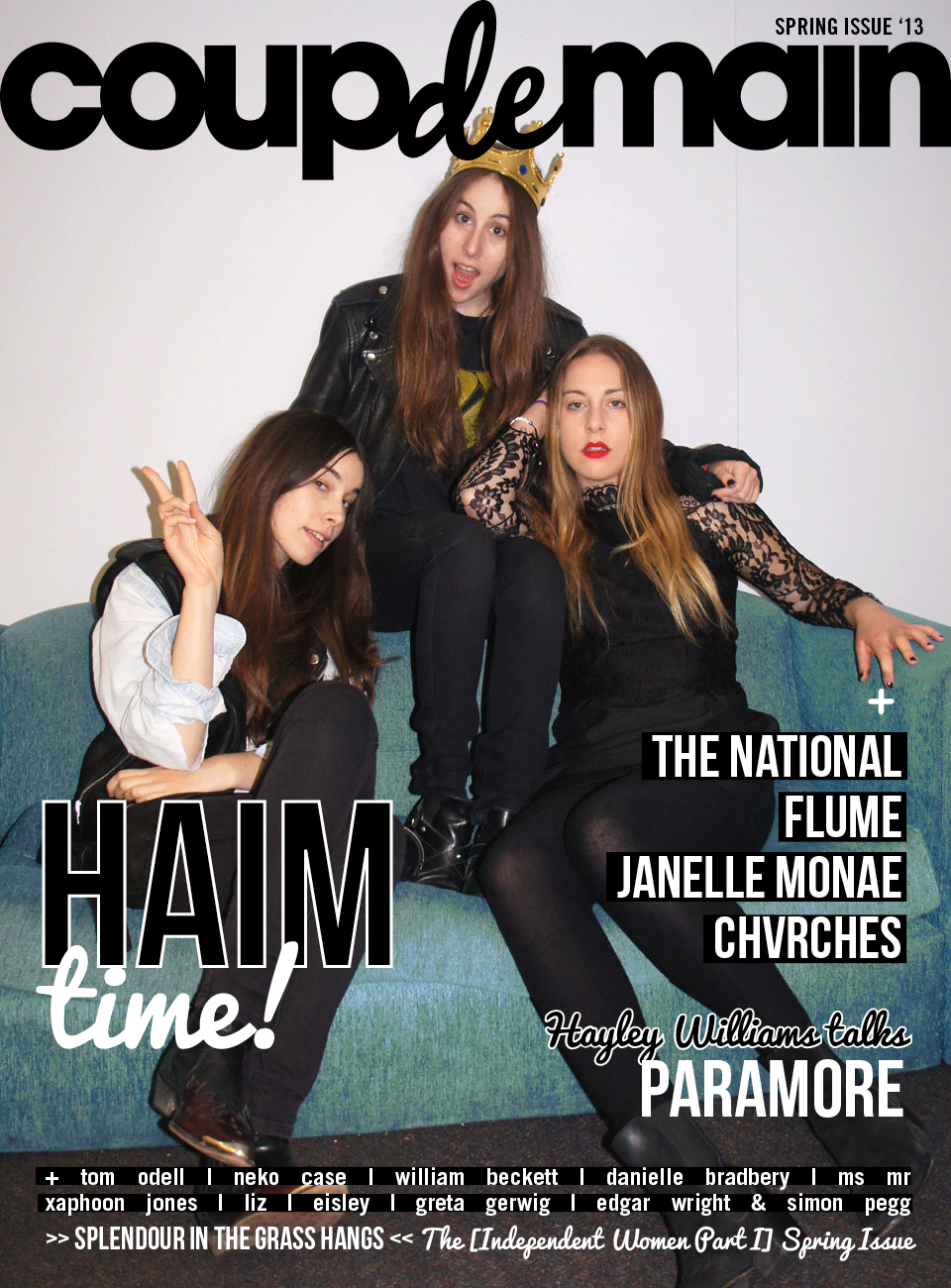 Click HERE to read CDM Issue #9.
Watch 'The Wire' music video below...
Load next