Coup De Main x AllTracks | Yukon Era
Coup De Main x AllTracks | Yukon Era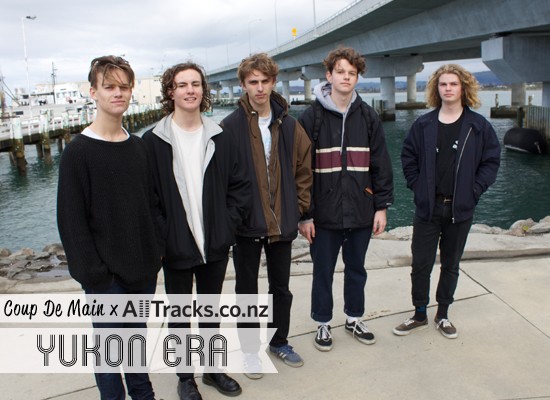 Self-described as "5 boys slapping each other's buns and capturing it through your basic recording uint of a dd 20 digital delay," Yukon Era are doing pretty well for themselves - having opened for the likes of Mini Mansions, Mac DeMarco, Viet Cong, and more in just the past year.
Coup De Main is excited to exclusively premiere their new music video for 'Her Worst Nightmare' today, as well as announce details of their debut EP and accompanying tour.
The 5-track EP is set for release on February 26th, with a tour starting in Palmerston North, heading to Wellington, before ending in Auckland with two shows:
Feb 26th ­ - Palmerston North ­ - Oxford Street (R18)
Feb 27th ­ - Wellington ­ - Eyegum House Party (R18)
March 4th ­ - Auckland ­ - Flying Out (All Ages)
March 9th ­ - Auckland ­ - Golden Dawn (R18)
We spoke to Lachie and Christian about the music video, NZ artists, and more…
COUP DE MAIN: What inspired the lo-fi music video for 'Her Worst Nightmare'?
YUKON ERA: We recorded all of it with an app on my [Lachie's] iPhone so it was pretty low budget, but also pretty practical as we already had all we needed. We also wanted to capture some crazy moments over our New Year's and we really liked the VHS look that the app created.
CDM: You've played heaps of live shows, supporting a range of international artists. Is it important for your recordings to have a live quality to them?
YUKON ERA: Yeah, the live sound is really what we aim for in our recordings. We like to make them sound pretty raw which emulates the sound we create when playing live.
CDM: You guys are all relatively young - when did you start playing music, and when did Yukon Era form?
YUKON ERA: Christian and I [Lachie] were in a band called Desperate Models, before Yukon came about, and that band formed in late 2013. So us two had been playing shows pretty regularly for two or so years until that band split up, so we started Yukon Era in about June/July of 2015. Pierre and James have been playing in bands for a couple of years now too and this is Ben's first band, but he has grown up around music.
CDM: Our column is all about NZ artists, what other NZ artists are you loving at the moment?
YUKON ERA: We are good friends and huge fans of Trust Punks, Roidz, and Die! Die! Die!, so we are really into those bands. We also are huge fans of The Mint Chicks, but none of us are really old enough to have seen them at their peak.
YOU WILL LIKE MY MUSIC, IF YOU LIKE... Double Browns.
IF YOU ONLY LISTEN TO ONE OF MY SONGS, YOU SHOULD LISTEN TO... 'Vietnam Man'.
MY TOP FIVE MUSICAL CRUSHES ARE... The keyboardist in 'School Of Rock' x5.
YOU KNOW YOU'VE MADE IT WHEN... You do a Calvin Klein ad.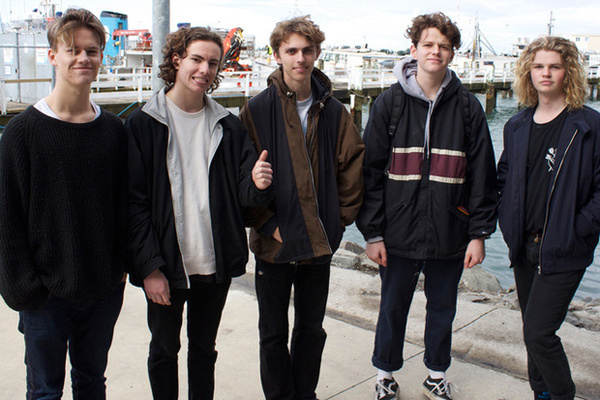 CDM: If you were to curate your own music festival, who would you want to play and what would the festival be called?
YUKON ERA: We'd call it Flavour In My Mouth Festival, and the line-up would consist of Viet Cong, The Mint Chicks, UMO, Tame Impala, Gum, Naomi Punk, Mac DeMarco, Snoop Lion, Weird Al Yankovic, and Metz.
CDM: If you could pick any five people (living or dead) to be in your entourage, who would you choose?
YUKON ERA: Michael Jackson, Stone Cold Steve Austin, Brett Michaels, Fetty Wap, and Usain Bolt.
CDM: Who is your most famous fan?
YUKON ERA: My Mum. (Hi Mum).
CDM: Do you believe in magic?
YUKON ERA: Ohhhh yeah.
CDM: What is your spirit animal?
YUKON ERA: Usain Bolt.
CDM: How long could you go without talking?
YUKON ERA: 60 seconds exactly.
CDM: If you could steal one thing without consequence what would it be?
YUKON ERA: The Pick of Destiny.
CDM: What is the most heroic thing that you've ever done?
YUKON ERA: I [Lachie] saved Christian from being hit by a bus once.
CDM: Have you ever written a love letter?
YUKON ERA: I don't write and tell...
CDM: What is your first proper memory, ever?
YUKON ERA: Getting a cream donut from the markets.
CDM: If you were a country, what would be your national anthem?
YUKON ERA: 'Dirty Deeds Done Dirt Cheap' by AC/DC.
CDM: Have you ever had an out-of-body experience? If so, tell us about it.
YUKON ERA: Not yet!
CDM: Stretch your right arm out as far as you can reach, what can you touch?
YUKON ERA: [Christian] Lachie's knee.
For more YUKON ERA, check out:
facebook.com/Yukon-Era-529290717221561
yukonera.bandcamp.com
Watch the 'Her Worst Nightmare' video below…
Load next