Interview: 2018 Must-Know - Inheaven
Interview: 2018 Must-Know - Inheaven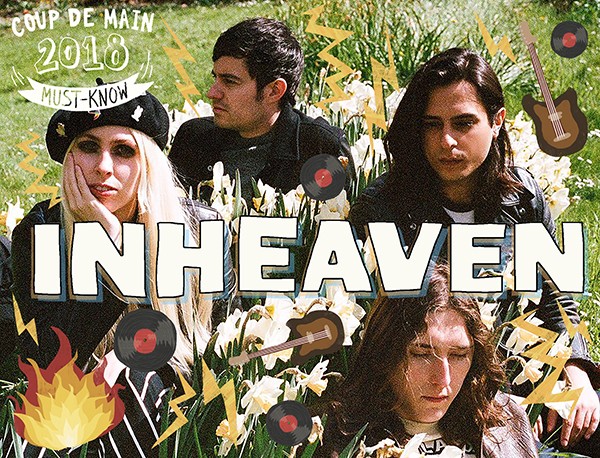 London four-piece Inheaven released their 2015 debut single 'Regeneration' via Julian Casablanca's record label, Cult Records, followed up by a stream of singles, and then their critically acclaimed self-titled debut album last year in September. 
Kicking off 2018 with the release of new song 'Sweet Dreams Baby', Inheaven are set to kick off a headline tour of the UK at the end of this month, then spend March/April touring North America with Pale Waves, before continuing to amass adoration for their live performances.
MUST-LISTEN: 'Stupid Things', 'All There Is', 'Real Love'.
YOU WILL LIKE, IF YOU LIKE: Wolf Alice, The Vaccines, Sundara Karma, Circa Waves, Yeah Yeah Yeahs, The Horrors, Bully... and road-tripping to your favourite music festival with your best friends.
COUP DE MAIN: How does your songwriting process work?
INHEAVEN - CHLOE LITTLE: The first song written was 'Regeneration' and that came about after I made a 30 second repeating clip of images and James sat alone and wrote to the images.
INHEAVEN - JAMES TAYLOR: But every song is different. I like to write alone a lot, but we also collaborate and try and keep things fresh by going to different places to work.
CDM: Do you write your lyrics specifically for the songs, or do you write poems or prose and then evolve them into song-form?
JAMES: Depends on the song, but usually a musical idea comes first, and that sparks where we want to go lyrically.
CDM: Lyrically, what's your favourite song that you've written?
JAMES: 'Velvet'.
CHLOE: 'Treats'.
CDM: What do you think is the difference between a good song and a great song?
CHLOE: Capturing a universal emotion but saying it in a way that's never been said before. That's what you strive for.
JAMES: It's a magic that can't be explained, it's how people identify with the lyrics and know that feeling you're singing about... because they've also felt it at some point in their lives.
CDM: In 'Real Love' you entertain notions of wanting to "settle down" and waiting for your romantic partner. To you, what defines 'real love'?
JAMES: Someone who doesn't let you down.
CHLOE: Someone that treats you right. :)
CDM: What was running through your mind while writing 'World On Fire'?
JAMES: We wanted to capture the feeling of the world crumbling under the control of the male ego. 
CHLOE: We were feeling very disillusioned with the world, particularly at how women are treated. It's 2018 and we don't have equality, something has to change.
CDM: "I'm bored of my generation," you say in 'Regeneration'. What do you think are the worst things about our generation?
JAMES: Social Media.
CDM: Do you think there's anything good about our generation?
CHLOE: Technology is good, sometimes.
CDM: This next question is from Pale Waves' Heather Baron-Gracie: What's your favourite track off your album?
CHLOE: Hi Heather! I think mine is 'Do You Dream' because it's v emotional.
JAMES: 'Regeneration', because it started it all...
CDM: Why has it been important to you to create zines for your fans? Will you continue to make them?
JAMES: The fanzines are an extension of the music we make, so we will continue to do that in some shape or form.
CDM: If I.N.H.E.A.V.E.N. were an acronym, what would each letter stand for?
INHEAVEN: IN NEVERLAND HER EVIL ANGELS VISIT ENGLISH NIGHTLIFE.
CDM: What's on your bucket-list?
CHLOE: To go to New Zealand.
CDM: You're one of our 'must-know' artist picks for 2018... who are yours?
JAMES: We like a band called King Nun.
CHLOE: Obviously Pale Waves, but they are huge already.
Watch the 'World On Fire' music video below...
Load next