Phone a Friend: Advice from Dizzy.
Phone a Friend: Advice from Dizzy.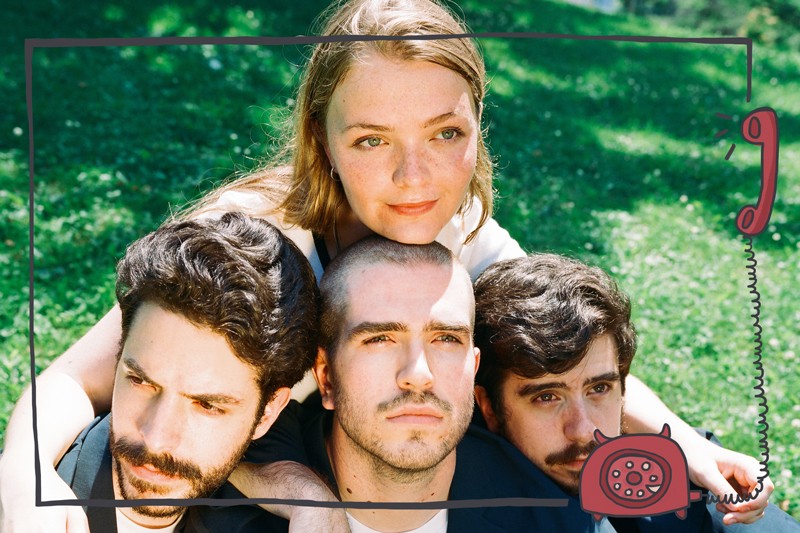 "And I'm just stuck in this town I can't handle / Watching you light it up / From a north end parking lot / While I'm just setting off roman candles," sings Dizzy frontwoman Katie Munshaw in 'Roman Candles', the latest single from the Canadian band's new album, 'The Sun and Her Scorch'. Perfectly capturing the frustration that many creatives feel having to forego the security and safety of a 'normal' life to instead devote themselves to their art, we ask Munshaw what it is about music that makes her know that it's all worth it? She answers: "It's the only thing I'm sort of good at now where I don't have to try. As a kid I clung to things that I was immediately good at, and one of those things happened to be writing songs. I've always been emotional and overly sensitive so when I joined my elementary school's songwriting programme, I was like, 'I can write about all those times that I cried about dumb stuff and people won't tell me to calm down about it? I'm in.' It's really fitting to me that I've grown up and figured out a way to monetise how much of a spaz I am."
And on 'The Sun and Her Scorch', Munshaw beautifully outpours her emotions into the emotive eleven-track album. About the contemplative 'Ten', she says: "I wrote the beginnings of that song one morning after I found myself staring at my face in the mirror and noticed lines around my eyes were starting to form. Ageing and death scare the shit out of me. I think of it more often than what is probably healthy. I have a friend who says they aren't scared of death and I'm like, 'What the fuck?' The rest of the song slipped out of me and I didn't realise what I was writing about until after. The song is a love story at its core, but it's more about how everybody dies alone. I can share decades worth of breakfasts and car rides and birthdays with someone, feel companionship and a sense of togetherness, but I will exit this earth by myself. And that is something that I don't think I'll come to terms with any time soon."
"Hopeless if he left me / A pro at co-dependency / A problem if you're looking at it close," muses Munshaw in 'Lefty'. With co-dependency often confused for romanticism, is it dangerous that pop-culture and the societal pressure to pair-bond has normalised co-dependency? Munshaw replies: "Yeah! It's become normalised to see an instagram post of someone's partner with the caption reading: 'My whole WORLD! I would be nothing without you!' And it kinda makes me gag but it also makes me sad. I know the times in past relationships where I've felt co-dependent on my partner are the times that I've also felt like garbage about myself. I remember talking to my dad when I was worried my relationship at the time was going under. I think he noticed how panicked I was and asked: 'Does the thought of being without this person make you distraught?' I said yes. He told me that's not healthy. I think that was the day that I started giving myself more credit. I absolutely can live without a partner. I am a whole ass person on my own."
And if Munshaw were to recommend you one song from Dizzy's new album to get into? "I think 'Sunflower' is a good place to start. It's like this little pick-me-up track that acts as some kind of medicine after a long day of hating yourself."
Below, follows some life advice from Dizzy (empathetic; much like the music they make)...
DIZZY'S TOP 10 TIPS FOR LIFE AND OTHER PROBLEMS:
Ask people about themselves and listen.
Call your Grandma.
You can support and feel empathy for someone you love without feeling like you have to fix their situation.
Eat the damn sleeve of Oreos if you wanna/gotta.
You don't have to go to university or college to be successful.
Social media is a dumpster fire.
Don't read the comments.
Let your dog sniff around a little longer on their walk. It's their favourite part of the day.
Don't walk up a staircase with a pan of hot bacon grease (it's a long story).
Mind your own fucking business and be kind.
Listen to Dizzy's new album 'The Sun and Her Scorch' here and watch the music video for 'Roman Candles' below:
Load next