Interview: CLAYE on their new single, 'Places'.
Interview: CLAYE on their new single, 'Places'.
Wellington-based R&B duo CLAYE have just two singles to their name thus far ('Autodrive', and the more recent 'Places'), each of which offer a different side to their electronic-driven tunes.
Made up of Giorgio Scott and Oscar Nikola, the duo are just getting started - and we spoke to them about their new song 'Places', as well as their songwriting, and future live shows…
COUP DE MAIN: What was running through your mind while writing your latest single 'Places'?
CLAYE: It's a song about the feeling of a break-up and initial thoughts of moving on and going new places. It's also an opening for what CLAYE has got next and where we will be going.
CDM: Have you played any live CLAYE shows yet / do you have plans to play any shows?
CLAYE: Nah, no live shows yet! We have been super busy trying put together a body of work, so I guess now we are at the point where we could look at our live show and have been thinking a bit about the dynamic and setup. We are so keen to play and we are hoping to line something up to debut CLAYE live.
CDM: Oscar, how does your songwriting process work?
OSCAR NIKOLA: I usually start with freestyling some melodies in my head or over some chords. I then start jotting down lyrics, sometimes it's the first thing that comes into my head, or it could be anything I have been experiencing at the moment.  
CDM: Giorgio, how does your production process?
GIORGIO SCOTT: Generally start off with some chords that I like the sound of and record them from the click of the metronome. Sometimes if I'm inspired by a particular beat then I will lay some drums out with a similar tempo, it can be so powerful doing it like that. Ideas inspired from others in music will lead to some unchartered territory. But yeah, I'm always finding new synths and sounds I want to experiment with, that's why I love music, there are infinite possibilities.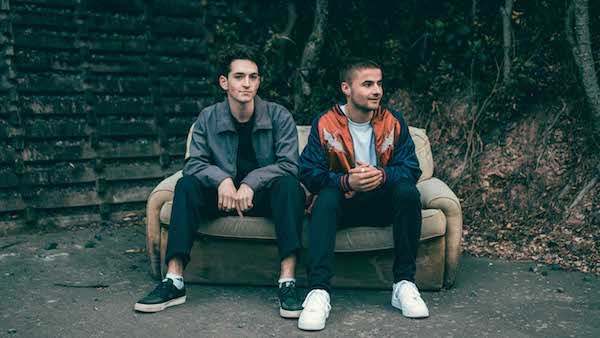 [All photos by Shyam Patel]
CDM: How collaborative is the writing/production process with each other - do you guys work on bits and pieces individually and then bring them together to finish?
CLAYE: Yeah, we always dedicate time to write and catch some energy in the studio together. We are constantly learning from each other and perfecting our craft. It's cool just being exposed to the music scene, there are so many creatives that are so cool to work with and we are always learning from them too. We wouldn't say 'Oscar writes and Giorgio Produces', at the end of the day we are always bouncing chords, melodies, lyrics, and beats off each other, and we together produce this music as a whole.
CDM: What other NZ music are you currently listening to?
CLAYE: At the moment we have been loving Matthew Young (that guy's a genius). Also the SACHI boys are killing as per and their new one with Thomston is a banger. Everytime LEISURE release a new song it's like Christmas. There are so many more we could mention e.g. NAME UL, TAPZ, LA WOMEN, Louis Baker - just to name a few.
YOU WILL LIKE OUR MUSIC, IF YOU LIKE... The Weeknd.
IF YOU ONLY LISTEN TO ONE OF OUR SONGS, YOU SHOULD LISTEN TO... 'Autodrive'.
MY TOP FIVE MUSICAL CRUSHES ARE... Drake, Majid Jordan, Travis Scott, Post Malone, Frank Ocean.
YOU KNOW YOU'VE MADE IT WHEN... You're sitting in front of Zane Lowe at Beats 1.
CDM: If you were to curate your own music festival, who would you want to play and what would the festival be called?
CLAYE: Festival Name: CLAYE presents: Nights with Pinot Noir.
Michael Jackson, Majid Jordan, Travis Scott, Post Malone, Frank Ocean, Chet Faker, SZA, Lorde, Kaytranada, DJ Khaled (and Asahd plus Special Guests), Daniel Caesar, Daft Punk (w/ Giorgio Moroder), Roy Woods, Jamie xx, Sampha, Bon Iver, French Montana, Kendrick Lamar, James Blake, 21 Savage, The Weekend, Stevie Wonder, Kanye West and Jay Z (Watch The Throne). Wow when are tickets on sale for this one?! I'm KEEN!
CDM: What's the most despicable thing you've ever done?
CLAYE: We both tried to steal a real estate sign but ended up dismantling a 10m Remuera white picket fence with it.
CDM: If you could pick any five people (living or dead) to be in your entourage, who would you choose?
CLAYE: Noah Shebib (40), Michael Jordan, DJ Khaled, Jonah Hill, and Leigh Hart.
CDM: Who is your most famous fan?
CLAYE: We weren't sure if he was, so we slid into his DMs and it turns out he's a fan. Montell2099. A personal friend of ours and a personal friend of 21 Savage. That would technically make him our most famous friend.
CDM: Do you believe in magic?
CLAYE: YES. We're HUGE fans of Criss Angel Mindfreak.
CDM: What is your spirit animal?
OSCAR: Panda.
GIORGIO: Lion.
CDM: How long could you go without talking?
CLAYE: Well we went to the same school without talking to each other for three years. So I guess we would be quite good at that.
CDM: If you could steal one thing without consequence what would it be?
OSCAR: Nando's.
GIORGIO: Metro Boomin's hard drive.
CDM: Have you ever written a love letter?
OSCAR: Yes.
GIORGIO: I've always wanted to but I haven't found love yet.
CDM: What is your first proper memory, ever?
OSCAR: Lying in bed falling asleep to Dad's tunes.
GIORGIO: Frustrated at my Kiwi Grandma for not understanding my Italian gibberish.
CDM: If you were a country, what would be your national anthem?
OSCAR: 'Waka Waka' - South Africa.
GIORGIO: 'Danza Kuduro' - Spain.
CDM: Have you ever had an out-of-body experience? If so, tell us about it.
GIORGIO: I was potentially on some substances and I listened to the whole of the LEISURE album and it was one of the best experiences I have ever had.
OSCAR: This one time I was watching 'Rick and Morty'.
CDM: Stretch your right arm out as far as you can reach, what can you touch?
OSCAR: Giorgio's plate of pasta.
GIORGIO: The wall in the studio.
Watch the 'Autodrive' music video below…
Load next