Why BROCKHAMPTON are the live boyband that 2018 needs.
Why BROCKHAMPTON are the live boyband that 2018 needs.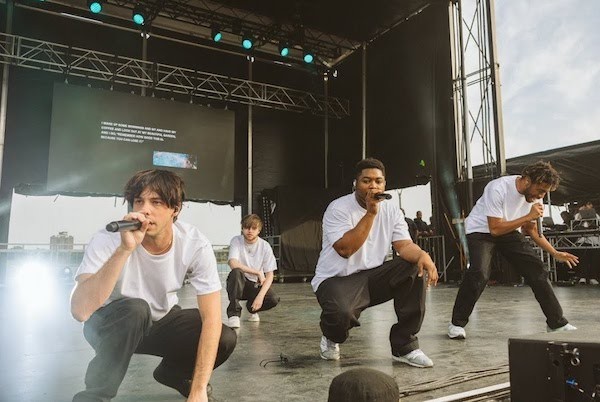 So high energy was BROCKHAMPTON's sold-out show last night in London that nearly all the oxygen was sucked out of the room. Literally. The balmy Summer evening in London was nothing compared to sharing the air inside KOKO with 1,400 other very eager attendees, who were determined to give back the same level of energy that the All-American boyband brought to them on-stage.
The second of two sold-out shows at the venue marked the group's headline UK debut (they're scheduled to play Reading + Leeds Festival this weekend), which has been a long time coming - having already gained impassioned fans throughout the 'Saturation' trilogy of last year, the 'All-American Trash' mixtape of 2016, as well as new material throughout this year, there was certainly no lack of knowledge of their entire catalogue at the show.
One thing made abundantly clear at the show, is that the audience is at the forefront of the group's thoughts at any given moment - from Kevin Abstract checking in throughout the show, asking "Is everybody okay?", to Joba requesting that "if anyone falls over, help them up," before opening up the pit. BROCKHAMPTON demand a lot of their audience, encouraging mass singalongs, hands in the sky ("like you on a rollercoaster!") - but what they demand of the audience, they reciprocate on an even greater level, with a relentless energy that they don't let down even for a second throughout their entire set.
They also give back in their song selection, playing fan favourites 'RENTAL' and 'HOTTIE' back-to-back, as well as giving each member their time to shine. Their collectivism and support for one another was undeniable in a live setting, with each member mouthing to words encouragingly while the other rapped into their respective mic.
Bearface's performance of 'SUMMER', solo with just him and a guitar was a set standout, as well as Joba's emotive rendition of 'FACE', which he dedicated to "anyone with a broken heart." The enormous "Joba" chant that followed was heartwarming.
"You are now watching the greatest boyband in the motherfucking world," Abstract stated throughout the show. And he might just be right.
Load next