Review: Kacey Musgraves - Auckland Town Hall, May 2019.
Review: Kacey Musgraves - Auckland Town Hall, May 2019.
"Damn, y'all are cute," Kacey Musgraves declared just two songs into her first ever show in New Zealand at Auckland's Town Hall last night. It's been a long time coming for the Texan artist to come to our shores, and it's clear her fans had been eagerly anticipating the show - with many of the front row donning cowboy hats as a nod to Musgraves' roots.
Opening with 'Slow Burn', which is coincidentally the opener to her Grammy award-winning album 'Golden Hour', Musgraves (and her glittery microphone stand) and her six-piece band were flawless in their performance, which continued into 'Wonder Woman', which saw the addition of a disco ball globe on the screen behind.
In an attempt of audience bonding, Musgraves asked everyone to turn to their neighbour and give them "a quick high five!" before she continued with 'Butterflies' and 'Lonely Weekend' - the latter of which saw her add a self-deprecating line about her own laziness.
'Happy & Sad' saw the audience singing reach peak volumes, at one point with Musgraves contemplating, "I'm just gonna let y'all sing everything!", before a stripped-back opening of 'Golden Hour' showcased another side to her performance abilities.
Musgraves and the band then formed a semi-circle formation at the front of the stage for an acoustic portion of the set, with a breath-taking performance of 'Oh, What A World', the name of the World Tour she's currently on.
Pausing to introduce her band, who are dubbed "The Crispy Boys", Musgraves then introduced herself as "Spacey Kacey, your host for tonight," before heading into the heartfelt 'Love Is A Wild Thing', and then taking things to true country town with 'Velvet Elvis' (before which, she started a 'Yee Haw' chant).
Though the tour mostly saw her performing 'Golden Hour' tracks, older fans were delighted with the additions of songs like 'Die Fun' and 'Family Is Family', plus Musgraves even had a karaoke party on-stage with a cover of the classic 'I Will Survive'.
Closing out her immaculate set with 'Rainbow' and 'High Horse' (for which she briefly donned a bright pink cowboy hat), Musgraves enthused, "Will you guys have us back really soon?", before leaving the stage for the final time.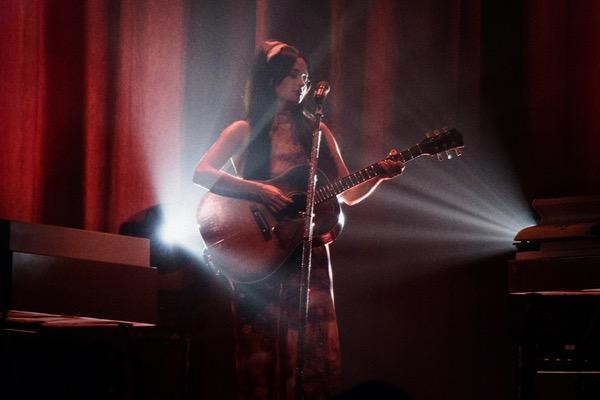 Set-List:
Slow Burn
Wonder Woman
Butterflies
Lonely Weekend
Happy & Sad
Merry Go 'Round
Western Jam / High Time
Golden Hour
Die Fun
Mother
Oh, What A World
Family Is Family
Love Is A Wild Thing
Velvet Elvis
I Will Survive (Gloria Gaynor cover)
Space Cowboy
Follow Your Arrow
Rainbow
High Horse
Load next