Interview: Choose your own adventure with Rex Orange County.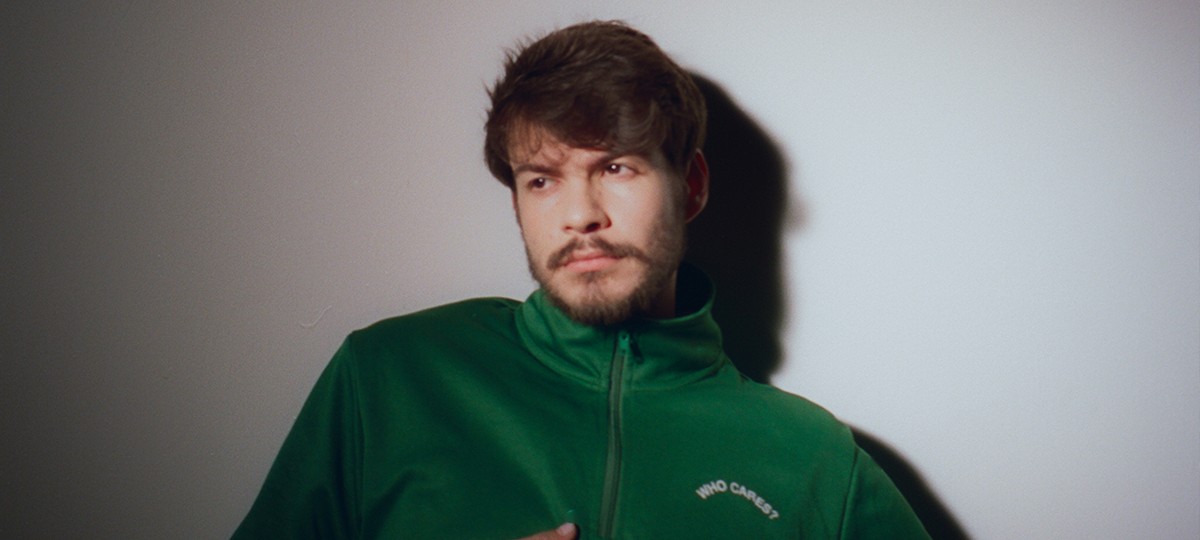 "You want to play the song with me?!" asks a bemused Rex Orange County, responding to a fan who's appealed to perform 2017 deep-cut 'Edition' live with him - the upward inflection in his voice betraying absolute astonishment at this spontaneous turn of events. Born Alex O'Connor, the prolific songwriter (with four albums released already at the age of 23, several platinum-certified non-album singles, and his top five tracks on Spotify having attracted over 1.7 billion streams) is tonight celebrating the release of his new album 'Who Cares?' with an intimate show for 200 seated attendees at New York's historic Blue Note Jazz Club. Blinking as he considers the request (and perhaps remembering himself onstage with N.E.R.D. at 12; bouncing around Pharrell), O'Connor only wavers for a millisecond, before throwing all caution to the wind and warmly welcoming the fan onstage with a firm handshake.
The fan, 16-year-old Nicholas Papaccio, plays keys, and O'Connor offers encouraging pats on the back as they joyride their way through an endearing rendition - and when O'Connor forgets lyrics ('Edition' hasn't been a mainstay of his setlists since 2018), fans resoundingly chime in with an obliging, "I'm only ever trying to help you." Now immortalised on TikTok with 3.6 million views, Papaccio later tells me that the surreal moment (his first time ever performing in front of an audience, let alone on a stage) meant "the absolute world" to him, and O'Connor's own father writes in a comment on Instagram to Papaccio that: "Years ago we watched Billy Joel get a fan up on stage to play piano whilst he sang 'New York State Of Mind'. I think it had a memorable effect on Alex. So pleased for you too!!"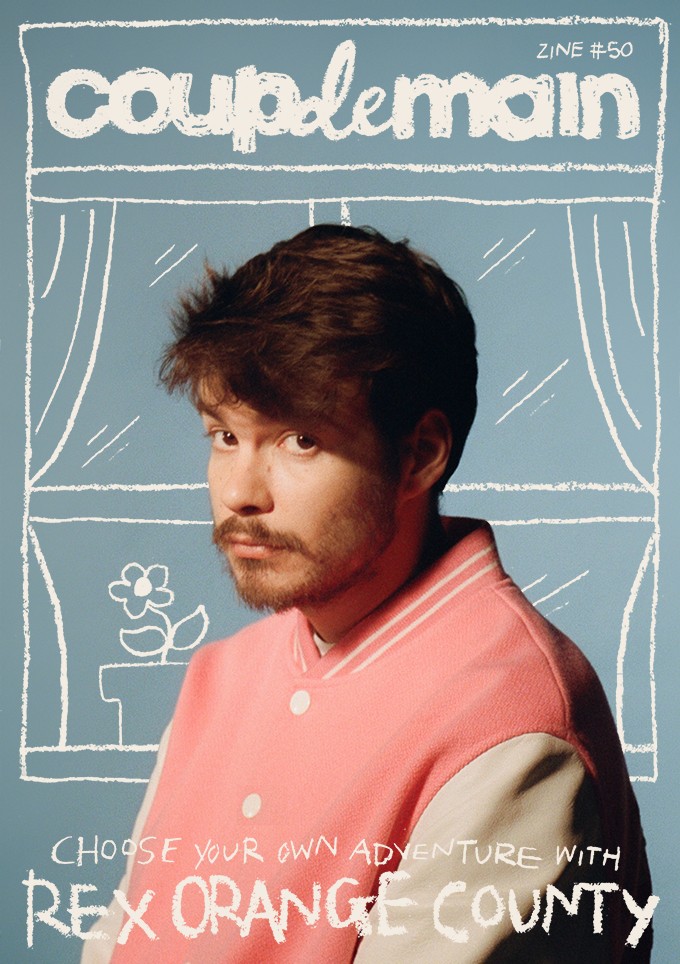 Click here to order our limited-edition CDM x Rex Orange County zine (i.e. a mini-magazine featuring photos + quotes from this cover-story).
This is Rex Orange County in a nutshell: a man of the people for whom live performances are a communal experience. "I like to perform to people, and connecting with people and being right there, it has always been important to me and still is very important to me," reflects O'Connor on what he considers to be a mutually beneficial conversation with his audience. Recently connecting via Zoom from an austere studio ahead of his new album release, he explains to me that: "There's something about that thing of being the source of entertainment and knowing that the people are excited to see me, and I'm gonna give them something, and we're going to share something. They're gonna give me a lot of joy, and I'm going to give them some joy, hopefully."
Connection is important to O'Connor you see, and for him, everything important revolves around music. But what do you do when the thing you love most becomes your job? And how do you prevail upon realising that you are your own worst enemy? Thrown into the deep end with much-celebrated features on Tyler, The Creator's beloved 2017 'Flower Boy' album, the then-19-year-old and his 'Apricot Princess' sophomore album were propelled overnight from cult favourites to gargantuan playlist renown (and endless confusion over the Hampshire native's actual nationality). Forced to navigate his life's passion turning into work, O'Connor's coming-of-age is detailed on 2019's 'Pony' album, which relates feeling trapped in undesirable situations and finding it difficult to trust people ('Face To Face'), lessons learnt from being exploited as a Rex Orange County commodity ('Stressed Out'), and being so hard on yourself that you wouldn't even wish for your very worst enemy to have to suffer through the same self-sabotaging anxiety ('It's Not The Same Anymore'). With all of O'Connor's wildest dreams coming true (including a short stint in Frank Ocean's touring band), it's hard to believe that one could feel resentment towards an art-form that had previously brought so much joy, but that's the crux of mining your own world for songwriting inspiration. And if you have people-pleasing tendencies, it's easy to forget that it's important to retain ownership of your life by drawing firm boundaries and keeping some things just for yourself - especially, if you have a storied history of giving strangers your all.
Terrified of the wheels falling off, with no handy know-it-all handbook advising how best to endure burnout, and armed only with a budding belief that surely one day it must all get better, O'Connor finds himself on fourth album 'Who Cares?' continuing to navigate the tension between his professional and personal lives - basking in the warm glow of uplifting growth, harnessing mood fluctuations into motivational affirmations, and gently reminding listeners that a little kindness toward yourself (and a lot of patience) can go a long way. During an online listening party around the album's release, O'Connor told fans: "I really feel strongly about being true to yourself! If you're unhappy somewhere, in a particular situation, you can get out! Life's too short, man."
Reunited with Benny Sings (whom he'd previously made the effervescent 'Loving Is Easy' with), at his Amsterdam studio with winter brewing outside, the duo worked without any intention or ambition over 12 days, bottling musical exuberance and joyfully honing their natural instincts. Via email, Sings describes working with O'Connor as an effortless and unique experience: "When you work with someone with such a voice, it's all play. You don't have to search endlessly for that golden moment. It's just a constant." Rehoming prickly feelings into a candid time capsule, the duo only realised they had made an album upon completion - the 11 animated tracks of 'Who Cares?' reverberating with emotive precision, exploratory escape routes, and reality-changing epiphanies ("This is the life!" O'Connor declares on the pensive but hopeful 'Shoot Me Down').
In signature Rex Orange County fashion, the album 'Who Cares?' fits like an oversized fleece, enveloping you with the kind of lived-in coziness that only accompanies feeling truly seen and understood by someone you hold dear. "I know that I wanna be independent / I really wanna prove myself today, but what if I'm hopeless and dependent once again... should I pack up or stay?" asks O'Connor in the soul-searching '7am', anatomising universal questions with emotional specificity. Coming to terms with co-dependency on a partner in 'The Shade' ("I kept opening my door just to see if you would walk through, but now I'm painting all my walls just to see if you like the shade"), and co-dependency on one's career in the titular track ("So you wanna be happy too? What are you supposed to do? Now you care about who cares"), O'Connor just gets it. And like any human that thrives when feeling loved and appreciated, O'Connor breaks through the clouds on 'Amazing' and 'One In A Million', detailing the buttery buoyancy of falling in love at first sight and how just one person can change your life forever.
"You're only holding out for what you want, you no longer owe the strangers," O'Connor reassuringly tells himself on opening-track and lead-single, 'Keep It Up', embracing newfound peace of mind as he repeats: "It's enough, it's enough." And it really is. In 2017, I first met O'Connor in a nondescript London park surrounded by £3 deck chairs for hire. The next time I see him, he'll be on a victory lap in support of a chart-topping album (#1 in both New Zealand and the UK), returning to our shores to play Auckland's Spark Arena and an already sold-out Wellington show. Fittingly, O'Connor highlights "no one can stop me now!" as one of his favourite parts of any song he's ever made, with the euphoric moment in 'Shoot Me Down' marking an important milestone for the perpetual heart-on-sleeve-wearer. Knowing now that no one can stop him (not even himself!), O'Connor's proclivity for repurposing sharp feelings into euphonic inspiration brings us back to how connection and music are so inextricably intertwined for him. Because for O'Connor, you see, it all comes back to the music. It's always about the music. And maybe self-empowerment really can be that simple; naming feelings and sharing emotions, just always on your own terms only.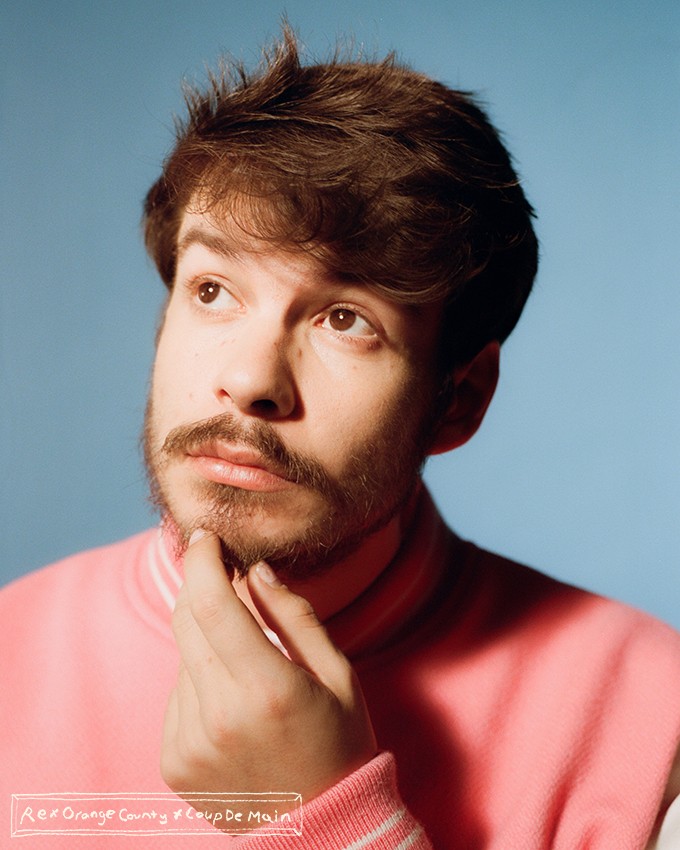 CDM: I cannot even tell you how sad I am that the New Zealand leg of The Pony Tour was cancelled. I was so excited to see the giant pony, and you'd promised me I was going to see '4 Seasons' live! I'm still upset about this on a daily basis.
REX ORANGE COUNTY: Man, same here. That was really, really weird at the time, like really hard, but I know it's hard for absolutely everyone. I was mentally prepared to be away from the UK all year, and imagining to be in New Zealand, and then go to Australia, go to Asia, go to South America, and the rest, and it was just cut short. It was very, very strange.
CDM: When we last spoke back in 2020, you talked about how you missed just being Alex, and thought of as a human being that is just Alex. How are you feeling now looking back on a song like '10/10'?
REX: From then, to now, I'm much more in control. I feel like I'm definitely more Alex now, like more myself. I'm glad I chose to not call myself Alex O'Connor on stage as the artist name, so I could split the two, and live life as not being Rex Orange County all day. And honestly, having some time off, even though it's been tough with Covid, having some time off and just being me again and actually being independent and choosing what I wanted myself, and not feeling influenced by anything or anyone else, I think I've gained a little bit more in knowing myself. It's been really good and bad and very difficult in some ways, but yeah, I feel way better now than I did when we last spoke.
CDM: I'm glad to hear that. I know you're a bit of a solitary creature, so aside from not being able to tour, how have you found the last two years? Have you reconnected with any of your old friends?
REX: I did, and I didn't. Covid definitely helped everyone realise who's really important to you and your life, and who's actually there for the right reasons - and it was quite simple for me to realise who wasn't, and who I still wanted to hang out with. As soon as you get anyone saying, "Let's hang out," but you're like, 'I don't have an excuse to not hang out with you now because there's nothing going on, but I still don't want to...' That's how I knew I didn't need to be doing that. But there wasn't much of that, luckily, it was mainly just a couple of really good, close friends. I have three or four or five, really, really great friends, but they're all from different walks of life and I met them at different points in my life. They all understand what I do, whether they're involved or not, and it's just nice to go and laugh and talk about things that are not my own stuff. But yeah, I was pretty solitary most of the time, and I was having therapy. I've had therapy for a long, long time, and my therapist was like, "You should really go and reconnect with some people because it's something that's kind of a bit of an unspoken thing to keep you feeling all right - deep social connection is as important as sleeping, or water, or going outside and getting fresh air. You wouldn't survive without having some kind of..."
CDM: Self-care?
REX: Exactly. So I was reminded I needed to go and reconnect with some friends, and that was needed. Mostly I was just pretty lonely, to be honest, but I'm choosing to be by myself - that's me.
CDM: Despite the great disconnect of the last few years, you've still managed to find ways to connect with fans - from your live streams where you've performed songs, to going live with a fan account on Instagram, and also surprising that fan by mailing them signed vinyl and merch (shout-out: @rex.videos). Why is that kind of connection important to you?
REX: Definitely shout-out to @rex.videos, firstly! And that's a great question; I love that question. I feel like it's important to me because I was that in a way: I was exactly them when I was growing up and obsessed with certain artists. I was a real fan of music, and I was going to so many shows, and the effort that they put into just supporting what I do is beyond what I ever did, and I know how that feels to be passionate about someone. I just respect it. And shamelessly really, big fans: I love. Like, wow, that was me when I was younger, and the idea of [my music] being really important to them is kind of mind-blowing. That I'm in this position, when I used to be in their position?
CDM: It's like you're giving back to them.
REX: Exactly. And yeah, the Instagram Live thing was fun. It was just nice to have an intimate kind of show and be able to perform still - that was the main thing, I was really sick of not being able to play. We were about to be on tour, and then there was no touring, so I was like, 'Well, I would still like to play...' I could play in a room by myself, but if I only wanted to do that then we wouldn't be talking right now, I would have just done that my whole life. I obviously like letting people know what I have to say, and I like to perform to people, and connecting with people and being right there, it has always been important to me and still is very important to me.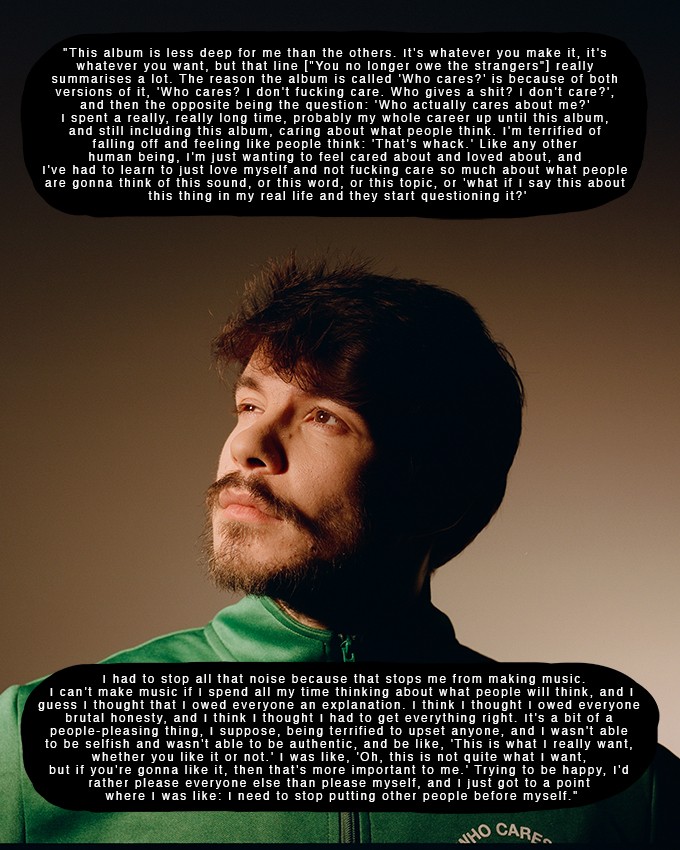 CDM: I quite enjoyed your dancing in the 'Keep It Up' music video. Was that a preview of your new choreography for tour?
REX: Yes!
CDM: Can't wait.
REX: I'll be like that onstage.
CDM: What is about touring exactly, that gives you joy?
REX: I really, really care about the music, and I'm really obsessed with writing music, and I'm really obsessed with chords - just really obsessed with music. I think I've always wanted to kind of prove myself in a way and I've always wanted to be able to show people, 'Look, I can do this...' Whatever it is. I've not ever really been very good at anything as far as when I was younger, I often would try, but I was just not very good when it came to academic subjects. Because I am so obsessed with music, I would love performing even if it was in a pub, like a small 100-people room, or if it was in a social club. I love the idea of a venue, it's so exciting to me, like the idea of there being a stage and everyone's attention pointing to that one place for that hour. There's something about that thing of being the source of entertainment and knowing that the people are excited to see me, and I'm gonna give them something, and we're going to share something. They're gonna give me a lot of joy, and I'm going to give them some joy, hopefully. Plus, I love travelling and hanging. Most of the time, it's just hanging out, which is great fun. But my thing on top of everything, it's the hour on-stage; I love it. The whole thing, it's like a conversation.
CDM: What does happiness look like to you?
REX: That's a good one because I probably would have answered that very differently in 2020 or before. Honestly, now, I'm definitely not chasing happiness. I'm not trying to chase anything, actually, but I think for me - I guess for everyone, but for me - I've noticed that I have a scale of feeling happy, or feeling good or feeling like this is all positive, and then the other side of the scale is bad, or negative and feeling sad. Like opposite scales. But I'm not trying to be all the way over here and trying to be really, really happy the whole time. And I'm not trying to be really, really sad and indulging in my emotions. Where I'm trying to be is right in the middle where everything's okay - it's not amazing, and I'm not super joyful at all times, but that to me is pure peace. That's really where I'm looking for. Not: 'Oh, if I'm not happy, then it's bad.' I need to be okay with just being absolutely fine. That to me is real. And if I can achieve that, then I think that's where I find my happiness later down the line - when I'm able to be okay with sitting around the house, or making some food, or running errands that I don't want to have to do. That's just regular life, like mundane normal life, and that to me in a weird way is where peace is at. And that to me is more important than being happy. Happiness is fleeting and it's gonna disappear, and then I'll be pissed off that it's gone. But being at peace in myself? That's where it's at for me.
CDM: That's an interesting evolution because last time we talked, you mentioned that at a certain point it becomes one's own responsibility to be happy or not. Do you still feel that way?
REX: It's not about your responsibility to choose to be happy or not, but I do believe everything's a choice. Well, not everything-everything, but people choose to do what they do, and then some things just happen in the world. I don't believe that anything's meant to be, necessarily, I think it's all based on our experience growing up, our environment growing up, what we've seen, what we learned, what we've been told by our parents, and what we've been told by friends and teachers around us when we were growing up. At a certain point, I do agree with whatever the fuck I was saying before, that at a certain point you realise that your teachers and parents telling you what to do is just other people having opinions, but that I gotta form my own opinion and form my own version of what happiness is for my own version of success, and for my own values and my own morals. What is most important to me? If you grow up under parents who believe this, this, and this: 'What does that mean? What if I don't believe in that?' That didn't happen to me at all, but as a human / for any person, at some point, it's like: 'What do you really believe in? What do you really want? And where do you want to be?' And you can be independent at any time.
CDM: I think a big part of it is also learning how to live for yourself, and not for other people.
REX: Absolutely, 100%. I've had to learn to be authentic and be kind of selfish, in a good way - in a really positive way of putting myself first in stuff. Otherwise, I'll lose a lot of love, myself, if I give myself to other people [too much].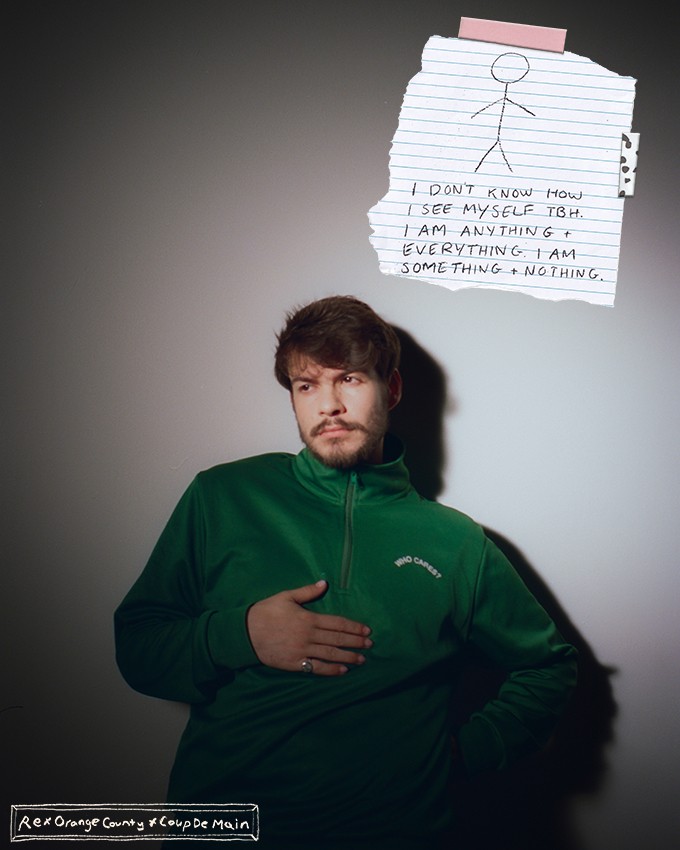 CDM: So in 2020, you declared on Twitter that you'd be releasing the new album in 2021. What happened, Alex?
REX: That's another good one. Look! I planned to put it out in 2021, for sure. The album was made in 2020 quite quickly. I really loved and enjoyed the process, but I've sat on this music for quite a while. I realised that you could have the music finished forever, but it's everything around it that I wanted to just get right. I would have loved to put it out when I did [tweet], but in a weird way, I'm glad that I've had a little bit more time to figure out things around it. I really wanted to go and take it on tour; that's a big thing. I really wanted to go and play it to people and it was not possible at the time. I didn't go to many shows last year, and if I did, I didn't feel comfortable. I was like: 'This is too soon.' So the most important thing to me was making sure that we could actually get outside again. I was just excited when I finished the album, and I was like, 'Who Cares 2021, everybody we're going in!' There was something about telling them [fans] the name. That name has not changed and I'm happy with the album as it is, and it's gonna stay this way. I could not drop it for five years, and it would be the same album. I am proud of it as it is, and it's a snapshot of my life there and then, and that's what's gonna come out. I don't want to be Kanye - like, this is the date that it's coming out, and then it doesn't until everyone loses faith, and no one listens to me anymore. Like 'The Boy Who Cried Wolf'. But this time, it's really coming in March, and then I'll try and not spread any more lies.
CDM: Excluding 'Apricot Princess', you've had animals involved with each album - from the 'bcos u will never b free' album cover cat, to the 'Pony' album pony mascot, and now dogs. Why Dalmatians, specifically?
REX: That's a good observation: I love animals. I could see the album cover in my head before doing it. I couldn't see that they were Dalmatians, but I wanted to be in a room where you couldn't tell if it's indoors or outdoors - it feels like it's indoors, but there's grass, and really ugly office lighting. I wanted to be sat in there, like it's a room, but I wanted a bunch of animals in there to feel like it's outside, like a bunch of wild animals all one type. And then you've got to find somebody to give you a bunch of animals. What I really wanted was Dalmatian puppies, but apparently they don't have spots when they're born, they're just all-white, and also, when you have a bunch of puppies, you don't want to give them to me to take photos of them! So we couldn't get puppies, but we could however find a family of four Dalmatians that were beautiful, and one of them had hearts over his eyes, like that was actually what he looked like, and it's on side A of the vinyl; his face with the eyes. It was really just a search for some kind of animal and we went through many different potentials. It was going to be goats, it was going to be foxes, it was going to be a few different things, but I love animals. It's something about the visual of an animal - something about it, for me, is always a satisfying thing to look at whilst listening.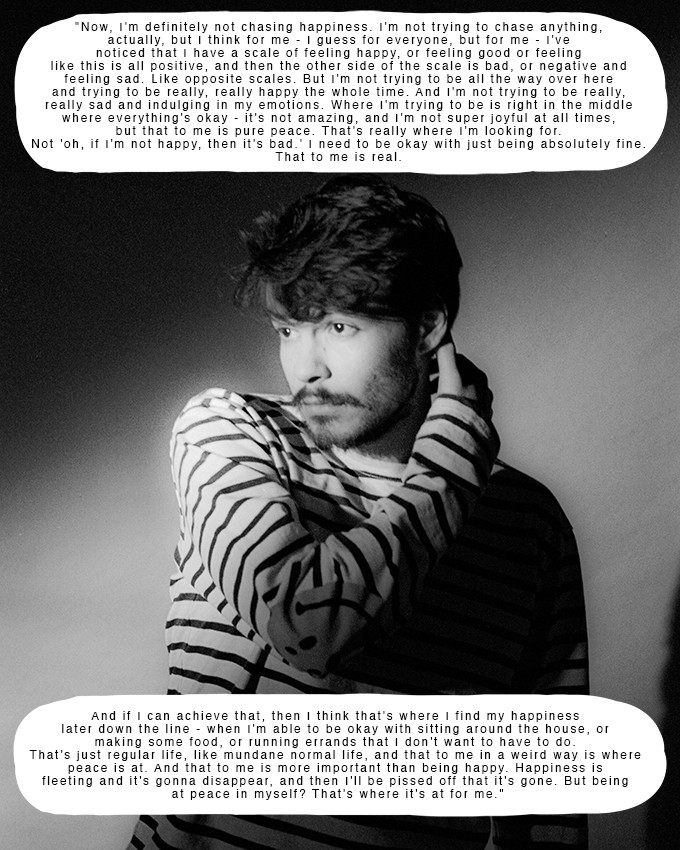 CDM: You begin the album with 'Keep It Up', saying that you have regrets every time you open your mouth. Do you find it easier to communicate via written form? Or do you feel like communication is just hard in general?
REX: I think communication is hard in general. I'd rather open my mouth than write something down. Actually, I don't know about that. I take that back. Writing something down is good because you get a chance to retry what you might say, but then speaking out loud is often more... I'd rather do this with you than write than answers to the questions. Honestly, I'd rather have a conversation, it's more satisfying. It's a bit more--
CDM: It feels more direct?
REX: Exactly. It feels more live. Like it's happening there, rather than getting the chance to rethink my answer over and over again: 'What's this gonna make me sound like?' It's a bit more freeing to speak out loud, but that doesn't mean I don't say things thinking that I'm saying the right thing and then say something and then upset someone, or think, 'Oh fuck, I didn't really mean it like that.' And people can hold things you say against you, for the rest of your fucking life. And you might have just said it kind of slightly, you might not really have meant it, but you said those words out loud, and it's like, 'Well, you said that.' So, that's not great. But I do try and not hold on to any regrets. That song's kind of meant to be the swinging from real depressed to really 'I'm not doing this shit.' And then the voice is telling me now: 'You can do this and carry on, keep it up, and it's worth it!'
CDM: You also mention feeling tired, which mirrors the main sentiments of 'It's Not The Same Anymore' from your last album. How do you deal with feeling burnt out?
REX: Try and rest, try and sleep, try and not push it too far. And recharging with sleeping is great, trying to eat vegetables, trying to exercise, and be tired out from doing exercise rather than tired from sitting down and not doing anything particularly productive. I just try and rest and not give myself a hard time. I gave myself a hard time my whole life, and now, I'm just like: 'I try my best.' And listening to my body and listening to myself: 'How do I really feel? Am I feeling bad?'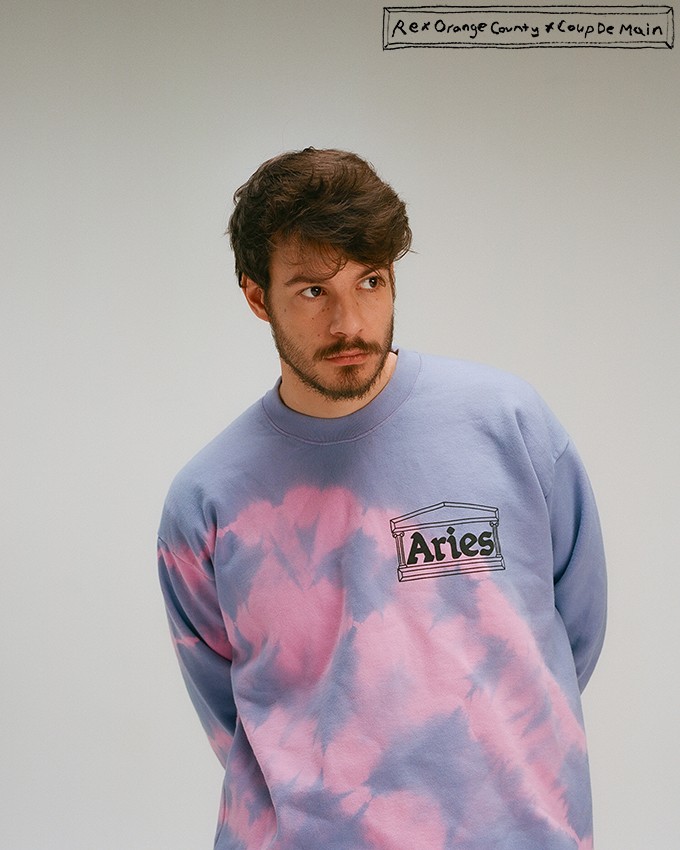 CDM: The New York Times last year declared "languishing" as the dominant emotion of 2021 - that many people who weren't depressed, also weren't thriving. Psychologists say that one of the best strategies for managing emotions is to name them. Do you find that being so vulnerable about how you're feeling in your lyrics, helps to give you power over your emotions?
REX: That's a good question. I think I would agree that naming emotions is a really useful process. As an action, weirdly, it sounds so simplistic, but it's actually really good for me to try and do that. Often I'll say how I'm feeling, and it will come out a certain way, like, 'I'm feeling kind of crazy, or feeling out my mind,' but that's really not an emotion at all. So, what's really going on? I think it's good to be like: 'Oh, I feel nuts, but why? What's making me feel nuts?' And then: 'Oh, it's this situation with this person? Can I do anything about it? What's making me feel frustrated? Why?' It's often easy to kind of downplay how you're feeling to be this general noise, but actually, it's good to identify what it is. I would agree with that. Songwriting for me is like that. I'm very, very, very lucky that I have that ability to write how I feel down, and it tends to rhyme, and I tend to be quite okay with it when it comes out. I'm not very good at other things. Not many things come really, really naturally, but the writing thing just feels like it's something that I was given. It feels very, very easy to just let things fall out of my mind. And there's also this artistic licence where I could say a whole bunch of stuff and none of it mean anything to me - I could if I wanted to do that; I could go brutal, it's a completely open subject. I'm not a lawyer, I can honestly say whatever I want, and I could put on a character, I could put on a voice, whatever. I like that freeing part of it, where it doesn't actually have to necessarily be about what's really going on, but I can if I want to - it's a vehicle.
CDM: "You no longer owe the strangers," you say in 'Keep It Up'. What was it that you thought you owed them?
REX: Weirdly, I didn't really think about that line because lyrically, this album is less deep for me than the others. It's whatever you make it, it's whatever you want, but that line really summarises a lot. The reason the album is called 'Who Cares?' is because of both versions of it, 'Who cares? I don't fucking care. Who gives a shit? I don't care?', and then the opposite being the question: 'Who actually cares about me?' I spent a really, really long time, probably my whole career up until this album, and still including this album, caring about what people think. I'm terrified of falling off and feeling like people think: 'That's whack.' Like any other human being, I'm just wanting to feel cared about and loved about, and I've had to learn to just love myself and not fucking care so much about what people are gonna think of this sound, or this word, or this topic, or 'what if I say this about this thing in my real life and they start questioning it?' I had to stop all that noise because that stops me from making music. I can't make music if I spend all my time thinking about what people will think, and I guess I thought that I owed everyone an explanation. I think I thought I owed everyone brutal honesty, and I think I thought I had to get everything right. It's a bit of a people-pleasing thing, I suppose, being terrified to upset anyone, and I wasn't able to be selfish and wasn't able to be authentic, and be like, 'This is what I really want, whether you like it or not.' I was like, 'Oh, this is not quite what I want, but if you're gonna like it, then that's more important to me.' Trying to be happy, I'd rather please everyone else than please myself, and I just got to a point where I was like: 'You know what? I need to stop putting other people before myself.'
CDM: Is it possible to escape the transactional framework of relationships?
REX: Absolutely. I 100% think it's important to not expect anything from anyone. A real loving friendship to me is one where you don't mind if the other person... take replying on the phone for example. Have you ever - I'm sure you have - hit somebody up on the phone, and then they didn't reply straight away? And you're thinking: 'What does this mean?'
CDM: 'Why do they hate me?!'
REX: 'What if I've said the wrong thing? Should I text them again? Should I call them?' All this shit, right? The people whom I love the most in my life will never ever, ever, ever be like, "Uh, hello, you didn't reply to my texts." That to me is so important. Allow me to do me, and if I disappear for six months, don't be mad that I wasn't there for you because I had to do something for myself. I'd never be mad at someone for not replying to a fucking text, and I'll never be mad at someone for not reciprocating something. It is my choice to do something, I don't want to do something nice to get something back, I'm just wanting to do it out of wanting to do it. And that should be enough. It's like: you don't have to prove it and you don't have to say it; you're there for a friend, and you could pick it up anytime. I'm thinking more so in friendships here, rather than romantic relationships, but any human being deserves to just be free to do what they want and not feel guilty for it. I just don't think anyone owes anyone fucking anything, and everyone feels like they do. That's exhausting. If you really love someone, you're gonna be there for them unconditionally, and you just wanna look after them. If you have to make the effort and feel bad for not doing it, then you probably don't really care and you're not listening to your instinct.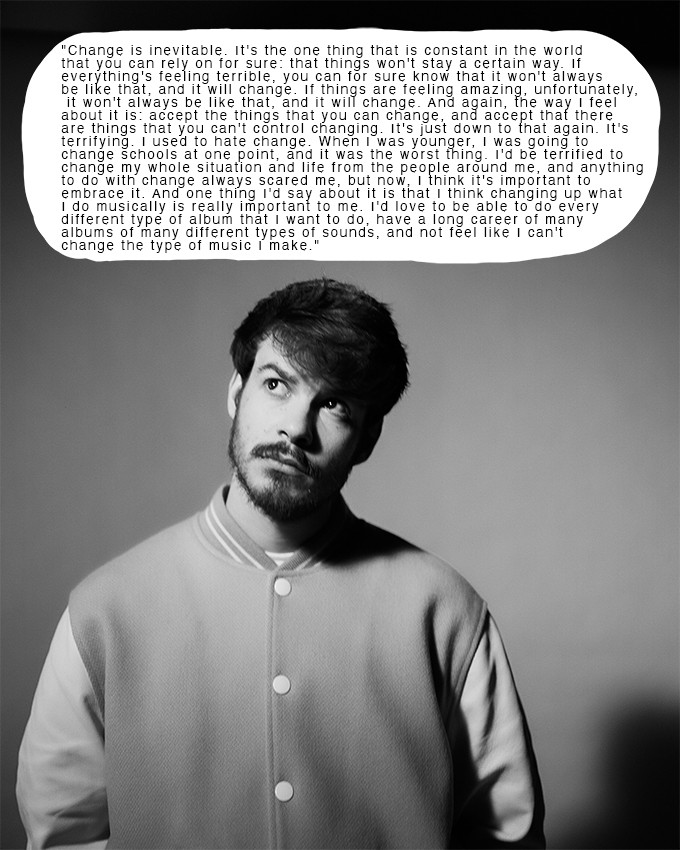 CDM: When you tell yourself, "You're only doing this for what you want..." What, specifically, is it that you want?
REX: Damn. I just gotta say, you're a wonderful interviewer and these really are great. I mean that, 'cuz I do a lot of these sometimes. Well, I actually don't do them much because they're often not good, so I appreciate you being good. The thing that I love the most is making music, and that's become a job somehow. I've spoken to lots of people who are like, sometimes you sign up to do something that you really do want to do and then when you're doing it, you realise there are things that come with it that you didn't expect and you're like, 'Well, this is not what I signed up for, fuck that.' Like you took the shot and then they moved the goalposts. But what I really, really want, is what I have: to be able to make music for a living, to wake up every day and just not have to go and speak to a boss, and feeling free to do whatever I want and be able to make music every day. But in order to do that, there are certain things I have to deal with. Like anyone in anything, there's just certain conversations you have where you're disappointed, or certain things didn't go how you expected, or people let you down, or people take from you within business. You learn the hard way. I was 16/17 when I got into this, and I'm dealing with business stuff that I don't understand. So whenever I'm stressed thinking, 'This is not right for me,' it's important for me to remember that I'm only doing this shit to get the thing that I'm really actually wanting, and if I didn't do this, then I wouldn't get that. I wouldn't trade my life. It has really high-highs and really low-lows, but I wouldn't trade that for a life where it was less high-highs and not as bad.
CDM: As you said, you went into this when you were a teenager and it's been a huge learning curve for you. Do you think you've reached a place now, where you feel like you're giving yourself more respect? Because you survived so much, Alex!
REX: Yeah, exactly that. Looking back at it, I'm like: 'Man, I'm still here.' There were times when I thought, 'Ahhh I'm not built for this.' Or the Imposter Syndrome thing of: 'Maybe I'm getting away with murder here by just putting out what I think is good and setting up people.' I didn't believe that I was meant to be there. But I definitely have a bit more patience for myself, and acceptance for myself now. There has been a lot of times where who I am, or how I look, or how I act... I know I can control certain things, and I can't control others, and I'll do what I can to improve myself in the areas I can, and the things I can't change I'm gonna let them be. That's all it is, is acceptance. You give yourself more respect by accepting that this is just how I am, and if I really want to change how I look, then I'll go get botox - but I don't want that, so I'll just accept this.
CDM: I can't wait for your botox era.
REX: Yeah, I can't wait, that's gonna be a crazy one. I'm gonna be like mid-40s, and everyone will be like: "Yo..." <blinks> "You used to look kind of..." <laughs>
CDM: You're a lot kinder to yourself on this album, Alex. It makes me glad that you're drawing firm boundaries and that you tell yourself "it's enough" at the end of 'Keep It Up'.
REX: I'm pretty good at being hard on myself in life, and in the songs too, so I appreciate you mentioning that. I didn't really think about it before, but yes, I'm definitely a bit kinder to myself now.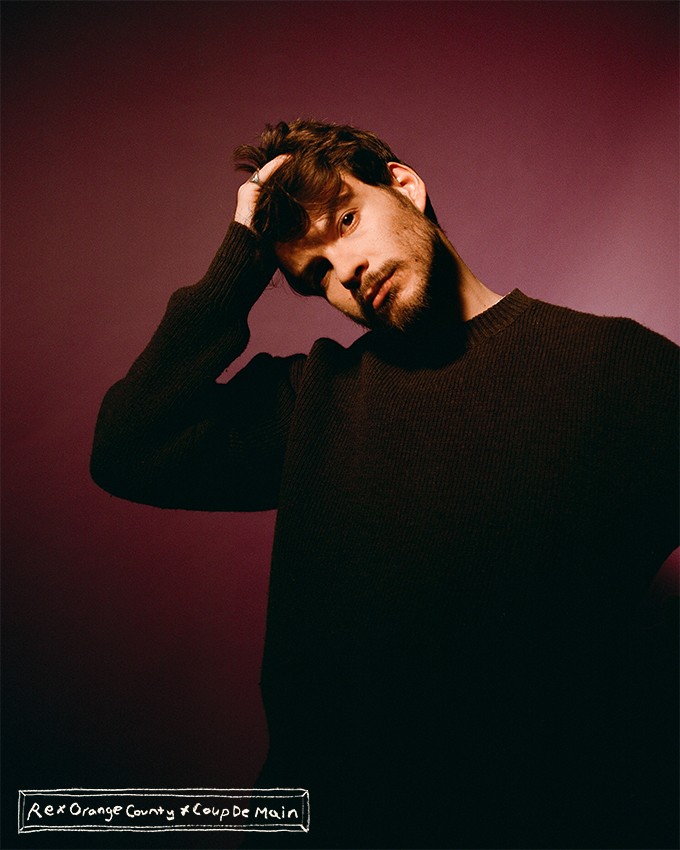 CDM: One of my favourite lyrics on the new album is in 'The Shade' when you say: "I kept opening my door just to see if you would walk through, but now I'm painting all my walls just to see if you like the shade." You also released 'New House' back in 2019, and 'Open A Window' on this new album centres around wanting a breath of fresh air. What is it about the idea of houses and places that feel like home, that really speak to you?
REX: That's a great observation, I didn't even realise I said that much about houses and walls and doors. An engineer asked me the other day: "What is it about the number four that you love so much?" Because I'd said it in so many things. The "open a window / open a door" thing came from out of nowhere. All of these songs actually, initially came from mumblings and freestyle. I have this storage unit inside of me with random words, and there are some I say all the time - I can't give you an example, but there's certain things that just come out when I'm trying to think of something, and for some reason, they're doors and windows in a house, and the idea of the structure, it just sits there. That's me, just working it out aloud. I don't really know what makes me feel so comfortable saying those types of things, but that's the best I can do for you to explain it.
CDM: In 'Open A Window' you mention other people wanting change, and someone in your life not wanting change. How do you feel about change?
REX: I think that goes back to what I was saying about compromising what I would want for other people. Change is inevitable. It's the one thing that is constant in the world that you can rely on for sure: that things won't stay a certain way. If everything's feeling terrible, you can for sure know that it won't always be like that, and it will change. If things are feeling amazing, unfortunately, it won't always be like that, and it will change. And again, the way I feel about it is: accept the things that you can change, and accept that there are things that you can't control changing. It's just down to that again. It's terrifying. I used to hate change. When I was younger, I was going to change schools at one point, and it was the worst thing. I'd be terrified to change my whole situation and life from the people around me, and anything to do with change always scared me, but now, I think it's important to embrace it. And one thing I'd say about it is that I think changing up what I do musically is really important to me. I'd love to be able to do every different type of album that I want to do, have a long career of many albums of many different types of sounds, and not feel like I can't change the type of music I make.
CDM: I would like a Motown-esque slow jams album, please. I'm just putting my hand up for that and requesting it now.
REX: I'm absolutely trying to. One of my favourite albums is by Silk Sonic - Bruno Mars and Anderson .Paak.. Unbelievable. I'm not trying to do that, but the fact that they went all the way over there... I would love to do that type of album.
CDM: How much power do you think one person has to change another?
REX: I think it depends on who the other person is. I guess it depends on who both people are. But, I think a lot of power. I've been swayed, whether it's a good thing or bad. I could be swayed really easily, whether that's a good thing or not. Sometimes I think I know how I feel about something, and then someone will come bring in a valid point and I'll be like, 'Oh, damn, didn't think about that!' It's as simple as: I think there's power in respect. With fear and respect, there's two sides: if you really respect someone's opinion, you might be down to listen and that's a good thing, and then there's being scared of someone or scared of losing something, and so you then compromise how you feel and you change for them. I think it's a very powerful thing, but everyone should just listen to themselves. It is easy to be swayed, but you should listen to how you really feel.
CDM: For those that don't have a friendly cow to play cupid such as in the music video for 'Amazing', what advice do you have for those who struggled to convey their true feelings on Valentine's Day this year?
REX: My advice would be: keep it up!
CDM: Stream 'Keep It Up'!
REX: Yeah, go fucking listen to me. No, no, no, I would not say that. My advice would be... It probably feels like the biggest thing in the world, and it might feel like the most painful or heart-wrenching thing, but it's probably not as big as you're making it out to be to yourself. If it's a painful thing, or if it's a negative thing/feeling, like damn, or 'I wish I was with someone,' I just wouldn't be hard on yourself, and don't worry. And do keep it up, literally keep going, and don't think that you need a partner to be happy because you don't need anyone but yourself. Truly, that's all. If you're happy, if you're really in love with yourself, then you love life, and it's gonna come to you. Feeling like you need someone else is actually pretty dangerous because that's...
CDM: Codependency?
REX: Absolutely. That's buzzword number one for me. I think it's really important to be able to have your cup full of love for yourself before you try and pour it out for somebody else, because otherwise you're gonna be taking from them and they don't deserve that. You shouldn't be doing that to someone else. It can be toxic when you take from someone else, and the best loving relationships and the best romantic relationships in my eyes, are ones where you're both free and not taking from each other. The door's always open, and no one's locked in, and there's no pressure. It's not meant to be based in fear. Also, fuck it, man, it's just a day. It's just these people trying to sell cards. It's [UK store] Clintons making money off of you and your emotions, so fuck that shit. Keep doing you. Go and get some money and find out what you love to do, and go do that, and fuck all of that shit. None of it's real anyway. You think Valentine's Day is real?! My real advice is: Go ride a dirt bike and eat some donuts.
CDM: Why is love such an all-consuming emotion? And is it easy to confuse feelings of love for another, with the feeling of loving being loved?
REX: Fuck yeah, 100%, I don't know why it's particularly strong for me. I don't know if it's like that for everyone, but I can tell that it's clearly quite similar for a lot of people because they make so many films about love, and all that ultimately leads back to just dying alone, or not. I know that sounds insane, but it's true. Are you going to be with someone or not, when you leave the Earth? Or are you going to be alone? And that's quite a lot to think on, I'm not trying to dissect that. They make movies about real deep love and how it then goes really wrong, and then that's what we want to watch. Why is it such a powerful emotion? I have no idea, but I do think it's probably partly down to that thing of what I just said, that we're terrified of being alone. But some people are happy by themselves. I know somebody who spends 90% of his time by himself, and just loves it, he's just solitary. I can't speak for everyone, but for me, it's very powerful.
CDM: Do you consider yourself a romantic?
REX: Yeah. The other thing you said was: Is it hard to discern love, from being in love with the idea of being in love? That to me, is being romantic/romanticising? Isn't it? It's this mad, magical feeling - and when I say magical, I literally mean you don't understand how the trick is done, so you're like: 'I don't know what I'm feeling, but I'm feeling it so strongly.' And that, to me, is romance. It will make you go and do whatever romantic thing that you wouldn't ordinarily do if you weren't feeling in love: 'I'll cancel this and make sure that I've bought a 1000-roses bouquet so I can get it to that person.' That's the overwhelming romantic inside of someone. But some people don't give a shit about that all. For me, I feel like it's a nice thing to give - it's a bit like going on stage and giving people the show. I like the idea of giving someone something, or being romantic and showing my love for someone, or love for something.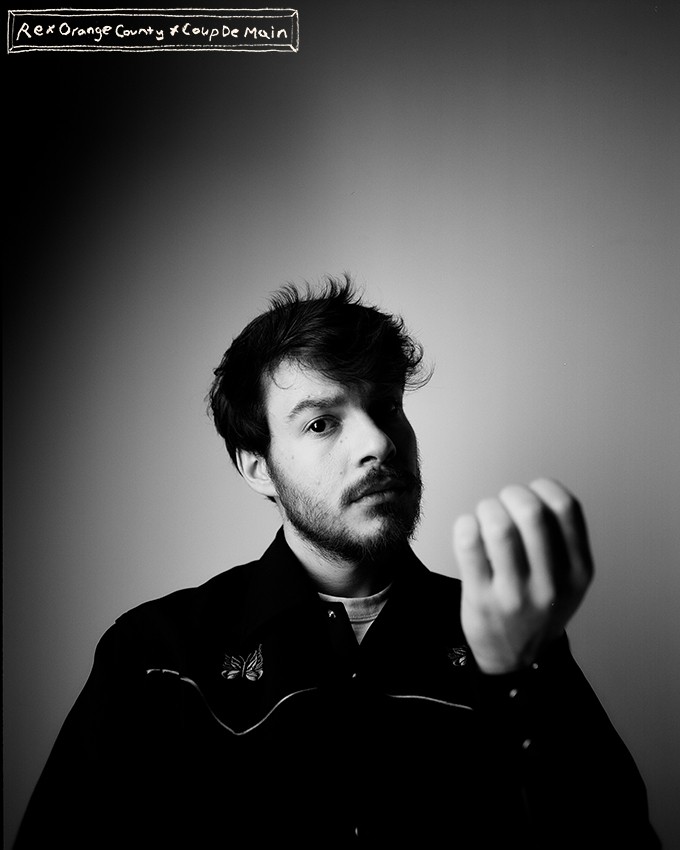 CDM: You once told fans on Reddit that the 'Pony' album pony was called "P-head"... Do the new album's thumb-characters have names? Where did they come from?
REX: They don't have names. People have suggested names that I'm not into, so they don't. They came from 'Keep It Up' - the song existed, and then I thought it'd be amazing to have a t-shirt that says "keep it up" as a positive because everyone at this point was inside locked down like crazy, and just all going nuts. It wasn't meant to be about that, but it relates to that, and it came from writing down "keep it up", and the thumbs up emoji coming up when you write down "keep it up" if you're texting someone. I liked seeing the thumb and it's obviously a positive affirmation thing, and I said that to my boy Bráulio [Amado]. We need to do a big shout-out to Bráulio who's done so much for this, and a lot on 'Pony', just so much amazing work, and the video for 'Keep It Up' he did as well. He came up with the idea for 'Amazing' as well. He's a fucking genius. I sent the idea of the thumb to him and wanted him to make a mascot kind of thing, then he did the O.G. yellow one, and then thought it'd be cool to customise them and have them throughout all different seasons and throughout all different emotions.
CDM: When we first met, you said you were wanting to work with other producers and let other people in so that you could grow. I remember reading a few years ago that you had worked with Mark Ronson and Paul Epworth? What happened with those sessions? And how do you feel about working with people outside of your immediate musical bubble now?
REX: It's a really delicate balance, and I feel like the best things I make really are by myself. And it's about finding really particular special relationships with people where I can be really comfortable in the room with them. But it's rare. I've met a bunch of people, but yeah, not many where I can feel really, really comfortable, and want to spend a bunch of time with them. It also takes a while for me to open up, so I would rather have a relationship with someone where we work on a lot of stuff together and I feel really comfy.
CDM: You've told me previously that it was on your bucket-list to "meet everyone that inspires me and to be able to have conversations with everyone that's inspired me." Have you achieved that yet?
REX: Hmmm no, I haven't spoken to everyone that's inspired me. But having spoken to a few people, I've realised that that's not the be-all and end-all. You can love somebody's music so much and think they're a genius, but you could sit in the room with them, and you're like, 'Damn, we're not the same type, we don't really see eye to eye.' And that's fine. I could just be a fan of what you do musically, but we don't have to speak, necessarily. Kanye's one of my favourite artists in the world, but I don't know if we'd have that much of a great conversation at this point. He'd probably just talk at me. It would just be me sitting there going: 'Uhhh-hmmm. Okay!' He inspired me so much, but it doesn't mean necessarily that we need to talk. I realised that we're all just doing our thing, and you can be inspired by someone and be a fan, and that's enough.
CDM: Did you get to talk to Frank Ocean when you played in his backing band in 2017?
REX: Yeah, we spoke very briefly at the show, but properly met after that. He's one of the best people in music and he's just one of my favourite people.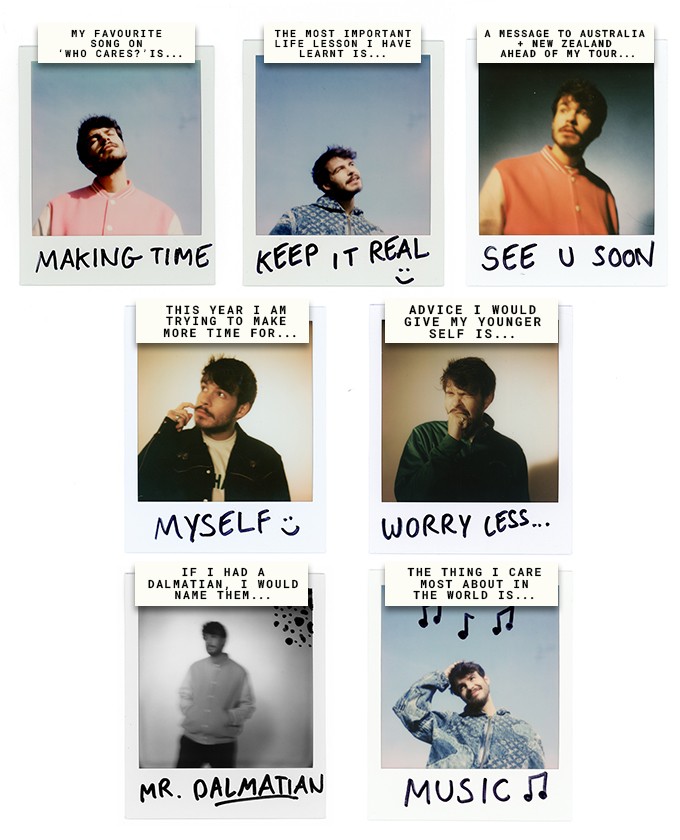 This interview has been edited and condensed for clarity.
All photos and polaroids by: Cosmo Webber | Grooming by: Oonah Anderson
Rex Orange County's new album 'Who Cares?' is out now.
Watch the music video for 'Amazing' below...