Coup De Main presents: Sleater-Kinney's 2016 NZ tour.
Coup De Main presents: Sleater-Kinney's 2016 NZ tour.
New Zealand Sleater-Kinney fans rejoice! THE WAIT IS NOW OVER. Finally, after a ten-year-long absence, the three-piece will be returning to our shores next year to play Auckland's Powerstation on Monday, February 29th.
THIS WILL BE SLEATER-KINNEY'S FIRST NZ SHOW IN TEN YEARS!
And anyone who also saw Sleater-Kinney on their last visit here via the 2006 Big Day Out is sure to agree, that this is not a show you want to miss.
This is the stuff dreams are made out of. Literally.
Tickets go on sale to the R18 show from 2pm today via AAA Ticketing.
Click HERE to read our latest interview with Sleater-Kinney about their new album 'No Cities To Love'!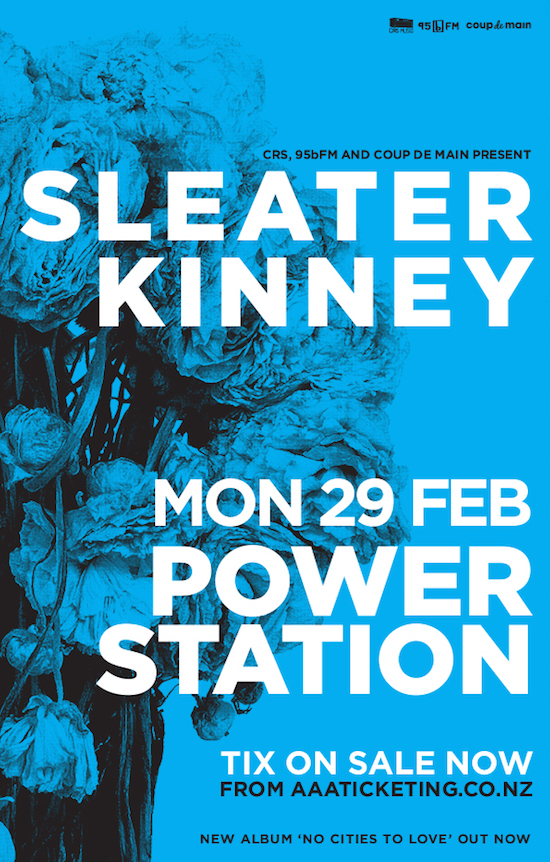 "Sleater-Kinney came crashing out of the '90s Pacific Northwest riot grrrl scene, setting a new bar for punk's political insight and emotional impact. Hailed as "America's best rock band" by Greil Marcus in Time Magazine, and as "America's best punk band ever. EVER" by Rob Sheffield in Rolling Stone, the band put out seven searing albums in 10 years before going on indefinite hiatus in 2006.
In the hiatus Tucker released two albums with the Corin Tucker Band, while Brownstein and Weiss released one album with Wild Flag. Brownstein has been writing a book "Hunger Makes Me a Modern Girl" and also co-created and co-stars in the cult series 'PORTLANDIA', and Weiss recorded and toured with Quasi and Stephen Malkmus and the Jicks, among others.
Then almost a decade later, the trio – guitarists/vocalists Corin Tucker and Carrie Brownstein, and drummer Janet Weiss – came back together and recorded and released the triumphant album "No Cities To Love" in January 2015. It is a modern punk classic that is certain to be on most best-of and award lists for this year."
CRS Presents, 95bFM and Coup De Main present...
SLEATER-KINNEY
Monday 29 February 2016
Powerstation, Auckland
Tickets on sale: Today! Tuesday 27th October from 2pm via aaaticketing.co.nz
Load next