Q&A: Timothée Chalamet on 'The French Dispatch'.
Q&A: Timothée Chalamet on 'The French Dispatch'.
"Maybe you're sad, but you don't seem lonely to me," says Timothée Chalamet in character as student revolutionary movement leader, Zeffirelli, in Wes Anderson's latest offering: the self-described "love letter to journalists" anthology film, 'The French Dispatch'. And with classic Anderson hallmarks including emotional precision and masked feelings, of course, Frances McDormand playing American journalist Lucinda Krementz (paying homage to Canadian writer, Mavis Gallant, who lived in Paris, near Anderson's own apartment, and wrote for The New Yorker), firmly replies, "Exactly!"
'The French Dispatch' also features beautifully lit slow-motion shots of Chalamet riding on the back of an e-bike with on-screen flame, Lyna Khoudri, cast as opposing student revolutionary movement leader, Juliette.
Zeffirelli and Juliette appear in the story, 'Revisions To A Manifesto', inspired by the events of May 1968 when student protests and civil unrest led to a movement that shut down the entire country. "Wes sent all these references over," says Chalamet. "Magazines, photos, film references - 'The 400 Blows' by Truffaut, films by Jean-Luc Godard."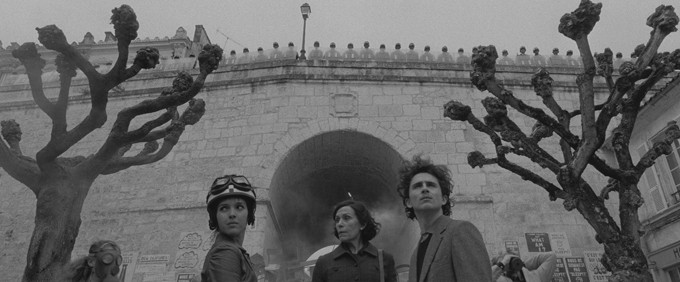 Describing his first-time working with Anderson, Chalamet explains: "It's an extremely well-oiled machine. Nothing is wasted, every screw and every wire function, and everyone is working together, from Sanjay to Bob Yeoman to Milena to Adam Stockhausen and their teams. And, of course, Wes, who is always inspiring. It's a little daunting, his captain hood, because the atmosphere is a kind of communal Bohemian circus, but absolutely everything runs like clockwork - everyone is united behind Wes' vision and everyone contributes to making it happen... There was one shot that lasted about 4 seconds, where I pinned a piece of paper to a wall and walked to a jukebox. I think we did 45 takes. At a certain point, I thought: 'Really?' But I got it. Those moments are inspiring because he's pushing himself, he's chasing something extremely refined, and what to me seemed random at the time was to him the finest edges of something very deeply thought out. If generality is the enemy of art, then Wes deserves a statue."
Earlier this year at the Cannes Film Festival launch of 'The French Dispatch', Chalamet discussed learning from co-stars McDormand and Khoudri, dinners with the ensemble cast, being directed by Anderson, and more below...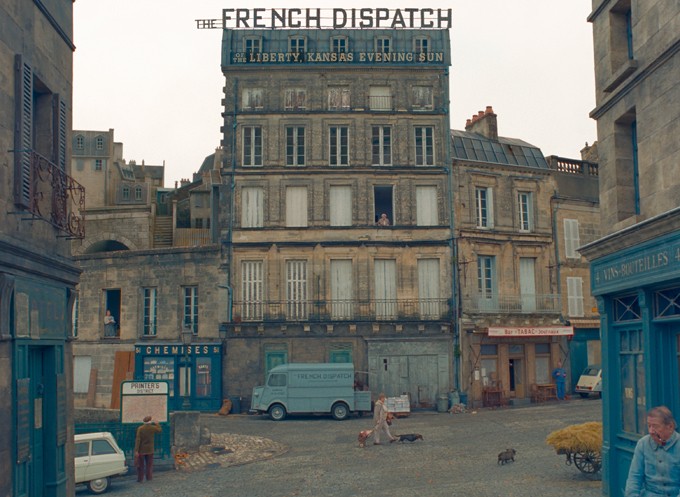 After 18 months of pandemic how does it feel to be back in the world, premiering this movie at Cannes?
TIMOTHÉE: It's amazing. We're staying about an hour east of Cannes, and it's a similar vibe to the movie where everyone's staying in the same hotel. I got to my room and there's a calling list for everyone associated with the movie right next to the phone. And then for the premiere, we're all going to show up in a big bus - it's the Wes Anderson bus. It's so nice to be here. I remember being in London when it all kicked off. I was going to do Amy Herzog's '4000 Miles' at the Old Vic with Eileen Atkins, and Matthew Warchus was going to direct it. We rehearsed for three weeks, and I was staying in Notting Hill. And then it all got interrupted. So, it's a wonderful feeling to be back in the world, promoting this movie, and it's going to be a real head spin tonight, watching it in a theatre, because it's going to feel like we shot this film in a different time and place. A different world.
Did you get to see this movie before the world shut down?
TIMOTHÉE: I remember I finished on 'Dune', and then in December 2019, Wes had a screening in New York that the actors got to go to. So, I've seen it once, at that screening in Times Square, but I can't wait to see it again tonight. I'm so proud of the film and of everyone's performances in it. And I feel truly humbled and honoured to be a texture in the grand tapestry of a Wes Anderson movie, alongside people like Bill Murray and Owen Wilson.
And sharing a bed with Frances McDormand, no less.
TIMOTHÉE: Of course, with Frances McDormand. I wish she were here. What an invaluable experience it was for me to get to work with her at such a young age, and she had just come off 'Nomadland'; she was only finished for a week when she came to see us.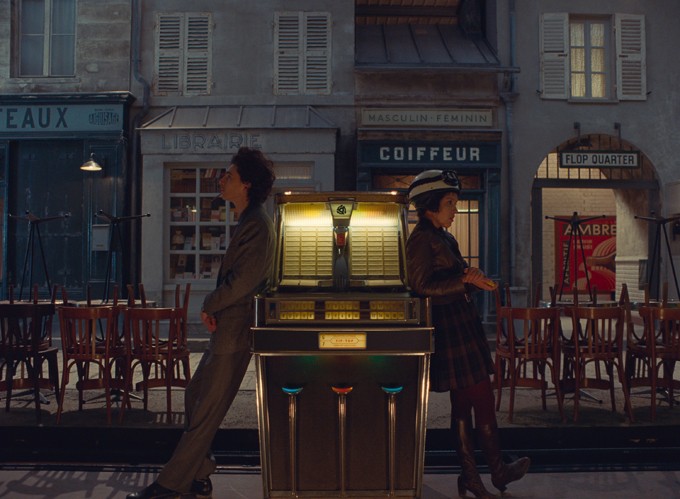 Was it intimidating at all to step into an ensemble this grand?
TIMOTHÉE: It was a totally different experience for me, the whole way. I remember getting an email from Wes about two weeks before we started. He said something like, "Over the years, I have new actors join me, and sometimes they don't show up, or they don't have everything prepared." And I took that email to heart, 10 times over. I really didn't want to stick out like a sore thumb. I wanted people to watch the movie, and to experience it, and think of me as one button in a panel of many buttons Wes is pushing to get this thing going. The voice of my character, Zeffirelli, and the tone of Wes's writing are both so specific. When you get the gist of it, it takes on a life of its own. But you don't want to be performative doing it. And I'd seen all of Wes's movies before I even got the offer, but for me that's the mark of Ralph Fiennes' performance in 'The Grand Budapest Hotel'. He has a perfect grasp of how the lines have been scripted. Because of course it's good; the dialogue is just so beautiful. But he makes it roll off his tongue in that movie.
Were you able to see much of the other parts of the film when you were shooting yours?
TIMOTHÉE: I did, because my room in the hotel in Angouleme, where we all stayed during production, was right next to Andy [Weisblum]'s editing suite.. I got to see Adrien Brody's section before I did mine. It was so valuable to see it because it just gave me a sense of the whole thing, to watch him and Léa Seydoux and Benicio del Toro. God, they were all so great.
What do you think living together like that did to add to the experience of the shooting as a whole?
TIMOTHÉE: Just to be in that place in Angouleme with all these actors who have been doing it for so long and at such a high level, and who aren't jaded and are continually inspired and curious about their work... To see that joviality and friendship and sense of community with Wes, in a not un-luxurious setting, but not a nakedly elitist one either, was something special. It was quite an artistic salon feeling and expression that he created, and I found myself trying to be really present for it. I just remember dinners with Bill Murray cracking jokes. And when we ended – me, Lyna Khoudri and Steve Park all wrapped at the same time – I just kind of tapped my glass and said, "Thank you so much to Wes, what an opportunity you've given me." And then a couple of the others said something and then Bill Murray taps his glass. We all went, "Oh no." And of course, he just did a riffing mockery of everything we'd said and dressed us down [laughs]. But he's a great example of someone who hasn't been jaded by the industry, even having achieved the kind of success he has and for such a long time. Not that it should justify jadedness, but he's seen it all, done it all, and I was just so inspired to see him be so jazzed to be there, and excited about the movie. And, of course, for him to be teasing and tough on all us new folks too. Only someone that is genuinely excited to be there would be like, "Welcome to the train, and here are your stripes." He makes himself immediately accessible, which is really nice. But at the same time, you don't want to be on the butt-end of his jokes [laughs].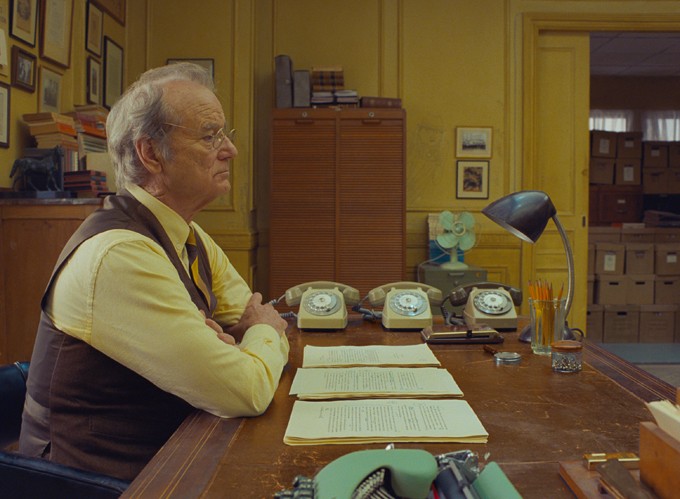 Does that atmosphere on location feed into the character and the actual work?
TIMOTHÉE: You get that sense of inspiration from it, for sure. The relief of working with someone like Wes is twofold. First, you feel you're in the hands of a real master; someone who knows exactly what shots he wants, and who doesn't want to waste takes, and yet will do as many as he needs. The second relief is that when the world of the movie is specific to that person, whether in production design or whatever it is in his head, you know it's not your job to worry about anything other than your role. I've been lucky to almost exclusively work with directors like that, but the opposite will have you worrying about everything that's not your job, and which you have no power to control.
Zeffirelli has a great frisson with Juliette, played by Lyna Khoudri. What was the experience of working with her?
TIMOTHÉE: Our relationship wasn't like that in real life, thank god [laughs]. She's an intuitive and strong actress, and 'frisson' is such a good word for what's going on between the two characters. The shot that stands out, both in the moment and in the movie, is that opening chess scene where she's standing on the bleachers, and she's watching him play chess, but she's got her arms folded. That's who they are to each other. It was a great working relationship with Lyna, and I think a fun challenge for us to cross the language barrier, because my French is good but not perfect – I'm basically fluent but I struggle a bit sometimes – and her English is good but not perfect. She's so good – I mean, she's already won a César award – and I think this film will open her up to new audiences too.
You've had an incredible ride for the past few years since you first broke through. How do you maintain your focus as you become an increasingly public figure?
TIMOTHÉE: It's in the challenge of the work, really. The work requires every muscle of preparation, and that keeps you focussed. Even like now, playing Willy Wonka, which is a big challenge musically and I'm having to learn all sorts of new skills, that's the saving grace for me. And the challenge of the last 18 months or so is that there wasn't that. Things couldn't be shot, really, and I had to keep laser-focussed in other ways. But what was good for me was the kind of Listerine of the time off; finding the crease in the cushion of the couch once more. That's important to find even when you are working, and whatever role you're playing, whether it's Paul Atreides in 'Dune', or Henry in 'The King', or Zeffirelli in 'The French Dispatch'.
'The French Dispatch' is now playing in New Zealand cinemas.
Enter to win a prize-pack:
Watch a trailer for 'The French Dispatch' below...
Load next