Which Marina And The Diamonds 'Froot' song are you?
Which Marina And The Diamonds 'Froot' song are you?
To celebrate the release of Marina And The Diamonds' brand new album 'Froot' - out now in New Zealand[!] - we have constructed this very scientific quiz so that you may determine exactly which 'Froot' song is your spirit animal...
But first, some official info about the release:
"With "FROOT", Marina And The Diamonds' first new noise since the death of alter-ego Electra Heart in 2013, Marina Diamandis has made a grand statement of intent. It's a cathartic rebirth in nearly every way, and sees her veer away from the last LP's stylistic and thematic intentions, instead returning to basics for a new chapter in her career and life.
From the existential tribulations of "Immortal", harking back to her days as lithe ivory-tinkling balladeer, to the relentless funk of "Better Than That" (surely a future hit), to the wit and juxtaposition of "Happy" to the '70s-flecked "I'm A Ruin", this is all Marina And The Diamonds. While she's still stridently marching forth, an eternally metamorphosing artist of almost supernatural ability, she nods to her DIY beginnings and the fragile, tender emotion of first album tracks like "Obsessions" or the big-picture anxiety of "Are You Satisfied?".
Succinctly summing FROOT up, she says that "it's not about being pop or not pop, or electronic or not electronic, it's more about feeling the groove in the music and knowing there are real musicians playing it... I think it's something that I've been trying to translate for a long time."
It's a frighteningly intimate and retrospective record, with Diamandis dissecting her own foibles and pitfalls and her guilt and regret, but it's also heartwarmingly optimistic despite that. She knows how to move on, close the book and look forward now. In that, she's discovering new elements of herself, channeling invigorated ideals and developing a passion for the unknown. FROOT is not just an album of pop songs (though it's not not that either), it's the chronicling of massive tumult, growing up and emerging from the cocoon maybe a bit bruised, a tad battered, but ultimately born anew, ready to reclaim the world.
"I'm used to planning everything to sweet fuckery, and I'm not planning anything this time," she says with a slightly nervous laughter. "I'm just happy to let everything happen."
And now, without further ado... IT'S QUIZ TIME!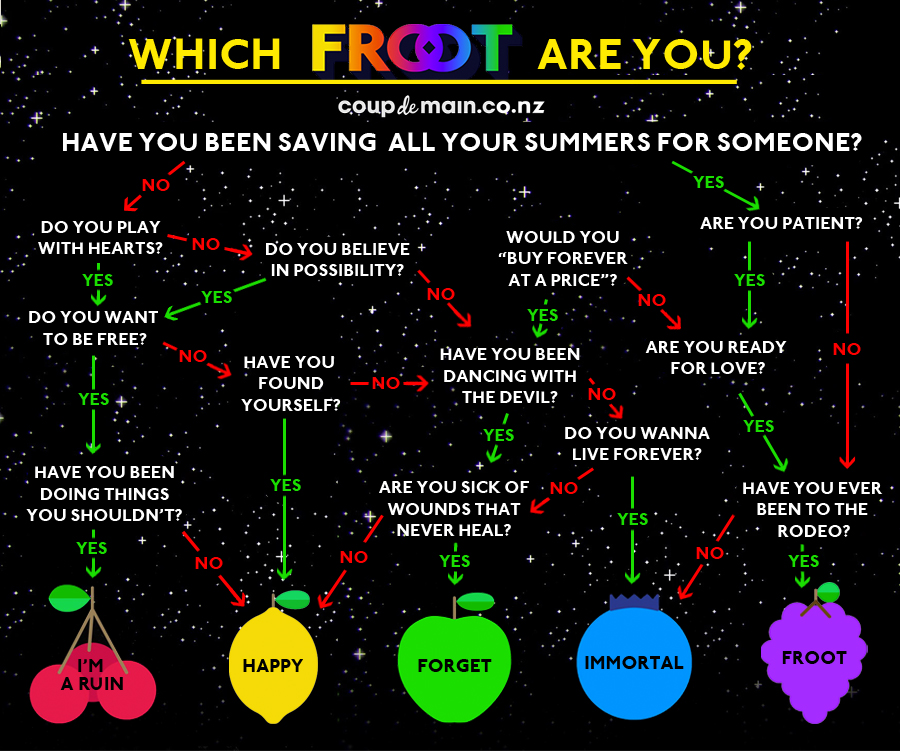 Let us know which 'Froot' you are - tweet us @coupdemain.
Listen to 'Froot' on Spotify here.
Watch Marina And The Diamonds' music video for 'Forget' below...
Load next