Review: M·A·C Cosmetics x 'Miley Cyrus Viva Glam' collection.
Review: M·A·C Cosmetics x 'Miley Cyrus Viva Glam' collection.
Following the success of the original Miley Cyrus 'Viva Glam' release, M·A·C Cosmetics and Miley have paired up for a second lipstick and Lipglass pairing, aptly named 'Miley Cyrus Viva Glam 2'. M·A·C's 'Viva Glam' lipsticks are widely known for their charity status: every cent of the selling price of these lipsticks is donated to the company's AIDS Fund. This means they're the ultimate good-look, feel-good investment. Coup De Main was lucky enough to receive the new lipstick and Lipglass combo, and we immediately fell in love! Here are our thoughts on the pieces…
In case you missed it, the first Miley 'Viva Glam' lippies were a hot pink shade - the lipstick was a striking statement piece and the Lipglass was a sparkly gloss to accompany this. This time around, Miley has channeled a fiery shade of reddish-orange that's just as bright as it is bold. The lipstick (RRP $40 NZD) has that smooth, silky application that M·A·C is renowned for, leaving you with a flawless amplified finish. Bright lipsticks are still very on-trend right now, and Miley is often seen wearing these orangey-red shades, so it's a real no-brainer. 
The Lipglass (RRP $38 NZD) is just as sparkly and shimmery as you'd expect. On it's own, it leaves a slight ginger pigmentation with glitter, but when it's paired up with its sister lipstick the two work together to produce a gorgeous red lip - complete with a pop of colour and shine. I cannot recommend enough investing in both of these products - even if you're not a big lipgloss wearer. The pairing of these shades is so perfect - as you can see below…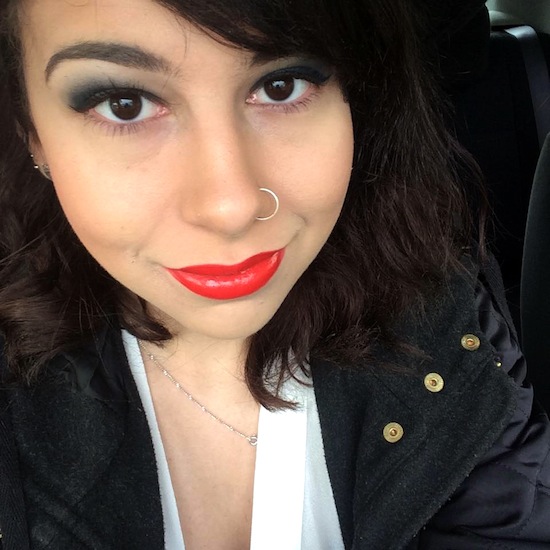 'Miley Cyrus Viva Glam 2' lip products are available from all authorised NZ M·A·C stores for a limited time (hurry, these are selling out super fast!).
Load next