The Naked And Famous - 'Simple Forms' album review.
The Naked And Famous - 'Simple Forms' album review.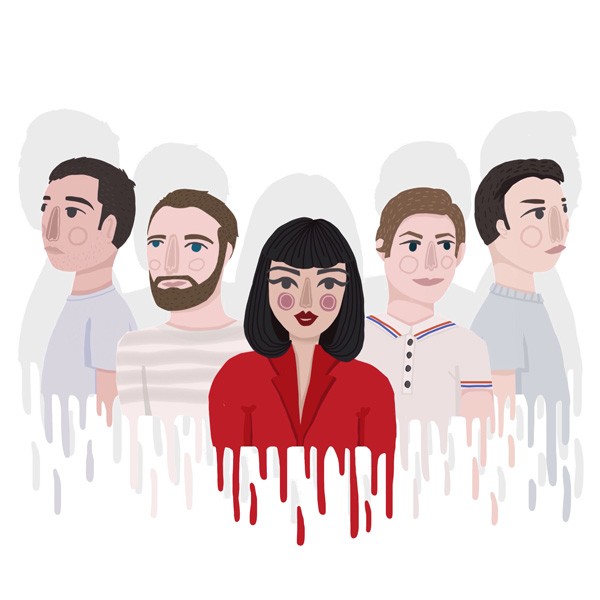 The Naked And Famous is one of those bands that have a Sound. Plugging into the opening-track from their upcoming new album, 'Simple Forms', you might go so far as to say they have The Sound. Lead single 'Higher' packs the same synth-pop punch of 2010 debut, 'Passive Me, Aggressive You', topped off with Alisa Xayalith's distinctive vocals.
Opening with a track that harks back to earlier releases is often an indicator of a band all too keen to play it safe and replicate earlier success, but 'Water Beneath You' finds the band stepping out from under that shadow cast by their early acclaim, showcasing that The Naked And Famous can take a successful formula, and massage something exciting out of it. The album continues in this vein with 'My Energy', a song that verges towards the pop-punk end of the musical spectrum. Lead-vocal duty on this track falls to Thom Powers, who - despite performing commendably - can't help being slightly outshone by Xayalith's backing-vocals towards its close.
Vocally, a high point of the album comes at the end of 'Last Forever'. The music fades out, and the isolation of Xayalith and Powers' voices allows the listener to truly appreciate the vocalists' musicianship. Even without all the trappings of a huge pop banger, these guys are able to carry that distinctive sound that captured hearts at the dawn of their career.
The album loses momentum towards the middle, but the lull is quickly subsumed by the Chvrches-meets-Panic!-At-The-Disco dance-a-thon that is 'Backslide'. 'Laid Low' is an 8-bit influenced delight, with retro jingles intertwining another powerful vocal. "Take me home, I'm learning to live with ghosts," Xayalith sings, diving headfirst into the song's final emotive chorus.
'The Runners' is a pleasant surprise; for once, centring guitars and drums over the synths the band is so comfortable with. Deviating from the distinctive is a risk, and despite the payoff you can't help wondering if they could have taken it even bigger - stripping away more of the gimmicks and striking out in a new direction.
When The Naked And Famous first appeared on the scene, they shone as frontrunners in this decade's synth-pop revival. The music they're making is as danceable as ever, and several songs shine as bright as their previous greatest hits. The only thing missing is the bravery to push a little further in new directions on a few more songs, because when they do, like on closer, 'Rotten', it's perfect.
OUT OF 10: ???? ???? ???? ???? ???? ???? ????
YOU WILL LIKE, IF YOU LIKE: Chvrches, Panic! At The Disco, Empire Of The Sun, Passion Pit, Two Door Cinema Club.
IN EMOJI-FORM: ???? ???? ???? ???? ???? ???? ✨ ???? ????‍♂️ ???? ????
LIFE LESSONS LEARNT:
"Made with adrenaline, seeping out from under the skin..." - I don't think Alisa is cut out for a career in biology, you know?
"Built on a skeleton of fractured parts..." - No, seriously, Alisa!
"We should move before these hearts diffuse..." - You too, Thom? Seriously, get this band into remedial classes!
MUST-LISTEN: 'Water Beneath You', 'Last Forever', 'Rotten'.
Load next