Review: Rostam, The Broad Museum - August 2016.
Review: Rostam, The Broad Museum - August 2016.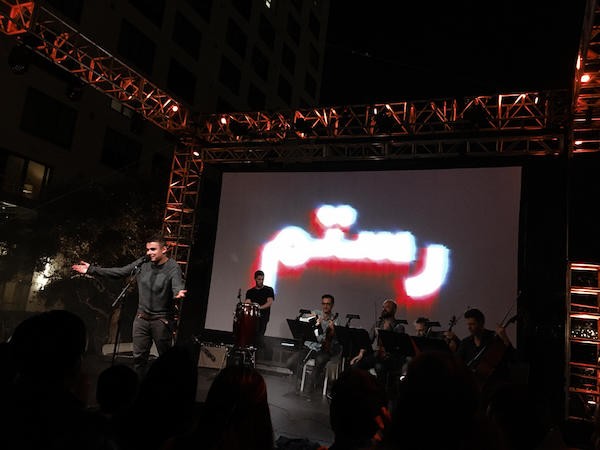 Rostam Batmanglij's performance at The Broad Museum last night as part of the 'Nonobject(ive): Summer Happenings' series marked a very special occasion - in that it was a performance in which he debuted some of his new solo material for the very first time.
The performance series at The Broad has been going on throughout the Summer, with previous performances from the likes of Sky Ferreira and Perfume Genius, as well as an upcoming performance from electronic artist SOPHIE. The series allows museum-goers to not only visit The Broad after-hours (meaning you don't have to be surrounded by hundreds of other people wanting to look at the same piece of art!), as well as see some great artists play The Broad's outdoor musical stage.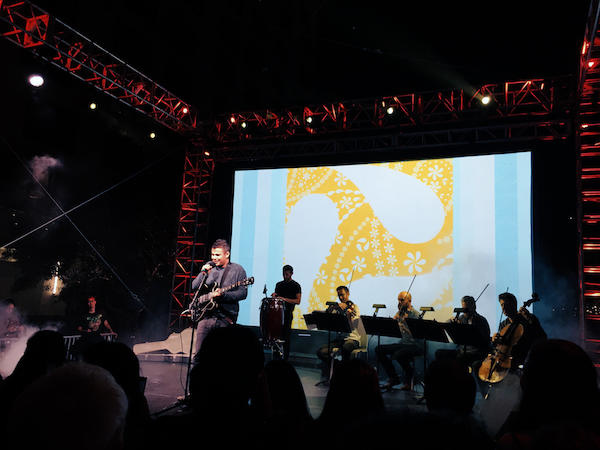 Accompanied on stage by a string quartet, Rostam appeared humbled by the excited crowd, and launched into 'New Morning', a song whose title was indicated by text illuminated behind him on screen. "I wanna dedicate that song to my brother!" Rostam ended the song with, and he later dedicated a song to his Mom during the show too.
The performance marked his first ever solo show since his departure from Vampire Weekend - excluding one opening slot for one of Brian Wilson's iconic 'Pet Sounds' shows in June - and it's clear that though Rostam is still getting used to performing as a solo artist, it gave the opportunity for the new songs to be heard live, and from here they can only grow.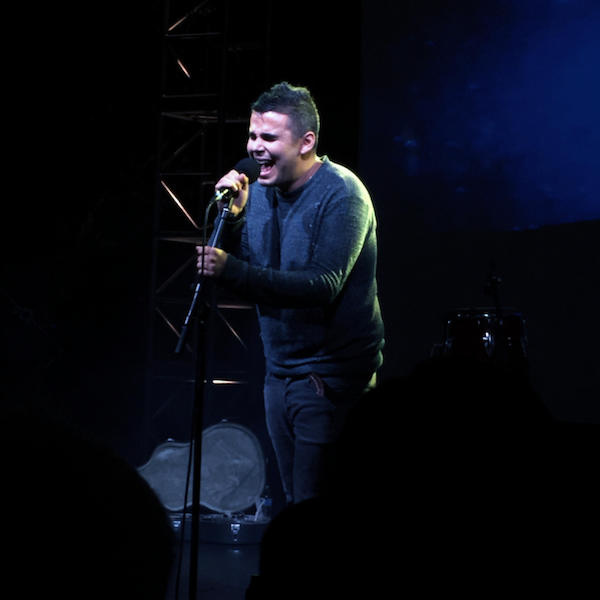 The ever-mysterious 'Bike Dream', a long-unreleased Rostam song was up next, and it's electronic synth undertones pulsated throughout, before Rostam launched into 'EOS', a single he released earlier this year. Technology was a crucial element of the show, as several songs featured vocalists who featured via 'satellite' - the first of which being Rostam's long-time collaborator Wesley Miles (of Ra Ra Riot), who together make up Discovery. 'It's Not My Fault (It's My Fault)' was a familiar one for the audience, and the backdrop matched the 'LP' album cover too, with pixelated colour-blocks changing throughout the song.
Rostam closed out his 50-minute set with a new collaboration with Angel Deradoorian, who also performed her part of the song via 'satellite' - and the distorted vocal sounds on both of their voices melded perfectly together. He also told the audience that the song - currently untitled, however, the words 'Only Ever Wanted To Hold You' repeat throughout - was also written with Andrew Wyatt of Miike Snow. Rostam departed from the stage with a wave and a grateful smile, saying "Let's do this again soon," - which is hopefully a sign of things to come!
Set-List:
New Morning
Bike Dream
EOS
It's Not My Fault (It's My Fault)
Gravity Don't Pull Me
Wood
Gwan
Only Ever Wanted To Hold You
Gravity don't pull me. @matsor #BroadHappenings pic.twitter.com/XakXbQNHdK

— The Broad (@TheBroad) August 21, 2016
Load next