Review: Lorde's 'Pure Heroine' Tour - Vector Arena, November 2014.
Review: Lorde's 'Pure Heroine' Tour - Vector Arena, November 2014.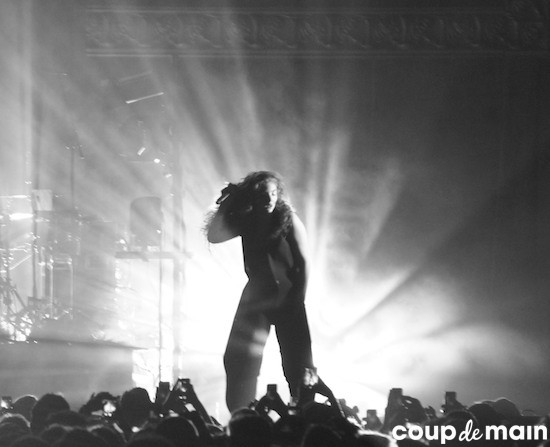 When Lorde took to the stage at Auckland's Vector Arena last night, the noise from the audience was phenomenal, as would be expected for the hometown return of our 17-year-old Grammy winner. Her last performance at this venue was September 2013 for a iHeartRadio free show - prior to the release of her 'Pure Heroine' album, her double Grammy win, a M.A.C collaboration, and a worldwide tour. Life for Lorde has definitely become a whirlwind adventure, but in Auckland her 2014 tour ended where her career begun, and the audience was immensely grateful for that.
Lorde strode confidently on stage, a confidence that was apparent throughout the entire show. She opened with 'Glory And Gore', while a black sheet hid the rest of the stage set up. From the moment she started singing, it was clear that Lorde knows how to work a crowd - from her signature dance-moves to her almost flawless vocals, she delivered everything and more for the audience.
Pausing to thank everyone for coming to the show, Lorde reminded us that this show was the final one for this tour. The sheet dropped, and she powered through 'White Teeth Teens' and 'Tennis Court', keeping the crowd entranced by her every movement and note.
'Buzzcut Season' showcased the visual aspect of the show - with footage of Auckland showcased on the frames suspended in the air. She then performed part of 'No Better', before launching into '400 Lux'. The first act was already over, signalled by a fog-machine releasing misty bubbles into the audience while Lorde's layered vocals continued to play on.
The lighting began to get more intense as Lorde walked back on-stage to perform her cover of Kanye West's 'Flashing Lights'. She followed this with 'Bravado' - a fitting choice, as she's said it was inspired by the Kanye lyrics, "Me found bravery in my bravado", about the idea of a fake confidence. Tonight however, her confidence seemed comfortable and she looked like she owned the stage, which continued through 'Biting Down'.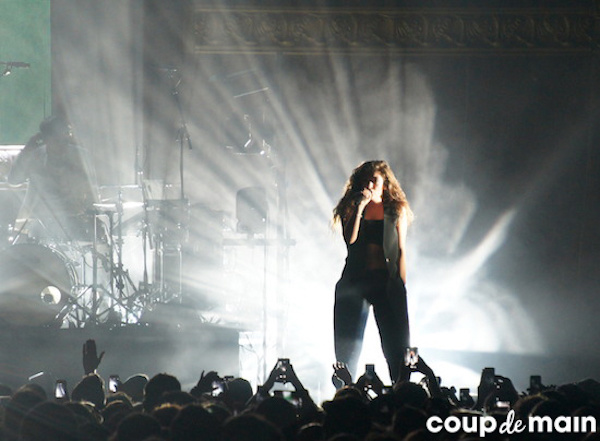 "I'm kind of losing my shit tonight, this is insane…" - Lorde seemed genuinely humbled at the enormous crowd who had come to see her homecoming concert, and then launched into her cover of Bon Iver's 'Heavenly Father', stating that the song "makes me feel strong, it's about faith and having faith".
Following 'Still Sane', Lorde gave a speech comparable to the emotional/inspirational speeches Taylor Swift gives at her concerts. "You don't know how special we feel getting to end the tour here. We wouldn't be on a tour without you." She spoke about the visuals used in the tour - all filmed in Auckland around her favourite places in this city - which she took on tour with her, "I've taken these places with me all around the world, all through America. And it's felt so comforting to have you on stage with me in a way every night."
Lorde continued to talk about what she tries to achieve with her music: "You probably know by now how obsessed I am with growing up, and how all of my work, everything that I make is me trying to put into words or me trying to document how it feels to be 15, to be 16, to be 17. And I feel so fucking honoured and so grateful that I can share that with you Auckland." She then launched into 'Ribs', a favourite among fans united by the same fear of growing old.
Lorde paid homage to New Zealand further with a cover of The Naked And Famous' song 'Young Blood', before the final act of the show which was announced with a suspended theatre-sign: "Tonight: The tragic and wonderful triumphal procession of Lorde". She performed Grammy winner 'Royals' while wearing a custom-made 'Meadowlark' golden wreath crown, affirming her status as Queen Bee, and encouraging the crowd to sing along, which they happily obliged. She then introduced 'Yellow Flicker Beat' - "It's kind of cinematic…" -  from her curated soundtrack for 'The Hunger Games: Mockingjay - Part 1' film-adaptation, which was perfectly matched with red, orange and yellow lighting.
'Team' was a standout - Lorde donned a New Zealand flag thrown on stage by a fan, and proceeded to dance around with it throughout the song while confetti erupted into the audience. "We live in cities you never see on screen" Lorde sung, though thanks to her images of Auckland have been shown to millions of people around the world through her visual production.
Closing her set with the final track of 'Pure Heroine', 'A World Alone' was drawn out when she stopped to thank everyone on tour - her support-crew and band, who the audience showed their appreciation for as requested. Lorde paused for a moment more before commenting that, "This is the last minute of this tour…" - she took in the appreciative crowd once more before launching into the final chorus and the final words, "Let 'em talk…" And talk, they did - everyone leaving the show had nothing but praise for what they'd seen and heard all throughout the wondrous magical evening.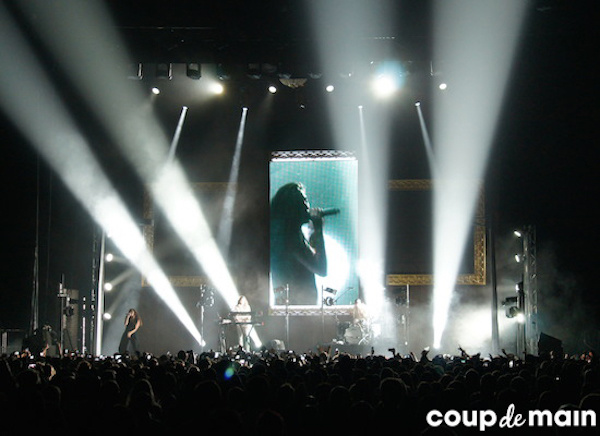 Set List:
Glory and Gore
White Teeth Teens
Tennis Court
Buzzcut Season
No Better
400 Lux
Flashing Lights (Kanye West cover)
Bravado
Biting Down
Heavenly Father (Bon Iver cover)
Still Sane
Ribs
Young Blood (The Naked And Famous cover)
Royals
Yellow Flicker Beat
Team
A World Alone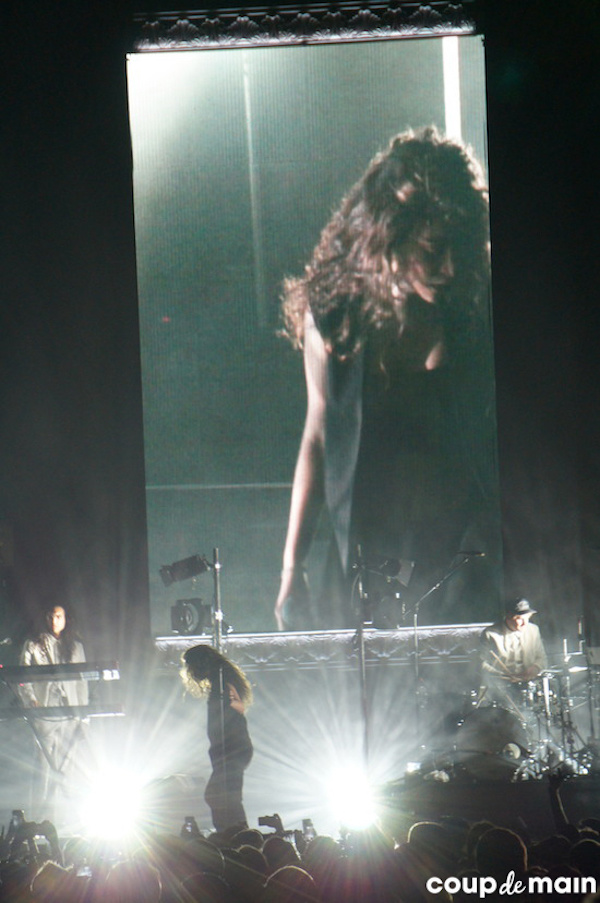 Click HERE to read our latest interview with Lorde.
Load next