Review: Florence + The Machine - Vector Arena, November 2015.
Review: Florence + The Machine - Vector Arena, November 2015.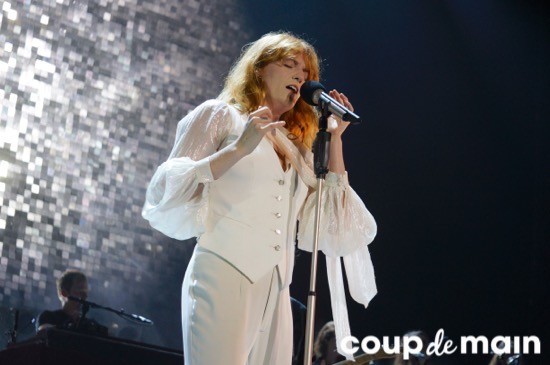 Florence + The Machine are literally a force of nature. Both two times that I've seen them live this month, Florence has brought storms with her - lightning and thunder! - and her return to Auckland's Vector Arena last night was no exception.
Marking her first show in New Zealand since her performance at the same venue back in 2012 - both of these shows had not only the venue in common, but the fact that these shows were both the final of each of Florence's album tours. However, the differences end there - as her show last night was remarkably different, and showed an entirely different side to Florence.
Opening with 'What The Water Gave Me' from her 'Ceremonials' album, Florence and her Machine instantly incapsulated the entire arena - who were spellbound by her distinct vocals. Nothing can compare to Florence's voice, and nothing at all can compare to Florence's voice live. As she led into the newer song 'Ship To Wreck', it was clear the crowd knew all of her material, and were singing along to every word.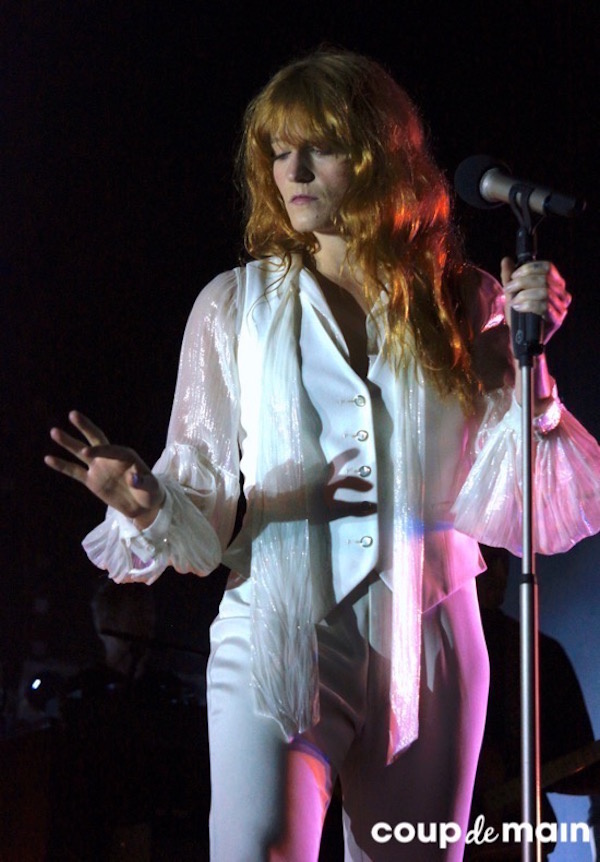 'Rabbit Heart' is always a live set highlight, with Florence encouraging everyone to get "as high as possible", leading to everyone in their seats standing up, and a number of people perched on shoulders to dance as wildly as Florence did in this number.
Powering through 'Third Eye' and 'Delilah', Florence kept people's dancing shoes on through her cover of 'You've Got The Love', a song now so associated with Florence that it's often forgotten to be a cover of the original Candi Staton song.
Stopping to thank the audience for their attendance, Florence seemed genuinely overwhelmed at the reaction from the audience. She shared the fact that keyboardist Isabella Summers was wearing pyjamas underneath her clothing to mark the final day on tour - though the tiredness that they were all bound to feel was barely recognisable on stage.
Florence made the show even more special through the performance of [one of the best songs of the year] 'Caught' - a song that has only been performed live a total of now four times. The first was at an iHeartRadio show, and the second and third being at Australian legs of the How Big Tour - meaning New Zealand is the lucky fourth, and those who heard it should feel accordingly honoured. It's a song that showcases the pure emotion that goes into Florence's songwriting, and hearing it live made this final leg of the tour that bit more memorable.
'Queen Of Peace' showcased not only Florence, but her Machine at it's best - providing a reminder that the enormous entourage she brings on tour with her help to create the overall sound that is heard on stage - from the back-up singers, to harpist Tom Monger, to the brass trio of horn-players, they're all vital elements that each had their moments to shine during the show.
The show highlight came during 'Dog Days Are Over', where Florence not only asked everyone to take off an item of clothing and wave it above their heads while jumping as high as possible, but the audience actually began to throw their clothing at Florence. She ended up holding about seven items of clothing in her hands from various audience members - and I'm still wondering whether they got their clothing back.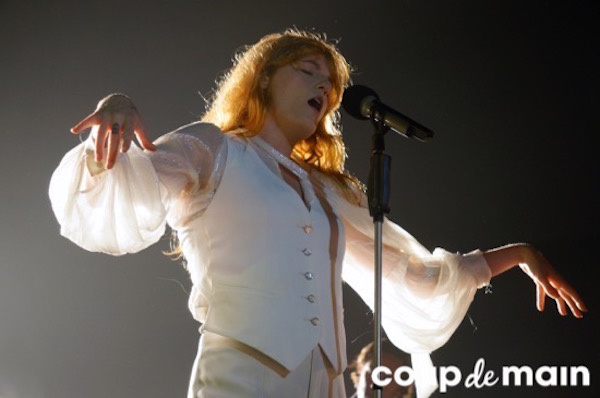 An encore was of course necessary for a show of this standard, and Florence pleased all her fans by playing a new album song, 'Mother' - and 'Lungs' cut, 'Drumming Song'. Both songs were explosive and electric - and Florence's vocals shone through in each.
Where the 'Ceremonials' tour ended with a Florence that was broken and exhausted, the 'How Big How Blue How Beautiful' tour showcased a victorious Florence - a Florence that could not stop beaming throughout the entire set; a Florence that was clearly overjoyed and honoured at the audience's reaction to her.
Let's all just join together to pray that it won't be another 3 years until the one true Supreme Witch graces our shores again.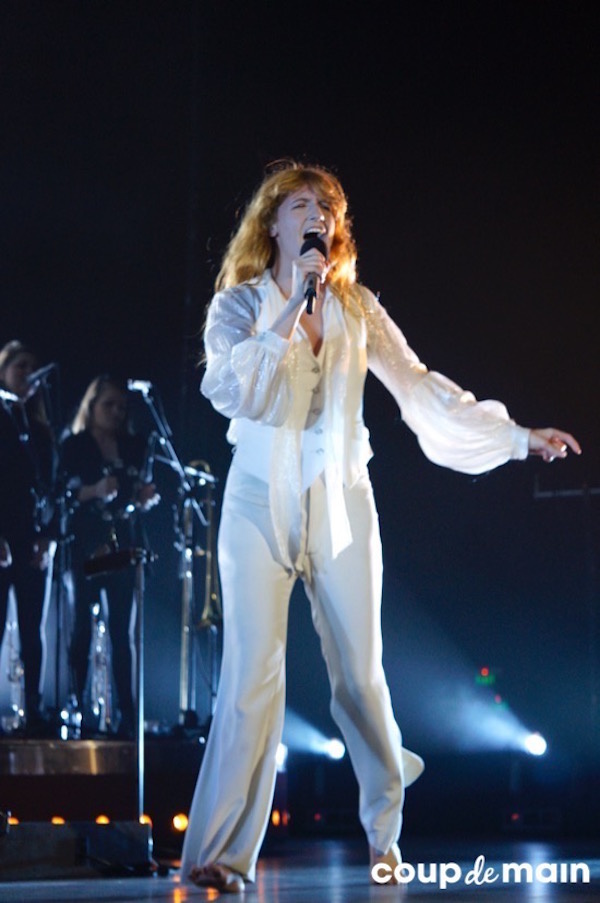 Set List:
What The Water Gave Me
Ship To Wreck
Rabbit Heart
Third Eye
Delilah
You've Got The Love
How Big How Blue How Beautiful
Caught
Shake It Out
Cosmic Love (Acoustic)
Queen Of Peace
What Kind of Man
Spectrum
Dog Days Are Over
Encore:
Mother
Drumming Song
Load next