Review: Circa Waves - Hordern Pavilion, July 2015.
Review: Circa Waves - Hordern Pavilion, July 2015.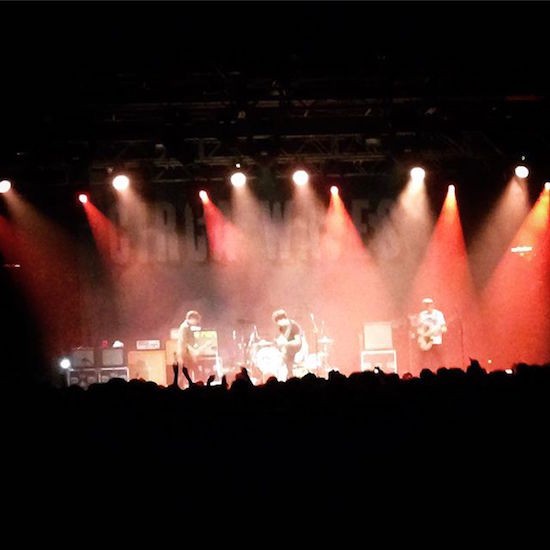 The Wombats first announced their return to Australia this July by announcing a show at The Enmore Theatre, which sold out so fast it was swiftly upgraded to the Hordern Pavilion. Their Australian tour which has accompanied their appearance at Splendour In The Grass has seen support through Liverpool band Circa Waves, who released their debut album 'Young Chasers' earlier this year.
Circa Waves performed what might be the most energetic opening band-set I've seen in years - their enthusiasm to be playing such a large venue transferring to the audience who were all up and dancing by the end of their set.
They played an 8-long set-list of songs lifted from their [incredibly good] debut album, opening with 'Young Chasers' - the first song that the band ever released, that started them on their path to success. One of the band members had an amp which was labelled 'Hi Mum', further highlighting their modesty and graciousness to be playing the enormous venue.
"We're Circa Waves from Liverpool, it's lovely to meet you," was how the band introduced themselves before launching into raucous energy of 'So Long' - from the drum-intensive intro, to the slick harmonies in the chorus, to one of the best bridges to ever exist. 'Fossils' got the audience fully dancing to the groups live vigour, which just continued throughout the entire set.
'Stuck In My Teeth' and 'My Love' were set highlights, the latter a re-done version from that of their album, made to contrast the build-up to the final chorus even moreso. Most people in the audience were head-nodding and dancing around us, but the girl standing directly in front of us interpretive danced to every single song - making the performance an even more interesting experience for everyone surrounding her.
Their final and best known song 'T-Shirt Weather' made the audience fall in love with Circa Waves entirely, a song particularly relatable at this time of the year in dreary winter. A crowd singalong of the bridge chanting "It's gonna be okay," left an optimistic tone in the whole audience, who were left wanting more from Circa, while equally excited for The Wombats to take the stage.
Set-list:
Young Chasers
Good For Me
So Long
Fossils
Stuck In My Teeth
Get Away
My Love
T-Shirt Weather
Load next