Review: 10 things I learned from Florence + The Machine's live show - The State Theatre, July 2015.
Review: 10 things I learned from Florence + The Machine's live show - The State Theatre, July 2015.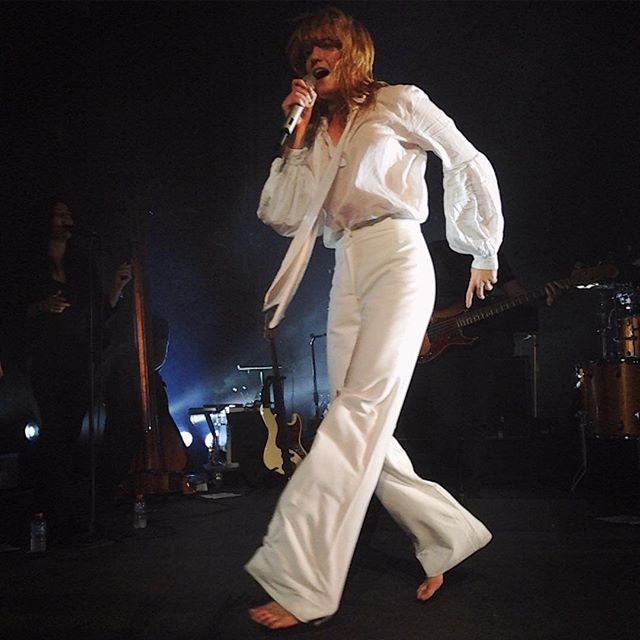 Florence + The Machine played a very special show to an intimate audience at Sydney's State Theatre last night, in support of her new album 'How Big How Blue How Beautiful', ahead of her performance at Splendour In The Grass this coming weekend in Byron Bay. The tickets for this show were drawn by a ballot entered by over 40,000 people, and only a small proportion of those were drawn as winners eligible to buy tickets - and the audience last night was clearly aware of the luck they had by getting tickets to the show.
Coup De Main was lucky enough to attend the very special show, and we have compiled a list of ten things we learned from seeing Florence live (for the first time since her visit to New Zealand in 2012!)...
P.S. Florence is returning to New Zealand (+ Australia) this November - click here for more info.
Check out the list:
#1. She's a total rebel. From what I could tell, The State Theatre is a pretty fancy venue. It's kind of like Sydney's version of our own Civic Theatre on Queen Street. So that means that the upper two levels wouldn't allow people to stand up out of their seats, to Flo's disdain. Regardless, Flo defied the entire venue and encouraged everyone to jump up and down to 'Shake It Out', and raise themselves as high as they could during 'Rabbit Heart'.
#2. She encouraged and initiated sing-alongs [in 'Shake It Out'], even when there was obviously no hope of the audience ever sounding as flawless as her vocals.
#3. Her seemingly endless energy. Performing a two hour set filled with songs from all three of her released albums, Flo wowed the crowd by never stopping, and managing to jaunt and bounce around the stage non-stop.
#4. The audience participation was like no other - from jumping down into the audience during the first part of the show, to touching just about every fan's hand who was in the front row [the front row that was created by fans running up to the barrier of the seated show], to during 'What Kind Of Man', where she sung specifically to one guy, holding his hand and speaking directly to him.
#5. Dancing! Florence's signature dance-moves are incredible to see live - her ethereal hand movements, her bouncing up and down with the time of the song, to her heart beating in time to the drums in 'Drumming Song'.
#6. Her enormous band are each incredibly talented, and the harp is still there! Backed by 9 other band-members, Flo pranced around them while they sung backing vocals, drummed, played guitar, horns, and just about everything else that goes into creating Florence's massive live sound.
#7. The live horns! Seen especially in the outro of 'How Big How Blue How Beautiful', and 'Queen Of Peace', they sound just as majestic and magical as they do on the album.
#8. Florence is incredibly inspirational, and she shared this wisdom through her chatter between songs. Talking about 'How Big How Blue How Beautiful', Flo explained where she wrote the song, and how it's such a great song to take and share with the world, because of the beauty that it inspires.
#9. Her [now iconic] white pant-suit that has become a staple Flo outfit in the 'How Big How Blue How Beautiful' era (click HERE to read our other style picks for Flo). It also makes it the second red-headed beauty we've seen perform in a white pant-suit this week - click HERE to read our review of JENNY LEWIS' Sydney show from a few days ago.
#10. We now know that both Flo + Isa support Crystal Palace in football! Although not being a huge football fan, Flo was answering some questions given to her in a booklet earlier by the Australian F+TM fan-club, many of which were relating to sports trivia.
Set-list:
What The Water Gave Me
Ship To Wreck
Shake It Out
Bird Song Intro
Rabbit Heart
Delilah 
Sweet Nothing
Only If For A Night (Acoustic)
How Big How Blue How Beautiful
Queen Of Peace
What Kind Of Man
Drumming Song
Spectrum
You've Got The Love
The Dog Days Are Over
Encore:
Long & Lost
Mother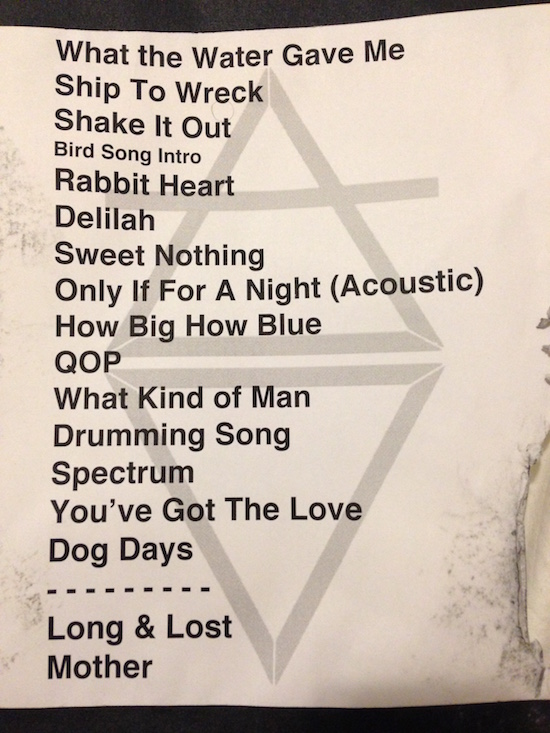 Load next