Coup De Main x NZ On Air | Kittens Of The Internet
Coup De Main x NZ On Air | Kittens Of The Internet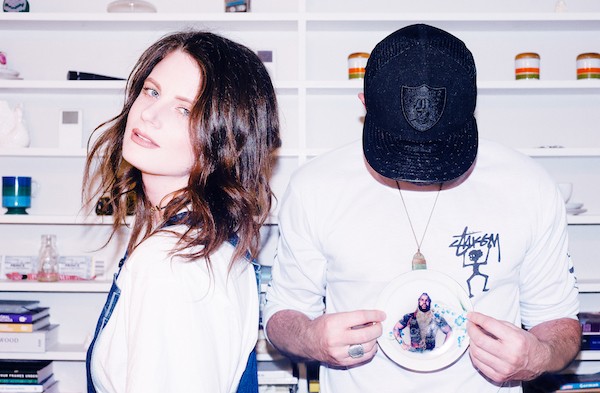 [Photo credit: Nadia Kennington]
I'm not one to judge a musical book by its cover, but I was obsessed with Kittens Of The Internet before I'd even heard one of their songs - yes, their press photos feature cats too! - and once I heard their songs, I was even more hooked.
The project is a collaboration between Katie Scott and Mahuia Bridgman-Cooper, and they've just released their debut EP - a five track EP that deals with love, loss, a fear of growing up, all soundtracked by an ethereal electronic background.
We spoke to one half of Kittens Of The Internet about the EP's release, their songwriting process, and more…
COUP DE MAIN: Congrats on your debut EP, we love it! How did your collaborative process work in creating it?
KITTENS OF THE INTERNET - KATIE: I enjoy writing and then bringing lyrical ideas to Mahuia, and together we figure out the finer details of the lyrics and melody and see how they flow over the compositions that he creates. We began performing the songs live a while back to get a feeling of how they flowed with an audience, and then Mahuia would fine-tune the arrangements, record my vocals, and once we'd settled on the sound of the tracks we invited friends over to play (drums, melodica, guitar). It's a lot of fun to explain a musical idea that's been kicking around in your head to a musician and then watch them unravel this idea, perform it, add a twist or colour of their own, and then hear if it fits into the track. Djeisan Suskov (from NZ band Leisure) mixed and mastered our EP and he put in a lot of care and time. It was so good to have his fresh ears on the songs after we'd been sitting with them and hearing them for quite some time.
CDM: How does your songwriting process work?
KATIE: It depends on what comes first. If the melody and lyrical idea has begun, then Mahuia will find some chords to accompany and he'll build the track up from there. Another approach is Mahuia will email through tracks he's been creating and I'll play around with melodic ideas and write lyrics over the top of them and then we'll get together to complete them.
[Photo credit: Sacha Stejko]
CDM: In 'Golden Lights' you contemplate growing up - "Talk through our fears and fight the years of growing old." Do you think our generation is more afraid of growing old, and why do you think we hold this perception?
KATIE: I think every generation goes through the fear of growing old. It can seem intimidating and scary, especially if you're worried about losing your mind, losing your independence, losing your financial income, losing bladder-control, thus becoming reliant on your children who have their own lives and don't have time to look after you. When you start thinking about that, well then getting old is terrifying and sounds awful. Fear is the real driving-force behind a lot of people's decisions in life and it's a theme that lies within 'Golden Lights'. But we are happy to let people put their own spin our songs.
CDM: Are you planning any live shows in support of the EP at all? What can people expect from your live show?
KATIE: Our gigs are usually pretty playful and intimate. We've no shows cemented yet, but we will soon. We'll post 'em up on Facebook.
CDM: Our column is all about New Zealand music, so what other NZ artists are you loving at the moment?
KATIE: Unknown Mortal Orchestra. Voom. The dreamy Aldous Harding, Marlon Williams, Delaney Davidson, Tami Neilson. We're spoilt for choice, there are so many NZ musicians that I love and am inspired by.  
YOU WILL LIKE MY MUSIC, IF YOU LIKE… Ellie Goulding, Jamie xx, The xx, Lorde, Grimes, and Niki and The Dove.
IF YOU ONLY LISTEN TO ONE OF MY SONGS, YOU SHOULD LISTEN TO… 'Lights Are Low'. With low lights for ambience.
WATCH THIS VIDEO, BECAUSE…I kick arse.
MY TOP FIVE MUSICAL CRUSHES ARE… Frank Ocean, Lana Del Rey, Kendrick Lamar, Ella Fitzgerald, and James Blake.
CDM: If you were to curate your own music festival, who would you want to play and what would the festival be called?
KATIE: Hologram Prince, hologam Bob Marley, hologram Tupac, hologram Ella Fitzgerald, hologram Bowie. ETC!!! It would be called 'Hologram - Spesh Fest'. Actually it sounds pretty morbid, but I'd be into it.
CDM: What's the most despicable thing you've ever done?
KATIE: I don't know. I often eat chocolate in the car and get it all over my clothes and then don't notice for half a day until someone points it out. By this stage it's too late to explain that it's chocolate as it looks more or less like dog-poop. Is that despicable or just unobservant?
CDM: If you could pick any five people (living or dead) to be in your entourage, who would you choose?
KATIE: That's a hard one. But definitely Jennifer Lawrence. She's so funny. And maybe Quincy Jones 'cuz I reckon those two would be cracking all these jokes and I'd be laughing my arse off and we'd drink cocktails pool-side and all Quincy's musician mates would join and serenade us with tunes.
CDM: Who is your most famous fan?
KATIE: No-one. But maybe one day Martin Henderson…? And then he would inspire the music directors of 'Grey's Anatomy' to synch our songs up to some of their heartwrenching survival scenes. I'd be stoked! But are they making another season? I don't actually know. Maybe I should start pitching for another show in these interviews.
CDM: Do you believe in magic?
KATIE: Yes.
CDM: What is your spirit animal?
KATIE: Back at uni someone said I was a moose which I took offence to, but after close inspection on Google Images, moose are actually really beautiful animals so I've come to accept this as quite a nice compliment and thus, maybe true.
CDM: How long could you go without talking?
KATIE: A few years back I lost my voice for five days due to some full-on cold. It was actually quite pleasant not to speak, despite the gnawing fear that this was it, I was doomed to be a mute forever and I'd better forget about chasing the dream of singing and creating music. I still had to work my part-time job so I hung a small white board around my neck which read, "Sorry, lost my voice," and then I would write answers to any questions on this board, which sometimes took a. Really. Long. Time.
[Photo credit: Sacha Stejko]
CDM: If you could steal one thing without consequence what would it be?
KATIE: A fancy jet with a king-sized bed and loads of cash for every country under the sun, so I could land anywhere in the world to explore. And maybe the jet could eject seeds for trees into each land. You know, for those emissions.
CDM: What is the most heroic thing that you've ever done?
KATIE: During exams in high school I was feeling a bit stressed so I thought it would be really therapeutic for me to do a photoshoot with my cheap film camera and my sister's pet budgie. So I walked outside and held the bird up to the light to get that epic shot of 'budgie in front of cherry blossoms', but the bird flew out of my hand and straight into the jaws of the family dog. I was so stunned. And then I cried. Hysterically. Like, howling. Snot and everything. Then chased the dog around the house three times but he refused to drop the bird, who was already well and truly dead. Oh wait, did you say HEROIC? No, sorry, nothing comes to mind.
CDM: Have you ever written a love letter?
KATIE: Yes, last week I wrote a lovely note to my partner and it said, "Here's some chocolate I was hiding from you, but you should eat it now because I've had enough."
CDM: What is your first proper memory, ever?
KATIE: Doing headstands on Dad's lap with my sister. It's either my memory or it's a memory from a photo Mum took. Must have been a bit painful for Dad upon reflection.
CDM: If you were a country, what would be your national anthem?
KATIE: This might be a bit dreamy and unhelpful before a rugby game when people need to get pumped up, but I would choose 'Imagine' by John Lennon and Yoko Ono.
CDM: Have you ever had an out-of-body experience? If so, tell us about it.
KATIE: Perhaps when performing music or writing. It can be cathartic and yet strangely and enjoyably like an out-of-body experience.
CDM: Stretch your right arm out as far as you can reach, what can you touch?
KATIE: A drink bottle with Richie McCaw on it.
For more Kittens Of The Internet, check out:
facebook.com/Kittensoftheinternet
twitter.com/KOTI_alt_dream
soundcloud.com/kittensoftheinternet
youtube.com/channel/UCN920y7GXeXzezCg8BfRMfA
Watch the 'Bitter' music video below…
Load next