What has My Chemical Romance's Gerard Way been up to pre-reunion?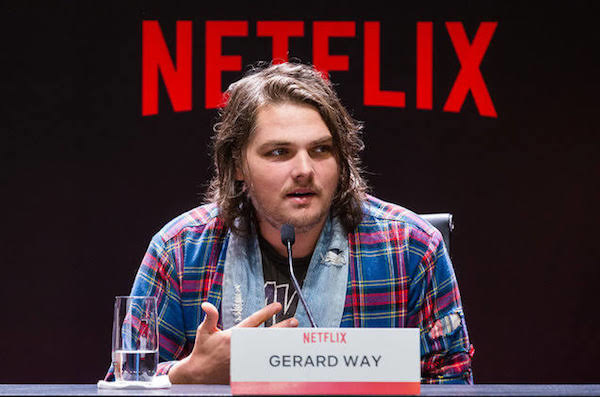 In the spirit of recapping on all things My Chemical Romance today, we're not only celebrating the exciting announce of the band's return to New Zealand next year, but also all of frontman Gerard Way's many accomplishments while the band had split up.
In 2014, Gerard released his debut solo album, 'Hesitant Alien', which featured the singles 'No Shows' and 'Millions':
And he made a zine!
In 2018, Gerard released 'Baby You're A Haunted House' in time for Halloween, and then 'Getting Down The Germs' the following month - which was co-written with MCR's Ray Toro.
This year, Gerard and Ray continued to work together, releasing covers of 'Happy Together' and 'Hazy Shade Of Winter' for Netflix's adaptation of 'The Umbrella Academy' (which is a comic book series that Gerard first started writing back in 2007):
A second season of 'The Umbrella Academy' is currently being filmed, and back in 2013, Gerard made his television directorial debut co-directing and co-writing the season two finale of 'The Aquabats! Super Show!', with his brother Mikey appearing in the episode as the lead singer of a fictional death metal band called Asthma.
In the comics world, Gerard is prolific, having released 'The True Lives Of The Fabulous Killjoys' as a sequel to the MCR album 'Danger Days: The True Lives Of The Fabulous Killjoys', as well as having written issues for 'Doom Patrol', 'Cave Carson Has A Cybernetic Eye' and 'Edge Of Spider-Geddon', just to name a few.
P.S. In case you missed the news, My Chemical Romance are returning to New Zealand in March for a very special show - click here for all the info!