A Marina x 'Ancient Dreams In A Modern Land' appreciation post.
A Marina x 'Ancient Dreams In A Modern Land' appreciation post.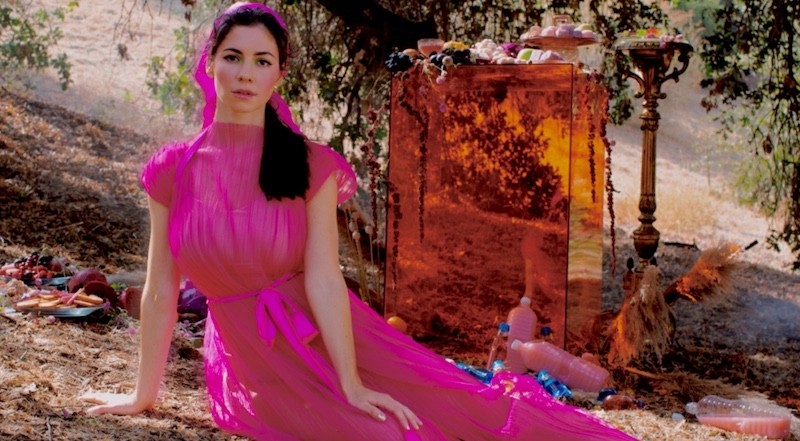 Marina's fifth album 'Ancient Dreams In A Modern Land' has officially landed today, the follow-up to 2019's 'Love + Fear'. On the new album, Marina tackles tough conversations, touches on climate change, inequality in the music industry, racism, and more.
In an interview with Vogue, Marina sums up the core album theme: "Femininity has been such a negative trait for so long. It's shameful to be feminine, whether you're a man or woman. That's dating back hundreds of years, and I think it's really to the detriment of society because we've all had to try and be more masculine in order to succeed or to be accepted. We all have masculine and feminine traits. Masculinity is being goal driven, disciplined, forceful; femininity is what your relationship with nature is, being nurturing and intuitive. There's a huge connection [between] what's happening with our planet right now and the lack of femininity in the world. On a personal level, I really wanted to embody more of that [femininity] and to work on that in myself. That's really the main theme of the whole record."
So today on release day, we are celebrating the following Marina-related tidbits…
#1. The newest single 'Venus Fly Trap' is accompanied by a show-stopper video which features a grown-up Electra Heart. About the song, Marina shared: "So many of us have repeatedly repressed ourselves throughout life to gain acceptance + made ourselves small so that others can feel comfortable. 'Venus Fly Trap' is a celebration of self ownership, confidence + joy that comes from truly being free."
#2. Marina held a Q&A on her YouTube back in May, where she discussed all things about the new album! Watch the full 30-minute video below:
#3. Her one-night-only concert experience livestream titled 'Ancient Dreams: Live From The Desert' will be an evening with Marina and her band in the remote California desert. The stream has three different date/time options over June 12th and June 13th - click here for tickets and more information.
#4. The album-themed cocktail menu (with a non-alcohol option) to go alongside the livestream looks delicious, and there's three different options!
#5. In Marina's recent interview with Vogue, she also discussed all things from break-ups, the music industry, to genres. On writing personal experience into the record, Marina says: "All of those songs stemmed from a breakup. I was in a relationship for five and a half years. It was my longest relationship to date; I loved and still love the person dearly. I use songwriting as a way to work out how I feel about something because my brain covers up loads of stuff, and it takes me a while to sift through the layers of detritus to figure out what decision to make and how I actually felt about this. When you're in a relationship, there's a very normal tendency to cover your own feelings up in order to maintain the health of the relationship, but that doesn't work for anyone in the end. The truth is, the thing that holds people together is authenticity."
Read the full interview here.
Marina's new album 'Ancient Dreams In A Modern Land' is out now - listen to it below:
Load next