Review: Lorde - O2 Apollo, Manchester, September 2017.
Review: Lorde - O2 Apollo, Manchester, September 2017.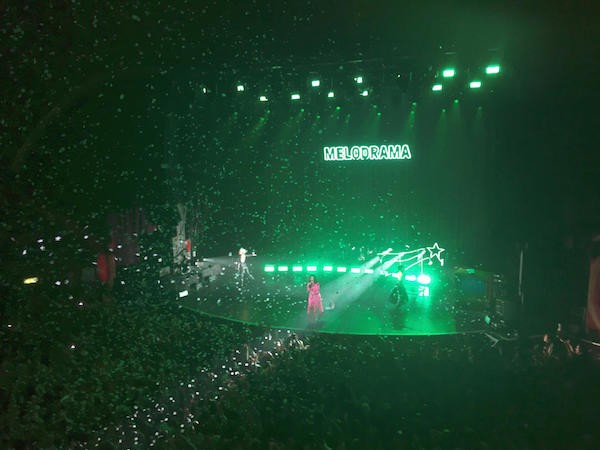 It had to start here. Prior to this past Tuesday at the O2 Apollo in Manchester, the opening night of the Melodrama World Tour, Lorde had only played six headline shows in Europe: three in London, two in Germany, and one in The Netherlands. All were in support of her debut LP 'Pure Heroine,' and therefore well over three years ago. "I live really far away from here," she tells the 3,500-strong crowd, and don't we know it.
Khalid's strong, punchy opening set drove many attendees wild, and it's easy to see why there is such a crossover between the two artists' fans, as well as the influence of 'Pure Heroine' on his debut record 'American Teen'. That Grammy-winning 2013 debut told awkward, quietly emotional kids like Khalid that their voices were important, and the way they see the world was worth sharing. As he jumps around the stage to set-closer 'Young, Dumb and Broke,' his joy at being able to share that vision with adoring crowds in faraway places is evident.
The main event opens with a montage. A series of seemingly unrelated, perhaps even irrelevant clips, play on a large, late-20th Century TV in the downstage left corner. Matt Damon telling Graham Norton what a great time he's having. James Dean in 'A Streetcar Named Desire'. Jeering MPs in the House of Commons. What it all amounts to is never quite clear, but it's entertaining and intriguing enough. As the opening clicks of 'Magnets' fade in, it fades away, and we've got the main attraction before us. Similar clips return for 'Supercut,' turning earth-shattering, melodramatic movie romances into fleeting, flash-in-the-pan moments, like a highlights package for the concept of love.
The staging is simple: gone is the large, tilting transparent box that was the centrepiece of the summer festival shows that supported the June release of Yelich-O'Connor's second studio album. This is a pared-back 'Melodrama'-era Lorde show – instead of a troupe of partying revellers, we have just two dancers, who subtly navigate the space around Ella in the set's more energetic moments (the next night, in the much larger Alexandra Palace, the pair were joined by four others). They create an accompanying image for each song in which they appear without ever pulling focus from the woman whose name is on the marquee outside. Save for a few choice moments – most notably a beautiful little routine during the industrial, clattering climax of 'Hard Feelings' – they keep their distance from Lorde, their movements entirely unrelated to her own, as if they're ethereal creatures that only we can see.
What we do get is three neon sculptures, each of which punctuates a different portion of the performance. An astronaut sees us into the show, before being replaced by a floral arrangement that accompanies the more emotional middle section, and finally a shooting star for the euphoric final segment. Throughout we see that immortal word, 'MELODRAMA,' hanging over the stage, also in neon. Sometimes it lights up. Sometimes it doesn't. It's unpredictable and exciting, just like the album.
The excitement and fervour with which Lorde went about planning this tour is plain to see. She had the opportunity to reimagine 'Melodrama,' to extract further meaning from each song for a new crowd each night, and to show them, via the lighting design, the colours that her synesthetic mind sees for each song (a bright pink for 'Supercut', a deep purple for 'Sober,' and, you guessed it, an electric green for 'Green Light'). She is also aided by new poetic interludes that break up the show's sections. There are echoes of 'Sober' and 'Perfect Places' in the refrain of "I sip the drink, I lie to you, I go to secret worlds," and of 'Hard Feelings' in "After a hundred fluorescent nights, my heart begins to rebuild." The double meaning of the latter phrase – is she referring to the parties that inspired the record, or the brightly-lit world tour that now sprawls out in front of her? – suggests our role in the journey she's on, and brings each audience member into her personal, emotional healing.
But that healing can wait just a few minutes longer. "If you told me you were drowning, I would not lend a hand," she growls on an unexpected cover of Phil Collins' 1981 slow-burning anthem 'In The Air Tonight'. For anyone following Yelich-O'Connor's discussion in interviews of her newly-realised obsession with the former Genesis drummer, as well as his 70s/80s dad-rock contemporaries such as Paul Simon and Peter Green, this choice may feel totally natural. To more casual listeners, perhaps not, but the nod to the track's iconic drum break (associated heavily on these shores with a surreal 2007 Cadbury's ad) on the opening of 'Loveless' has been noted by critics and fans alike, and there's the anticipatory nature of the lyrics that was evidently something of an influence on 'Green Light'. 'In The Air Tonight' slots perfectly into a collection of songs about strong emotions and figuring out what to do with them, and you'd be hard pressed to find a more melodramatic use of a drum kit in popular music.
The crowd, energised throughout, hanging on her every word, falls completely silent at Lorde's mention of the trust that gig audiences and performers have in each other at a show, and the horrific way in which it was broken just four months ago, less than two miles away at the Manchester Arena. On the night of the attack, she tweeted that, "every musician feels sick and responsible," a sentiment she repeated: "I'm so, so sorry, on behalf of all the people who stand up here and try to fill your evening with love." The roar of adoration and communal support that follows is one of the loudest all night. Half an hour later, when she tells us "we're on each other's team," we can really believe her. A second, quieter mark of respect was noted by many audience members filing out – there was no performance of 'Homemade Dynamite,' despite it being her current single.
The adoration that 'Melodrama' is met with tonight is astounding, evidenced by the uproarious response to the light clicks and muttering of "Go back and tell it" that opens 'Hard Feelings.' For an artist who is now four years away from a gargantuan hit that will most likely never be topped, in 'Royals', it could have been expected that such a track might tower over the rest of the set. But the reaction to, for example, 'The Louvre,' or 'Perfect Places', is just as fervent. 'Pure Heroine' album tracks and fan favourites 'Ribs', 'Buzzcut Season' and 'A World Alone' have their enthusiastic audiences, too, the latter rather surprisingly bringing one of the night's most enrapturing moments in its closing refrain of "the people are talking, people are talking." But it's 'Green Light' for which the crowd truly goes ape. The perfect album-opener is an even more perfect set-closer, and something of a sprint finish, a chance for the crowd to give every final ounce of energy in their bodies. Thousands of feet are jumping, shaking the floor as the song reaches its glorious, soaring climax. Everyone is still in recovery when Lorde returns with a drum-pad for the mini-encore of 'Loveless.'
It could've been a risk for this New Zealand artist who made an album in North America to debut her live show to a less familiar European crowd, but it worked in Lorde's favour – she's built up the mystery in her absence. There's a real sense that if we don't see her now, it could be four years until we get another chance, and this crowd doesn't want to waste a moment of joy, ensuring that the 90-minute set is filled with euphoria, love and devotion. Absence makes the heart grow fonder, and on Tuesday night, the Melodrama World Tour opened to a crowd of 3,500 fond, open hearts, all dancing to "the boom, boom, boom" of Lorde's.
Set List:
Magnets
Tennis Court
Hard Feelings
Buzzcut Season
Sober
The Louvre
Ribs
Liability
Liability (Reprise)
A World Alone
In The Air Tonight
Supercut
Royals
Perfect Places
Team
Green Light
-----------------------
Loveless
Load next