Interview: 2018 Must-Know - Kailee Morgue
Interview: 2018 Must-Know - Kailee Morgue
About her debut single, 'Medusa', Kailee Morgue said in a statement that, "I wanted to create a story and paint a picture with words," and the song does exactly that.
One of the most memorable debut single releases of recent times, extends Morgue's talent further in her just-released 'Medusa' EP across four songs, with the EP highlight 'Unfortunate Soul' delving into self-growth and other such themes.
Now with a debut EP under her belt, Morgue is set to play live shows, and continue to take on the world.
MUST-LISTEN: 'Medusa', 'Unfortunate Soul'.
YOU WILL LIKE, IF YOU LIKE: Alessia Cara, Hailee Steinfeld, Bridgit Mendler, Bea Miller, Becky G, Hayley Kiyoko, LAUV, Astrid S... and spending your free time casting spells.
COUP DE MAIN: I love the lines in 'Discovery', 'Wherever you go, I go," it's such a romantic sentiment. What was running through your mind while writing that song?
KAILEE MORGUE: I actually wrote this song with CJ Baran and in the process we decided to write a song about loneliness and desperation. I'm a pretty empathetic person so it was easy to throw myself in that position.
CDM: I think 'Unfortunate Soul' is my favourite song on your upcoming EP - particularly the line, "I've still got room to grow." How do you think people can go about growing in themselves, and finding themselves?
KAILEE: I think a good tip for self-growth is to not compare yourself to other people. Everyone grows at their own pace and getting to know yourself can be a long process.
CDM: The first line of 'Medusa' was taken from a movie you saw - do you often take lyrical and writing inspiration from other forms of pop-culture?
KAILEE: Not really, that was a rare occasion for me. Any inspiration I take is usually from older music and nostalgic things I grew up around.  
CDM: What are some of your favourite films of all time?
KAILEE: 'Across The Universe', 'Insidious' (all of them), 'The Kings Of Summer'.
CDM: What else do you have planned for 2018, other than getting back into witchcraft? (Btw, January 31st is a Lunar Eclipse of a Super Blue Moon, so is ideal spell-casting time!!)
KAILEE: 2018: Get ready for live performances and more music.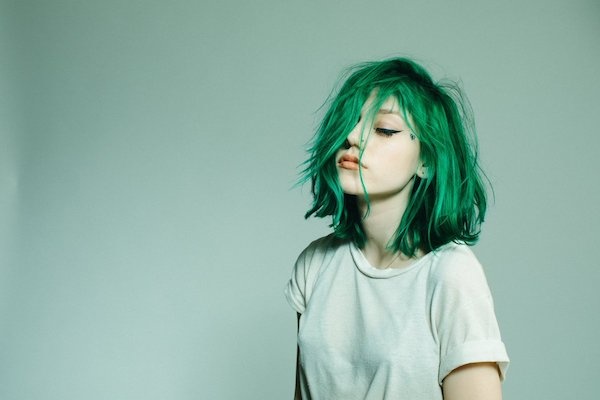 CDM: How does your songwriting process work?
KAILEE: If I'm writing in a session with other people I'll usually hear the production and music, and ill write based on the emotion I'm feeling. If I'm by myself and I get an idea I usually try to build around it with my guitar and keyboard and then bring the idea into a session.
CDM: Do you write your lyrics specifically for the songs, or do you write poems and then evolve them into song-form?
KAILEE: I don't have any structure or method when I'm writing, it just depends on the beat and how things sit.
CDM: Lyrically, what's your favourite song that you've written?
KAILEE: 'Limelight'.
CDM: What do you hope for people to take away from listening to your music?
KAILEE: I want people to feel less alone. I want my music to be able to create an escape for people. Whatever emotion my song makes you feel I hope it gives you some sort of release.
CDM: You're one of our 'must-know' artist picks for 2018... who are yours?
KAILEE: Daniel Caesar, SALES, Lontalius.
CDM: If you could steal one thing without consequence what would it be?
KAILEE: I think I would have to steal the song 'Just A Girl' by No Doubt.
CDM: If you were a country, what would be your national anthem?
KAILEE: 'Nights' by Frank Ocean.
Kailee Morgue's debut EP 'Medusa' is out now - click here to purchase.
Watch the 'Medusa' music video below + listen to the EP…
Load next