Interview: James Van Der Beek on playing Diplo in 'What Would Diplo Do?'
Interview: James Van Der Beek on playing Diplo in 'What Would Diplo Do?'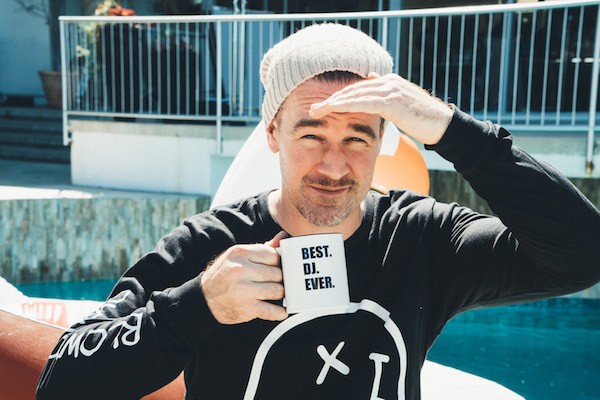 In the brand new Viceland series 'What Would Diplo Do?', James Van Der Beek not only took on the role of Diplo, but he also wrote, conceptualised, and was the show-runner for the season.
Having already played a fictionalised version of himself on 'Don't Trust the B---- In Apartment 23', when approaching the role of Diplo in 'What Would Diplo Do?' he already had a head start - and channeled his inner Diplo character by attending a few Diplo shows, and studying his various radio shows.
More recently, Van Der Beek was in Las Vegas at the iHeartRadio Music Festival, hanging out with the likes of Miley Cyrus and Lorde:
We spoke to James about the creation of the show, working with Dillon Francis, and if there's anything he didn't want Diplo to do…
COUP DE MAIN: I've seen the first few episodes of 'What Would Diplo Do?', and it's SO funny. And it's rad how open Diplo was for you to make him look completely ridiculous. That must've made the process so much easier for you, with him kind of egging you on/encouraging the ridiculousness?
JAMES VAN DER BEEK: Oh absolutely, the only way to do it was if he was completely game to just make fun of himself and make fun of the world, and he was. You can talk somebody into something, but unless they really genuinely want something, it's just not going to be fun for anyone.
CDM: Was there anything that you thought might've been going too far, but Diplo was fine with?
JAMES: I'm a dad, and he is by all accounts a good dad with his two kids, but I took the kids off the table right away, just because we don't need them to have their own representation on the show. That was just me as a father doing that. Having once played myself on TV, I thought, 'Let's leave the kids out of it.' But he was all about anything he tweeted, what a DJ does, and just the culture in general - he was completely down to take the piss out of. That made it fun.
CDM: Are there any situations/scenes that didn't made it into the show that you wished did?
JAMES: We had a bunch of things on the whiteboard at certain points, but everything that was shot we pretty much got to use. Viceland were our partners, they're not really a network so much as they are a rogue band of cool creative people, and they were totally hands off, they let us do our thing - they came in with good advice, really cool, crazy thoughts, they were a fun studio to work with.
CDM: Are you guys open to doing more of the show?
JAMES: We'll see, I mean creatively yeah, most of the hard work is done. There are a lot of moving pieces, but if they all come together, I could definitely see ways to deepen the storytelling and dig deeper in the characters for sure.
CDM: How did the process work, of developing your version of Diplo? Did you have to spend a lot of time with him, like shadowing him?
JAMES: I hung out with him a couple of times, I listened to some of his radio shows that he does for Beats 1 and BBC - the voice was really fun to play with and to imitate. That's always fun when you have a voice for a character that is specific, and I don't know anybody who talks like him. He's got three things going on at once, the rhythm is almost like a Latin person, the way they talk, with a Miami influence, and then there's like a Philadelphia street-thing happening, so playing around with that was just really fun because sometimes an accent comes from deep character work and sometimes an accent can actually then launch you into your character traits… The biggest part actually was we threw me up on-stage during a couple of Diplo shows and two Major Lazer shows, for like a minute and thirty seconds we just swapped him out for me.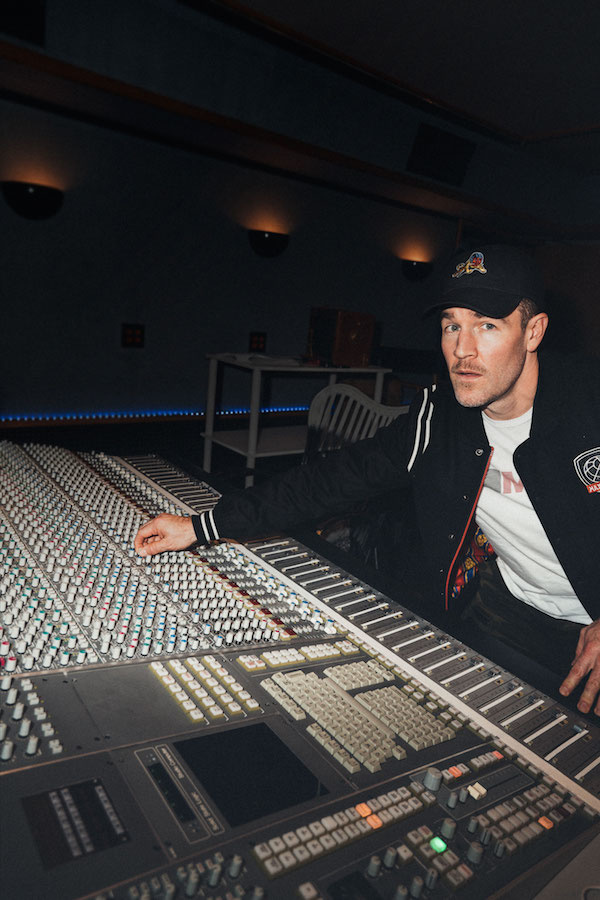 CDM: I really love all the footage of you actually at Diplo shows. Did the audiences know what was happening when you kind of ran on-stage, or was it all a total surprise?
JAMES: No - I don't think anybody knew what was going on, I don't think anyone past the first twenty rows really even could tell the difference, because with the dad hat and a moustache, and if I'm wearing the same thing as him, they don't really know. But what I realised, the biggest thing that came out of that, was recognising that if you're the kind of DJ that's just back there with his hands in the air absorbing all that energy, the show is gonna suck - literally what you have to do is take them somewhere. When I stood up there behind the mixing board and there were thirty thousand people looking at me, they're all saying silently, 'Move me, make me wanna throw my hands in the air,' and I realised, 'Wow this really can't be indulgent.' So that was a really interesting insight, to literally stand in his shoes, it made me go, 'Oh, okay I get this to some degree.' To a greater degree than I would if I just watched the show.
CDM: It's kind of the best way to get into character!
JAMES: Yeah, with a bunch of people putting his energy on you. Exactly. In one of the episodes you see a montage from the back, I actually went out into the crowd during one show here in Los Angeles and started taking selfies with people and a lot of people thought I was him. A lot of people posted to their Instagram, '@diplo', and a lot of friends commented, "Yo... that's not Diplo, that's James Van Der Beek."
CDM: It's good value going to a Diplo show and getting to meet you at the same time!
JAMES: <laughs> I'd like to think so. I'm sure there are a couple of real hardcore Diplo fans who couldn't care less about me who were a little bummed with our trick.
CDM: I really love the ninja stunt scenes of Diplo fighting his demons - it's such a great visual metaphor for this - how did that idea come about?
JAMES: When I was writing it, I was trying to think of things that had visual value on a much lower budget, and I had done enough stunt-training to know the world, and know the guys, and know who to call, and I knew I also wouldn't need a stunt double for myself so I could save money. <laughs> So I was just looking for some place in which to use ninjas, and I thought to have them be a visual representation of that pit you feel in your stomach when you know somebody has just talked shit about you online, would be a cool way to demonstrate that.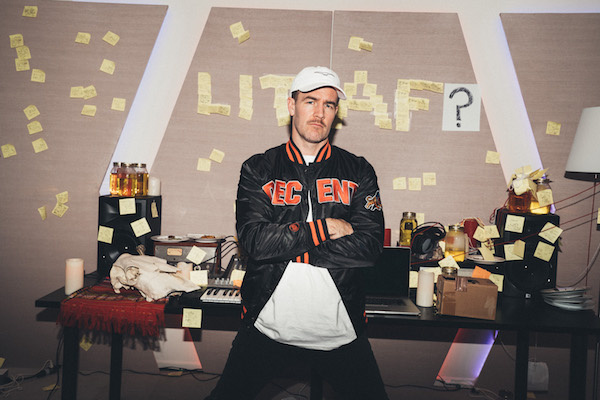 CDM: What was it like working with Dillon Francis (as Jasper)?
JAMES: Dillon is awesome! I love that guy. When I was at one of the shows of the Mad Decent Block Party, we swapped Wes out for me, and Dillon was there and Dillon jumped in and started improvising and we were just rolling B-roll, having no idea of what we were going to use it for, and Dillon was great and he's such a nice guy. Brandon Dermer, who directed it said to me, 'Have you seen Dillon's Snapchat?', and at that time I had not. So I checked it out and he was so clever, so creative, and it was funny. I thought we should write him into the show. So we did it, and it's funny, I wrote a character where I made sure not to give him too much of the storyline to carry because he was a little bit of a wildcard, but we got him on set and he was amazing! He's so good, he's so clever, he's so great at improv, and there's a sincerity and a likability to him that just comes across, even when he's playing somebody who is completely... just low on IQ. <laughs> It was really fun to watch, he plays this hanger-on, just a childhood friend of Diplo's that nobody can get rid of and it was amazing to watch him go into character because you'd watch his IQ just drop, you could see it in his eyes, his IQ points just floating away when he went to play this character. He was a real find, a real gem, and we were lucky to have him. He's a great guy too.
CDM: What was it about the show that made you want to be the show-runner for the show? As well as writing it?
JAMES: When I was first approached about doing the show, I had been in a little commercial for Mad Decent Block Party and thought that had been the end of it, and then Viceland came to us and said, 'We think this is a series.' At first I didn't see it at all, and then I went back and thought about it, I listened to some Diplo in my headphones and then the whole idea just kind of downloaded. I thought, 'Wait a minute, this could absolutely be a series!' We could talk about the truth through the eyes of a clown, and the ideas just started flowing, I started writing it down and before too long I realised, 'I think I can write this.' I'd been writing for a long time, I've been writing well for less time, <laughs> but yeah, I really thought I could do it, it wasn't that long of a season so I thought that it seemed do-able, and having also had some experience of playing myself I have some weird experience and a very unique experience in this meta-space, and I basically leveraged my participation in order to get this opportunity and run it right.
CDM: If you were to create your very own super group (just as Diplo created Jack Ü with Skrillex), who would you want to be in the group and what would it be called?
JAMES: Well, you have got to have Spike Jonze in any super group, just for his crazy ideas. I'd also take Dillon Francis anywhere I go, if anything ever gets low he's a great dude to have around, he can DJ and keep the party going. It's a pretty good trio, right? I think so.
'What Would Diplo Do?' is airing now on Viceland on Mondays at 7.30pm - watch a 'What Would Diplo Do?' trailer below…
Load next