A photo diary from... Isaac Dunbar.
A photo diary from... Isaac Dunbar.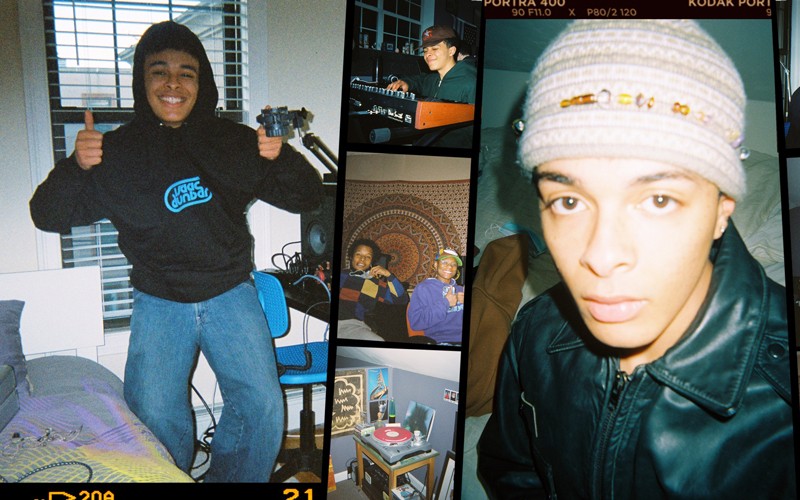 "The evil twin concept came together when I was at a crossroads with my ego," explains 18-year-old Massachusetts-born Isaac Dunbar of his latest dual release. "A side of me wanted to make a record that is experimental and completely not down the middle, and the other side of me wanted to make the pop music I've always made. So I combined the two... The 'evil twin' side is a more extroverted and spontaneous side of me, while the 'normal Isaac' side is the side I show to all of y'all basically, the more sensitive side I guess. Basically the first half of the EP are songs from my evil twin 😭😭 the other half is Isaac."
Dunbar's kaleidoscopic seven-track 'Evil Twin' EP opens with the autobiographical stomper 'pink party' ("I felt like I was in a movie, it was very inspiring. Sneaking into a club in Paris? It was something I had never thought I would do in my life. The thrill of that night made me want to write 'pink party'"), coquettishly sparkles in the y2k-influenced 'kissy kissy' ("I was thinking of 2005 vibes, low-rise jeans, Lindsay Lohan, and tramp stamps"), and closes with the poignant vulnerability of 'the world & all her pearls' (which Dunbar found therapeutic to write; "Music is my way of dealing with the weight of life, and being able to speak/sing out the mess that is inside me, I release it out into the world!").
"I close myself off in hopes of your love / Not my fault that I crave your attention / I want your tough love and all the bad stuff," reminisces Dunbar eloquently in the Joel Little-produced 'love, or the lack thereof' of a toxic relationship and the human tendency to ignore when someone is treating us badly. Via email, he says further: "We are so easily tricked into negative attention because it's better than no attention at all! 99% of people that exist have a void inside them that seems impossible to fill, and we tend to resort to things that are not so good for us in order to fill that void."
On the most important thing that he's learnt about himself over the past year, Dunbar says: "I've learned that it is not good to sit around and wait for something to be handed to me." And it appears that he is indeed keeping himself busy, having last month already updated fans on the progress of his next release: "All I can say is that the new music is slaying... I'm putting my 110% into the new batch of stuff that comes out in a way that I have never approached before and I'm so excited for you to hear."
As for his upcoming plans, Dunbar says wryly, "Pop my shit and make money."
And Dunbar also shot for us the below photo diary on a disposable camera recently: "My hometown is so boring this time of year. There's absolutely nothing to do, ever, so my friends and I just drive around and go beach hopping. We just sit in the car and listen to music and talk shit."
Load next