Interview: musical crush of the week #3 - Gallant
Interview: musical crush of the week #3 - Gallant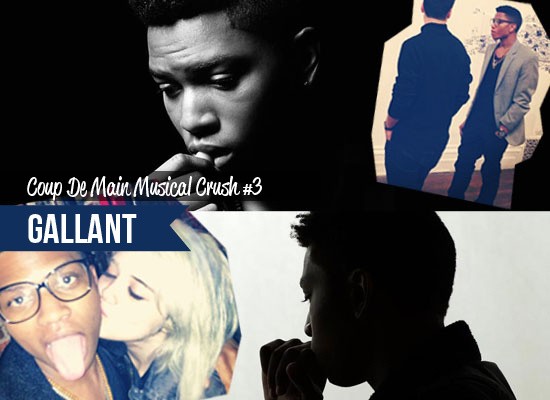 GALLANT
Personnel: Gallant on vocals, Felix Snow on production duties.
Origin: Maryland, USA.
YOU WILL LIKE MY MUSIC, IF YOU LIKE... staring at the ceiling in the middle of night sometimes.
IF YOU ONLY LISTEN TO ONE OF MY SONGS, YOU SHOULD LISTEN TO... 'If It Hurts' I think.
WATCH THIS VIDEO, BECAUSE... my friends shot it and they're brilliant.
MY TOP FIVE MUSICAL CRUSHES ARE... Toni Braxton, Brandy, Coko, Rozonda Thomas, Janet Jackson.
CDM: If you were to curate your own music festival, who would you want to play and what would the festival be called?
GALLANT: That's tough, but I'd probably have like a Soundcloud festival where a bunch of instrumental artists come and DJ or something.
CDM: Do you believe in magic?
GALLANT: I don't -- which is actually the worst. I wish I did.
CDM: What's the most despicable thing you've ever done?
GALLANT: One day I ate a tub of pumpkin ice-cream instead of breakfast, lunch or dinner :(
CDM: What is the most heroic thing that you've ever done?
GALLANT: I took a bird to the hospital once.
CDM: If you could pick any five people - living or dead - to be in your entourage, who would you choose?
GALLANT: Walt Disney, George Washington, Morgan Freeman, Susan B. Anthony and Felix Snow.
CDM: Who is your most famous fan?
GALLANT: Not really sure, but all the fans that send me Snapchats on a regular basis, are definitely my favourite ones so far.
CDM: How long could you go without talking?
GALLANT: Only like 24 hours, but I could probably speak in short, apathetic one-word sentences for a lifetime.
CDM: Have you ever written a love letter?
GALLANT: Yeah, but then my friend told me she ripped it up and threw it in a fire lol.
CDM: If you were a country, what would be your national anthem?
GALLANT: The theme to 'Hey Arnold', for sure.

CDM: What is your spirit animal?
GALLANT: Probably like a really annoying chihuahua.
CDM: If you could steal one thing without consequence what would it be?
GALLANT: I'd have a 3-course meal at the movie theatre.
CDM: What is your first proper memory, ever?
GALLANT: I remember I was seven and I was hanging out with (being babysat by?) a bunch of high school kids and we listened to 'No Scrubs' on the radio.
CDM: Stretch your right arm out as far as you can reach, What can you touch?
GALLANT: My giant cup of coffee.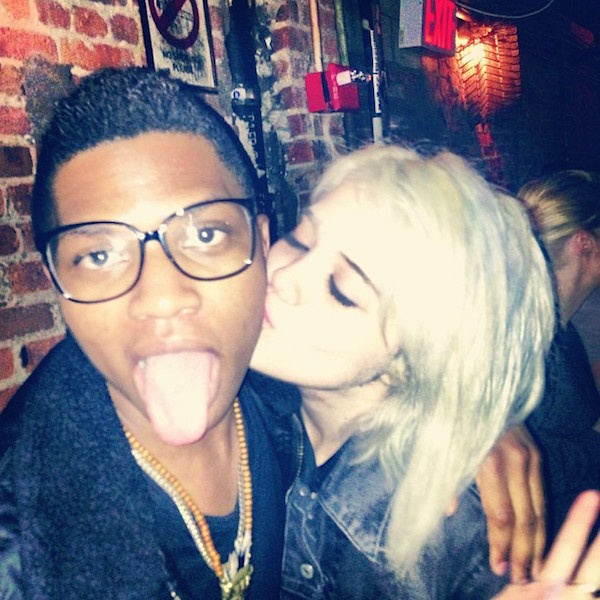 [CDM Musical Crush Of The Week #2] JANINE AND THE MIXTAPE ASKS... If you had to choose an album made by the music baby of Bon Iver and Sade, Sigur Rós and Aaliyah, or Frank Ocean and The Album Leaf, which would you choose and what would the album be called?
GALLANT: The Sigur Rós x Aaliyah kid's album would be so dope, it'd probably be called like 'Battle Cries Of The Continental Rise' or 'Bathypelagic Zone', or something like that.
For more GALLANT, check out:
facebook.com/sogallant
soundcloud.com/gallant
twitter.com/sogallant
youtube.com/sogallant
NEXT WEEK: INDI- click HERE to read.
LAST WEEK: JANINE AND THE MIXTAPE - click HERE to read.
Listen to Gallant's song 'Manhattan' below...
Load next