Review: Halsey - Madison Square Garden, August 2016.
Review: Halsey - Madison Square Garden, August 2016.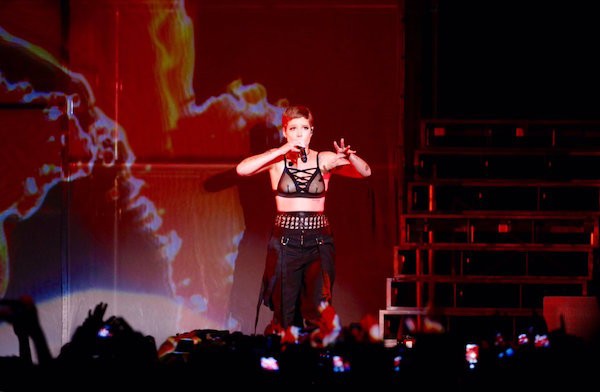 Seeing the final leg of a tour is always an emotional experience, and Halsey's last show as part of the final instalment of the Badlands World Tour was no exception. It was a pretty special show for a number of reasons - a sold-out show at the iconic Madison Square Garden will do that to you, but the addition of special-guests, acoustic elements, and even a sneak peek of what's to come next, made the show feel like a once in a lifetime opportunity.
It was off to a somewhat shaky start though, with Halsey re-starting the show after the first beginning of 'Castle', joking, "It's not a Halsey show if nothing goes wrong." The slight malfunctions with staging and sound were fixed, and the show began again - with no complaints from the 20,000 strong audience, who were thrilled to see the pyrotechnic filled 'Gasoline' again.
What a show, @halsey #HalseyMSG pic.twitter.com/3HRZOUp9RY

— COUP DE MAIN (@coupdemain) August 14, 2016
An outfit change and 'Haunting' later, her collaboration with Justin Bieber 'The Feeling' had fans half-expecting a Bieber appearance - athough his no-show was not disappointing, as the night had many more surprises ahead. She stopped to speak about her love for the fans, and how she would never be where she was without them, stating: "Our love is unconditional. When you fall I will be there to pick you back up," before launching into 'Roman Holiday' - many a fan's favourite song from her 2015 'Badlands' album.
She slowed things down for 'Drive', asking permission from the audience before singing the much-loved love song. It was a heartfelt moment, and Halsey explained the meaning behind the song by saying, "This song used to be about a boy I loved. But now it's for you instead." The song saw phone torches and the occasional lighter in the air (she was selling 'Badlands' lighters at the merchandise stands), creating a moment of community that was something to be in awe of.
One of the most emotional moments of the evening (for both Halsey and the crowd), came when she stopped to talk about a show she came to watch at Madison Square Garden, two years ago. It was an Ed Sheeran show, and she said: "On that train ride home from Madison Square Garden, I looked up and I saw the sign for Halsey Street," the street that inspired her stage-name. "And now that girl gets to perform here," she said with tears in her eyes, clearly overwhelmed by how far she's come in those short years. A completely a cappella sing-along for the first part of 'Ghost' proved just how far she has indeed come, with every person in the 20,000 audience singing the lyrics.
'Is There Somewhere' from the 'Room 93' EP was up next, with Halsey heading down into the audience to look into the faces of everybody - something of a fan tradition, she explained. The empowering 'Hurricane' followed, an anthem for self-acceptance and belonging, with the lyrics, "Don't belong to no city, don't belong to no man," echoing throughout the arena.
The night wasn't without surprises, and The Chainsmokers' appearance to perform their new collaboration 'Closer' added something unique to the show - with Drew and Halsey's vocals sounding just as good together live as they do on the studio-version of the imminent radio hit.
Closing out the show with 'New Americana', there was a very short break before the encore, which started with the mostly instrumental 'Colors pt. II' before Halsey returned to the stage for the full 'Colors'. It wouldn't be a proper arena show without confetti, and the explosion of blue and pink confetti was fitting for the song - and a memento that many a fan is sure to treasure.
"This might be the end but it's the beginning of something much bigger and much better," Ashley Frangipane had stated earlier in the show, and her exit from the stage was bookended with a short video and cryptic message - "YOU CAN FIND ME IN THE KINGDOM" - leaving everyone wondering what the 21-year-old star has planned next.
Set-List:
Gasoline
Hold Me Down
Castle
Gasoline
Hold Me Down
Castle
Haunting
The Feeling
Roman Holiday
Drive
Control
Ghost
Is There Somewhere
Hurricane
Coming Down
Closer (with The Chainsmokers)
New Americana
Encore:
Colors pt. II
Colors
Young God
P.S. Read our latest interview with Halsey here.
Load next