Interview: FINNEAS on his 2018 releases and more.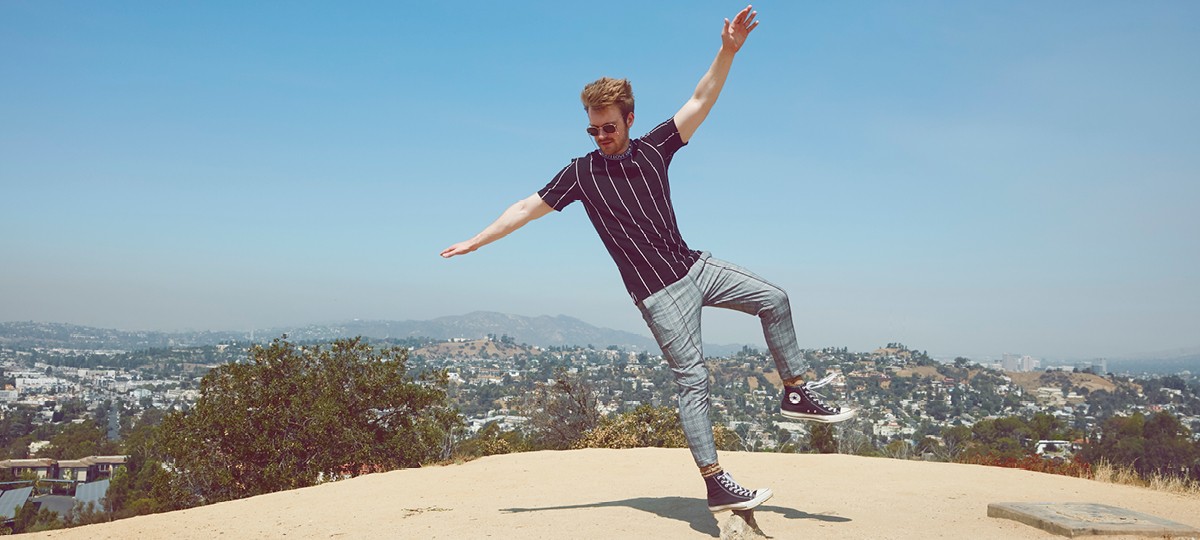 Six different single releases this year has kept one Finneas O'Connell (who releases music under FINNEAS) very busy - in addition to the fact that he's spent the year touring with his sister Billie Eilish, and working on her debut album, as well as collaborating with a number of other songwriters on their own musical projects.
Set to open for Billie Eilish's upcoming North American tour, his solo songs - which sound like sincere entries into a journal, that follow the ups and inevitable downs of relationships in the modern day age - will be given their time to shine on the stage.
Coup De Main spent the day with Finneas (and his adorable dog Pepper) at his childhood home in Highland Park, where we spoke about his upcoming return to New Zealand, what else he has planned for 2018, and more…
...pretty much everything in life is very temporary and some things are even more temporary than others, but it's all sort of temporary, and I fell in love with the idea that we are all naively like, 'Even though this is all super temporary we are all going to go for it!'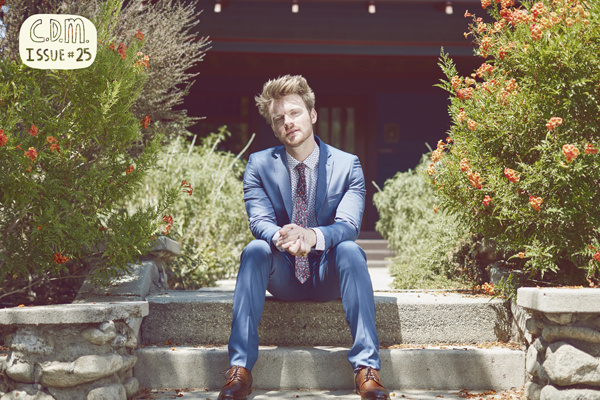 COUP DE MAIN: We found out that you are coming back to play Laneway Festival in New Zealand next year with Billie Eilish - are you excited about that?
FINNEAS O'CONNELL: I'm so excited - I think we are only doing the Auckland date too. I can't wait. We had such a wonderful experience last year, and we were so green, and now we are much less green, and now we have a better crew - we'll have sound people, and a guitar tech, and people that will make our show much better I think.
CDM: Will the show be quite different? Compared to the Laneway show this year?
FINNEAS: Yeah, I think in January we are gearing up for Billie's album and I think it will be officially announced in January for pre-orders. So it will be the last of the pre-album tour, but we are gearing pretty heavily into album mode, which is very exciting for us.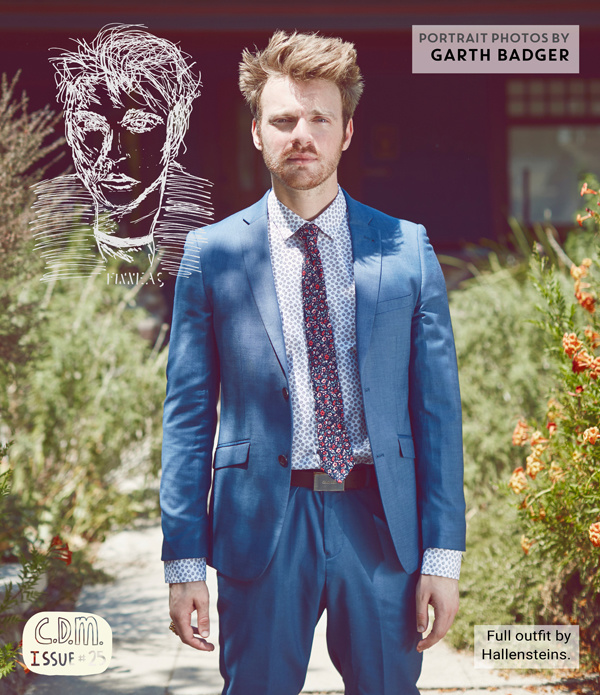 CDM: You've been putting out a steady slew of releases this year so far. 'Hollywood Forever' is such a rad song! I love the final line in the chorus, "I don't ever wanna find out how it ends." Do you think there's something appealing about a relationship - having no idea what will happen?
FINNEAS: Yeah, I think that's sort of the coolest part of a relationship, or of a night, or of a date. To me that whole song, the sort of pretentious element of that song is that it's about this cemetery in Los Angeles called the Hollywood Forever Cemetery. I went on a date there once and it's a funny place, because Joey Ramone is buried there and a bunch of famous old silver screen stars and musicians. I think Morrissey has a grave plot there, <laughs> it's sort of an iconic place, but it's just a cemetery, sort of in nature. There's all of this sort of celebratory Los Angeles and Hollywood stuff there, and there's movies that you sit on the wall and watch in the Summertime. I saw the Arctic Monkeys there and it's pretty wonderful, and the thing that inspired the song in general is that I really liked the idea of it being this place of a serious nature, but it didn't prevent it from being a place where things are celebrated, and art is made, and good experiences are happening all the time. You associate the hospital where your loved one was sick or died with all of your bad memories, and you might associate the cemetery where your loved one is buried with going to visit your loved one's grave, and how morbid that is - and I love the idea that that place is also like, 'Oh my god, I fell in love with a girl here,' or like, 'I went and saw a concert here.' This is such a broad answer to this question but pretty much everything in life is very temporary and some things are even more temporary than others, but it's all sort of temporary, and I fell in love with the idea that we are all naively like, 'Even though this is all super temporary we are all going to go for it!'
CDM: Humans are weird.
FINNEAS: Humans are weird! We have this real ability to know that we're all going to die and to spend most of our lives not caring a whole lot, which I really like.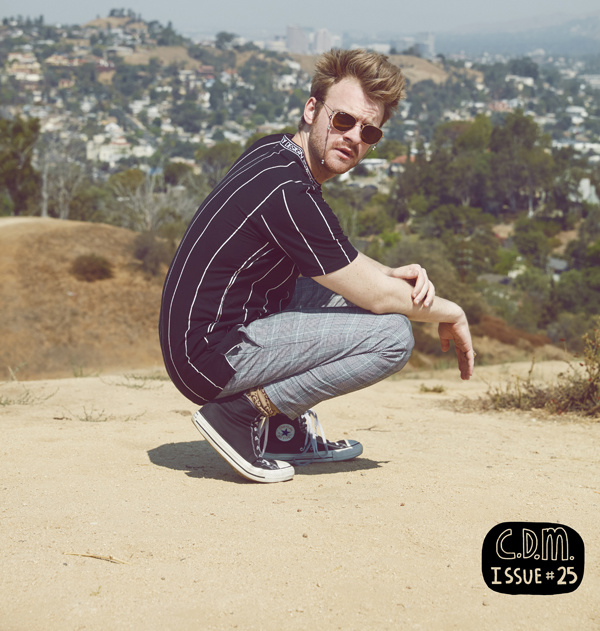 CDM: The metaphor of, "And I don't want to change the station," is really cool too. How do you go about creating the imagery in your songwriting?
FINNEAS: That's very sweet of you to say. In that line, the girl that I was writing that song about is a pretty clever person and she was in school studying biochemistry at the time, and I just felt like every time I talked to her and we were getting to know each other I would ask her these questions and she would give me these really long educational answers - I wasn't just learning about her, and her specific life, which is what you're mostly doing on first and second dates, I felt like learning about biochemistry and anatomy and stem cell research and immunotherapy and blood cancer research, so I felt very educated by talking to her. So that's that, 'I don't want an education from anyone else tonight,' that it sort of felt like she was teaching me stuff all the time. I don't really listen to radio all that much, I feel like I spend most of my time listening to exactly what I want to listen to, and she had a car that we were driving around in and I think her car had no cord for your phone, so it would only play the radio and I think we kind of happened upon some station that was sort of preposterously romantic and I felt like, 'Oh man, I'm falling in love with this girl and also I love all this music,' and it was just like a really good moment. And I like the idea that a person is like a radio station, like, 'This is the one for me right now.'
CDM: You can choose to tune out of certain people that you don't want to surround yourself with.
FINNEAS: Absolutely!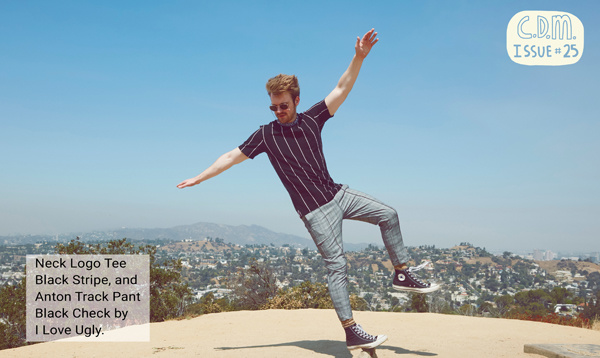 CDM: Are all the songs you've released this year just standalone singles? It's an interesting approach. What made you decide to do that?
FINNEAS: Yeah, coming into this year, since I'd only ever put out two songs under my own name, I wanted to let people get to know me through individual pieces before we put out a group of songs out under one title, or under one album cover. I think next year, there will probably be like a body of work that will come out as one piece which I'm really excited about.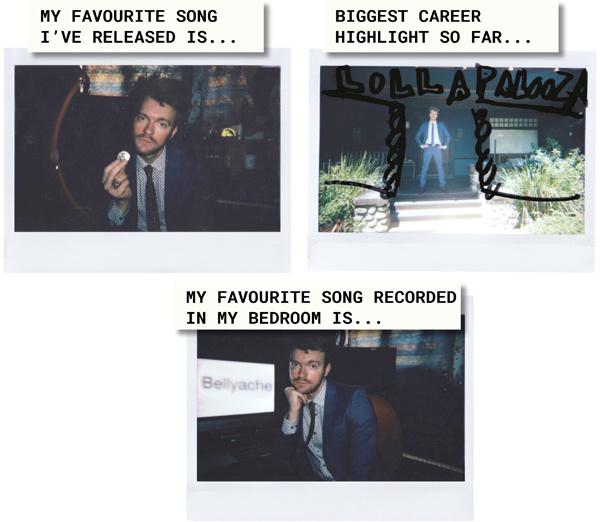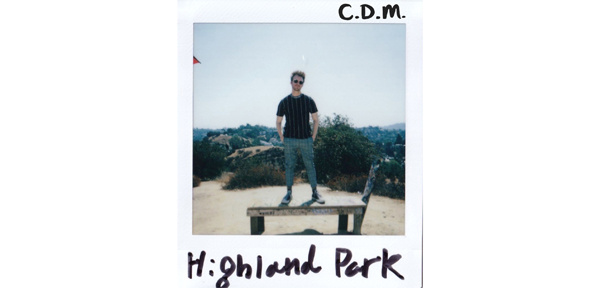 CDM: In our last interview you promised "lots of singles," and you've made good on that promise. How many more singles are you gonna drop this year?
FINNEAS: I have a tour opening for Billie this fall, October to November, and I think I'll probably put out two more. I have a song coming out on Friday [N.B: 'College' was the song] and then two songs after that, in sort of quicker succession than the other ones have come because I want to make sure they are all out in time, for when I'm opening for Billie.
CDM: That must be exciting to do the opening slot for her, and then play the show, but it's going to be really tiring.
FINNEAS: I feel like I might be exhausted, but I'm definitely super excited. And it's funny because whenever we bring openers on tour, whenever they go on I feel like, 'I want to go do that!' because it seems really fun. I'm super excited.
CDM: 'Landmine' has some really cool production at the end of the choruses. Do certain songs lend themselves to more experimental/different types of production?
FINNEAS: Yeah absolutely. I think that if I'm going to do something - in that song there's a vocal chop which I haven't done in other songs - I want it to be basically a melody line, I don't want it to just be like chaos. I think there are songs that aren't singable or you can't sing along to them that are great, but usually I'm trying to make something that you could sing along to, so when I came up with that melody I thought, 'Maybe I'll put that on my voice and I'll try to sing it,' but it didn't really work when I sang it so I cut myself singing the word 'burn' and just put it on every pitch on the keyboard and stretched it all out. It was really fun, I was glad I was able to do that.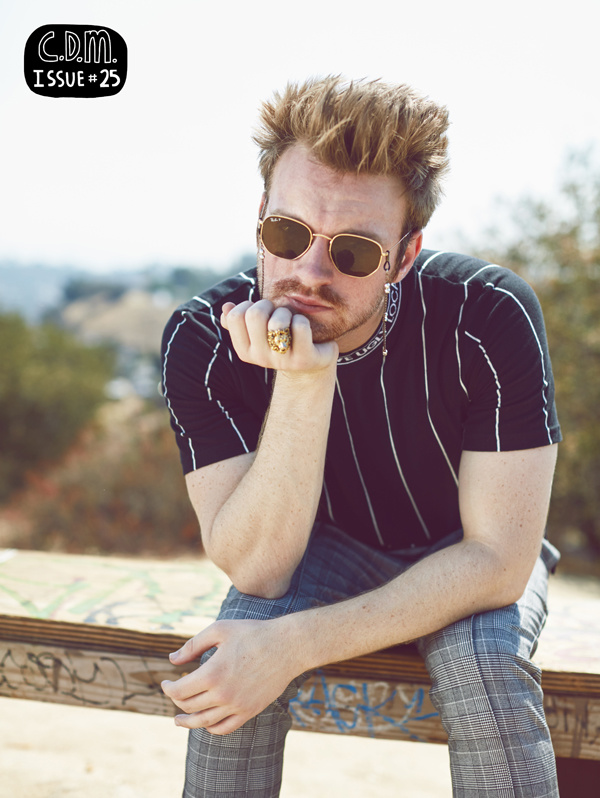 CDM: What was it like working on the 'groupies have feelings too' radio show with Billie? It looked so fun!
FINNEAS: It was actually one of the highlights of this year for me, because she's so wonderful and she has such good music taste. I spend most of my time listening to podcasts, and I feel like I would love to have a podcast, but I just don't feel like I would feel good about that in five years. It's hard for me to imagine that I would think my opinions of 21 really hold their ground when I'm 27, you know what I mean? I feel like the Beats 1 show really scratched that itch for me in a big way, it was so much fun, and I didn't have to yammer on about my edgy opinions on social issues that I should basically have no opinion on. I just basically talked about how much music I love.
CDM: That's an easy topic.
FINNEAS: I don't think anyone can argue, they can just be like, 'I don't like your taste in music.'
CDM: How has work been going on the Billie Eilish debut album? Are your neighbours still okay with you guys recording music at odd times?
FINNEAS: They've been so generous with us! I feel so bad for them all the time because we just work when we are trying to work and often times that's crazy late at night, and yeah, it's a lot. It's going really well and I'm super proud of the body of work we're making and it feels like it's probably the best representation of who Billie is, and what she is hoping to achieve as an artist over the next several months/year.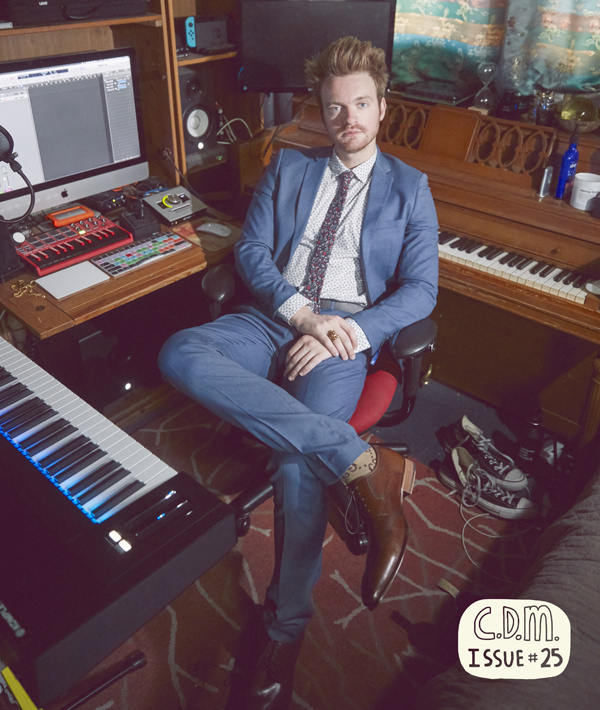 CDM: We particularly enjoyed seeing live footage from when you played 'New Girl' at a festival... With some footage of 'New Girl' playing on the screen. We see what you did there…
FINNEAS: It's funny because I really do love that show, and the song really has nothing to do with that show, but I was fully aware that the titles were the same and didn't mind it at all. I'm all about that. I feel like I might have even decided to write a song called 'New Girl' before I had written that song, I can't remember, but it's a very evocative thing, and I think that show is so funny. I want to make a spinoff show that's just about Schmidt [Max Greenfield], that's really my whole goal. He's the best character, he's so funny. I feel like he's got his own show but I don't think he's playing Schmidt - I feel like it's a missed opportunity.
CDM: Have you been songwriting with many other musicians recently that you can tell us about?
FINNEAS: I actually have, I had a really fun August! I had a couple of days with an artist I love called Bruno Major, and we made a song for his next record that I love. The day after I saw you in LA, I worked with Kailee Morgue who I love, and I think she is just awesome, her voice is beautiful. We got back into town and I worked with Kehlani, which was really fun. It was really cool, I really lucked out, I didn't have a bad session in the bunch, they were all really good sessions, and we wrote songs that I love. So often that's not the case, especially when you work with someone who's a hero of yours and then you make something perfectly average and you just feel terrible.
CDM: We saw you have been enjoying the new Arctic Monkeys album 'Tranquility Base Hotel + Casino', which has been a divisive record. What is it about it that you enjoy?
FINNEAS: It really has, hasn't it? I didn't think enjoying it was divisive when I was enjoying it, but then Twitter proved that it was. I loved it. I thought it was a really good record, and to me, the thing that I'm probably always the least happy about is when artists repeat themselves and I feel like the Arctic Monkeys never do that.
CDM: I think everyone wanted it to be 'AM' 2.0.
FINNEAS: I was like, 'Just go listen to 'AM' again then!' There's no guarantee of this, but I also think that anybody who didn't love their new record, they'll probably die over the next one. All the Arctic Monkeys albums are so interesting and unique and I'm such a fan. The day before we did our photoshoot in LA, I was in Canada at Osheaga. In general in the backstage artist area, unless it's somebody that I know and somebody that I can have a conversation with, I try to leave famous people alone - they're backstage, they're expecting not to be bothered and I want to give them that privilege. But I did walk by Alex Turner at one point and just couldn't help myself, and I think in the same breath I was like, 'I love your music so much I'm sorry to bother you,' and kept walking. He was quintessential Alex Turner, he was just like, 'Thanks mate,' and that was our whole conversation. I love his music. I don't know what it is about him, but he's sort of like a rockstar…
CDM: Yeah, and there aren't many modern day rockstars.
FINNEAS: No! There's none. I agree.
CDM: He's in a league of his own.
FINNEAS: I agree. There are not a lot of people standing on the same ground as him at all.
CDM: I always wonder, we have heritage artists, like Fleetwood Mac, but who will our generation's heritage artists be? Maybe it's because we are growing up with them, but I can't imagine it.
FINNEAS: I do think about that a lot and I think my best answer probably would be the people that are the most likely to become heritage acts, it's just about the catalogue at large. I don't think it has anything to do with how big any one song gets, it just has to do with, 'Did they make a consistent amount of music that everyone loves?' Green Day is already like that, they have now made enough records that everybody loved, that it doesn't matter anymore, they're always gonna be Green Day now.
CDM: Maybe when you can play a show of greatest hits and every song is like, 'Oh yeah, we know this!'
FINNEAS: Exactly. Adele is that, she will be viewed as that for the rest of time. I remember seeing her play on her '25' tour and I remember that was a wonderful tour in so many ways. I remember thinking in the middle of the tour, every single song she played was a song that you have heard 100,000 times! It was so crazy.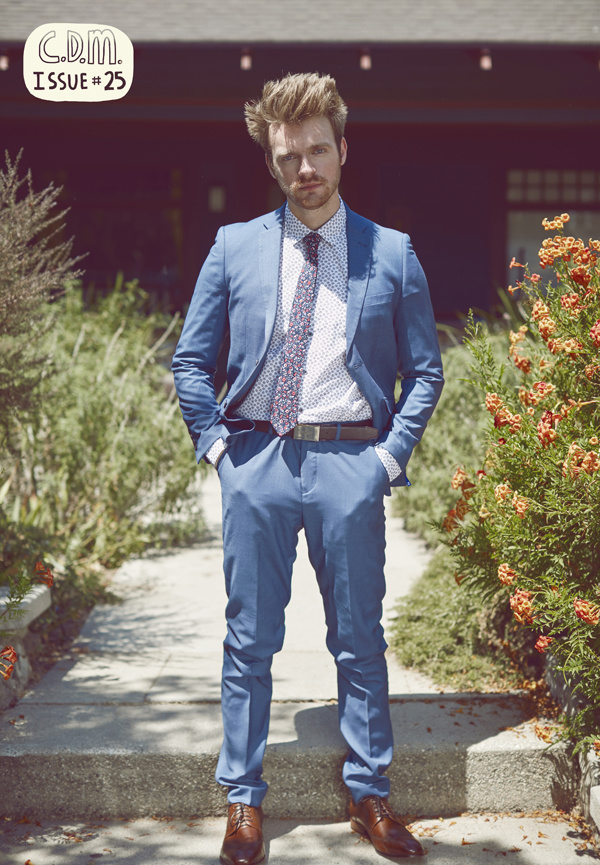 CDM: We spoke in our first interview last year about pop music and our shared love of The 1975 and LANY etc. Who in pop music for you is exciting in 2018?
FINNEAS: Oh man, so many people are so exciting. I feel like, pop music specifically, not to make too much of a general statement, but girls are like destroying it, which is awesome! I'm so glad to see that. I've been so consistently impressed by a lot of the new hip-hop that has come out, which I think, now, no-one is arguing that it's pop, it's the most popular genre. Other artists I love? Post Malone is killer, I know that is probably not my most popular opinion, but I love Post Malone. I just listen to that whole album a lot, I thought it was really really good. I think what we're in right now is the time in music where good shit is pop. And I don't mean that rock is pop, all I mean is that I feel like the music that is sort of viewed as the best, becomes pop music, which I really love. I think there was a couple of years where it was like pop music was whatever Katy Perry made, and that's awesome, but I feel like it's better for the world that pop music is just whatever people are really enjoying.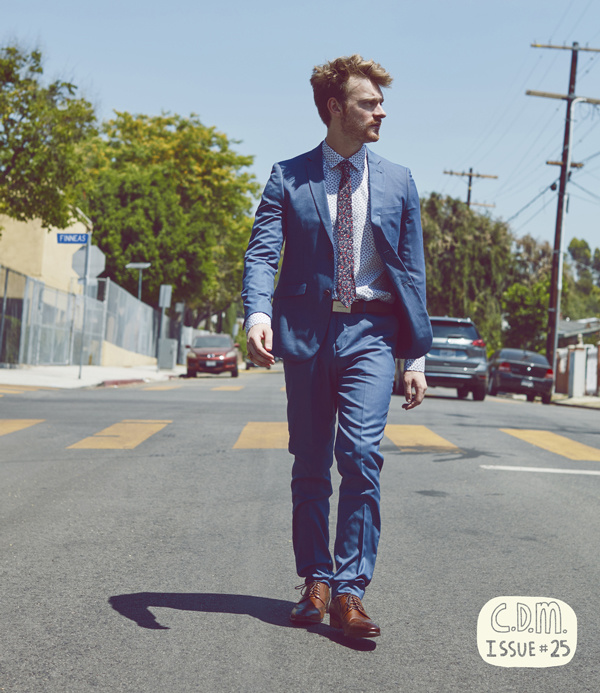 CDM: These final questions are from Bad Kid...
BAD KID: If your songs could be depicted by a (well known at least) painting, what painting do you think suits? And do you have a favourite artist?
FINNEAS: What a good question. I need to think back on the period of my life where I paid more attention to art history. 'Nighthawks' (Edward Hopper) and 'A Sunday Afternoon On The Island Of La Grande Jatte' (Georges Seurat) are the paintings I was thinking about when I was thinking about visual representations for 'Hollywood Forever'. Actually, no, I'm lying, I think 'Hollywood Forever' is more like 'A Sunday Afternoon On The Island Of La Grande Jatte', just super breezy and outdoors, and 'Life Moves On' is like 'Nighthawks', just sitting and thinking about shit. That's a fabulous question.
Finneas' single 'College' is out now - click here to purchase, or listen below…