Taylor Swift x Keds collaboration!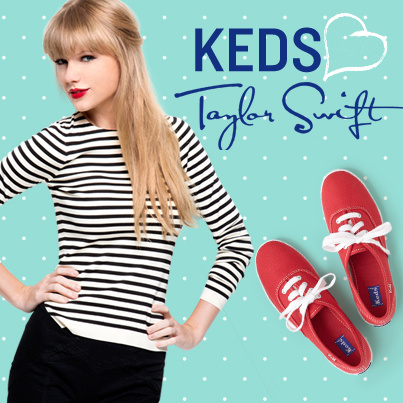 Taylor Swift is collaborating with Keds to create 'Red' inspired shoes. The footwear brand is currently in overhaul mode as they re-launch as a women's only label.
We've been a fan of Keds since forever, especially the old days when they had printed animal patterns... they were the best! Not to mention, Keds are one of our style icons, Alexis Krauss of Sleigh Bells' favourite shoes in the world.
Taylor on the collaboration: "I'm so excited to be partnering with Keds... I've been a fan of Keds® for years because they have two of my favorite elements of great style – they're classic and effortless."
Apparently the Taylor Swift 'Red' shoes are out the same day as her album, October 22nd. I'm crossing my fingers we'll be able to get our hands on a pair in New Zealand!