The Best Albums Of 2022.
Compiled by Kelsey Barnes, Lola Jacob & Shahlin Graves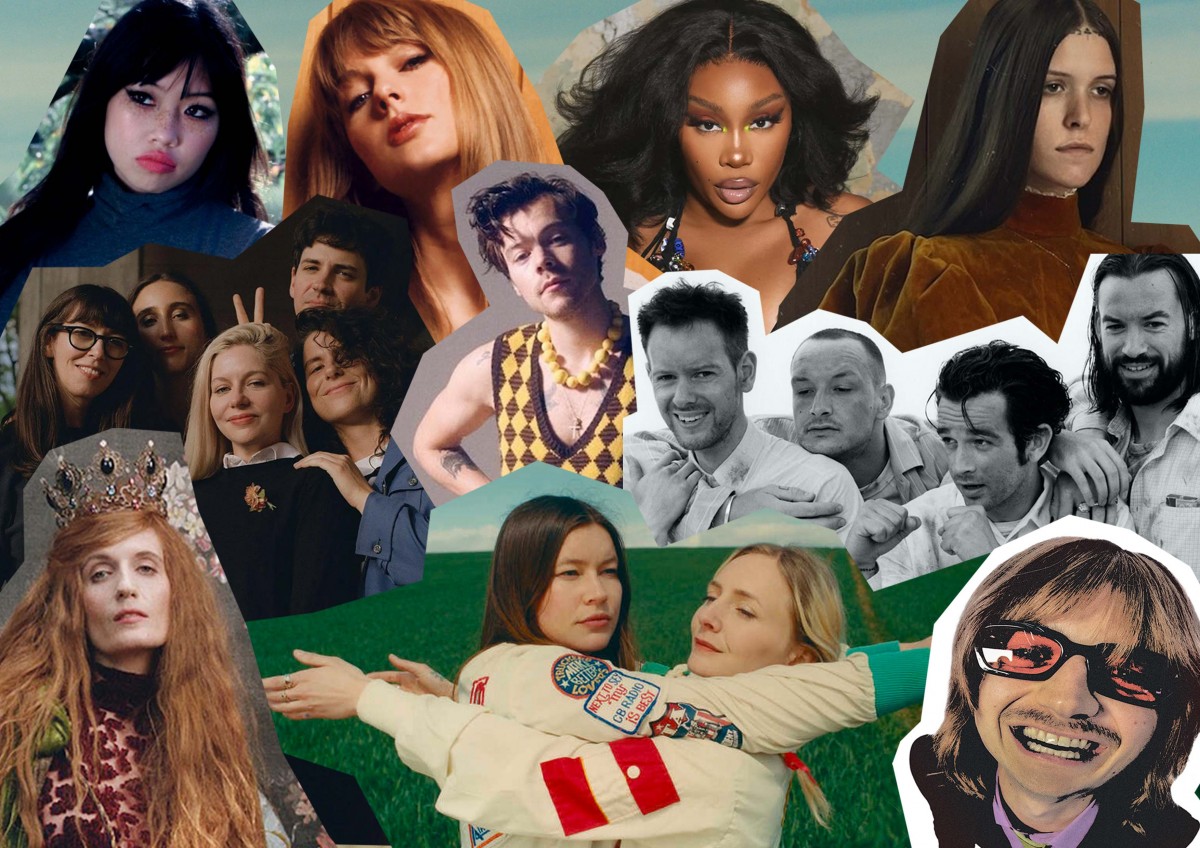 Some people organise their memories according to time/date/place, scent, or photos - but as people that enjoy living our lives with big soundtracked main-character-energy, we (of course) like to organise our memories into album-associated periods of life (album seasons, some might say).
2022 was a rollercoaster, and now it's almost over. These are the albums that were there for us through thick and thin.
We hereby present to you our final decision on 2022's Best Albums (our Best Songs Of 2022 list is here!)...
#10. 'SOS' - SZA
BECAUSE: SZA's long awaited and highly anticipated sophomore album 'SOS' arrived to us as an end of 2022 treat - just in time for a SZA Summer. The 23-track follow-up to her 2017 debut album 'Ctrl' once again proves that the SZA song you connect to chooses you, rather than you choosing it. Nothing is off limits on this record, diving into everything from murdering exes ("I might kill my ex, not the best idea / His new girlfriend's next, how'd I get here?"), the memories of a finished relationship ("How am I supposed to let you go? Only like myself when I'm with you"), to being blind to the good things in life ("All of the things I need living inside of me / I can't see it / It's so embarrassing"). With an album cover inspired by a 1997 photo of Princess Diana (photographed a week before her passing), SZA pays tribute to the loneliness and isolation she believes she felt during that time. Luxurious vocals dance over a variety of production styles from electric guitars to modern R&B beats and just about everything in between the two - proving to those itching for something new that time between records only makes the music sweeter. [LJ]
KEY TRACKS: 'F2F', 'Kill Bill', 'Blind', 'Nobody Gets Me', 'Ghost In The Machine' (featuring Phoebe Bridgers).
#9. 'MIDNIGHTS (3AM EDITION)' - TAYLOR SWIFT
BECAUSE: Although 'Midnights' might be a soundtrack to Swift's thoughts and musings during the earliest hours of the night, it's also a record that encapsulates the soundscapes of '1989' and 'Reputation' while honouring the lyricism crafted on records like 'Red' and 'Folklore'. Swift's naysayers will be pleased to know that on 'Anti-Hero' she proclaims that she knows she's the problem, it's her, after years of surface-level critiques that she lacks self-awareness. Recorded entirely with Jack Antonoff, 'Midnights' is built on diary entries of sorts; the things you're not ready to be vulnerable about or hesitant to admit, like on 'Labyrinth', 'Would've, Could've, Should've' and 'You're On Your Own Kid'. Swift is always at her best when she isn't chasing for obvious radio singles and 'Midnights' is proof of that. Instead, she's put her armour down and allowing herself to lean into the ebb and flow of her own emotions and memories, however potent they may be. [KB]
KEY TRACKS: 'Would've, Could've, Should've', 'Glitch', 'You're On Your Own Kid', 'Midnight Rain'.
#8. 'HARRY'S HOUSE' - HARRY STYLES
BECAUSE: When you enter the walls of 'Harry's House' you find knick-knacks and accoutrements both familiar and completely new embellishing his world - things that you didn't expect but feel right and perfect all the same. Harry Styles' third studio album was announced with a Better Homes & Gardens cover which somehow feels like the most wink and smirk Styles-decision this year. Highlight tracks like 'Satellite' and 'Grapejuice' ooze fresh sounds for Styles but fit perfectly into the discography he'd already assembled, like pieces of a puzzle. It would be almost blasphemous to talk about 'Harry's House' and not mention the record-breaking track 'As It Was' which is this year's longest running #1 hit (it was all you would hear while entering any retail store or restaurant for months), and when listening to the new record, it brings to mind when Styles previously described his self-titled debut as "bowling with the bumpers up" - so when he sings, "You know it's not the same as it was," you believe him, that he's now making choices musically that feel authentic to him but is no longer playing it safe. Embedding deep parts of himself into the tracks of 'Harry's House' that only one or two people would truly understand, Styles showcases a talent for relatable, but vague specificity. Whether it's listing flashes of memories in tracks like 'Keep Driving' ("Maple syrup, coffee, pancakes for two, hash brown, egg yolk, I will always love you"), or sharing sweet advice and reassurance to the listener in 'Matilda' ("Matilda, you talk of the pain like it's all alright / But I know that you feel like a piece of you's dead inside"), Styles allows for feelings of all natures to be expressed through this record. [LJ]
KEY TRACKS: 'Satellite', 'Grapejuice', 'Daylight', 'Music For A Sushi Restaurant'.
#7. 'BEATOPIA' - BEABADOOBEE
BECAUSE: Listening to Beabadoobee's -- sophomore album 'Beatopia' is self-care - it's a reminder that self-growth is non-linear, that the most important person to be kind to is yourself, and that it's okay to forgive others to give yourself some peace of mind. True wisdom (the kind that usually has to be learnt the hard way, alas) is knowing when to draw strong emotional boundaries around yourself to keep you safe, and Bea Kristi has survived it all - the bad ("You don't need me, as much as I need you"), the good ("I see my reflection so much clearer"), and everything in between ("It's easy if I pretend") - within the warm embrace that is this album. Homing in on the hard-won knowledge that the universe usually delivers with good reason, Kristi nestles up in her safe space, inviting listeners to share in portentous dreams about unfinished business (take heed of anyone that looks like a ghost in a dream), feeling at odds with other people but knowing that you've got to put yourself first, and being self-aware enough to want to remove yourself from toxic situations (which is usually easier said than done). Life can be complicated, with it being human nature to seek solace in familiar connections and nostalgia (regardless of the personal cost to yourself), and as Kristi herself realised in the writing of this latest album: "I need time to grow and to exist." [SG]
KEY TRACKS: '10:36', 'Sunny Day', 'Talk', 'Fairy Song', 'Don't Get The Deal'.
#6. 'DECIDE' - DJO
BECAUSE: "People never change / But I have to try," chants Djo (a.k.a Joe Keery) on the opening track 'Runner' from his second studio album, 'Decide' - created with collaborator Adam Thein. Keery isn't unfamiliar with the music scene (he played guitar in the band Post Animal pre-Netflix's 'Stranger Things'), but the landscape of this record shows off a self-assured solidity and confidence, taking no prisoners, but cutting no corners, or safe routes throughout the record. As one of the most unique albums in its sound from this year, influences from the likes of Daft Punk and Tame Impala are glimpsed throughout - but as Keery once said, deviating from the traditional form is often best. From the head-banging 'Gloom' ("So goodbye / Farewell / Go fuck yourself / Go fuck your mother"), pondering the consuming nature of social media in 'Half Life' ("God, you're a fool / You think these people really care for you?"), to the album's closer 'Slither' in which Keery ruminates on the future ("We all wanna be someone at the end of the day"), listeners are bestowed a glimpse of the Joe Keery universe - even if only for a second. [LJ]
KEY TRACKS: 'Change', 'Fool', 'End Of Beginning', 'Gloom'.
#5. 'BLUE REV' - ALVVAYS
BECAUSE: Beleaguered by stolen demos, a basement flood that nearly ruined all the band's gear, and a border lockdown that separated new US-based members from the rest of the band in Canada, Alvvays managed to endure it all - emerging triumphant with an intimate 14-song-long introspection that made the 5-year wait between albums worth it. "I waited so long for you / Wasted some of the best years of my life / And I wanted to see it through / This time," reflects vocalist Molly Rankin in the bridge of 'Easy On Your Own', with perfect emotional precision - taking thoughts right out of your own head and cathartically setting them free into the world. [SG]
KEY TRACKS: 'Easy On Your Own?', 'Pharmacist', 'Bored In Bristol', 'Pomeranian Spinster'.
#4. 'DANCE FEVER' - FLORENCE + THE MACHINE
BECAUSE: Florence + The Machine want you to know that she, too, had multiple existential crises throughout the pandemic - the only difference is that she made hers into an entire album. At its core, 'Dance Fever' is an album about coming to terms with pursuing ambition and art over personal desires, and how she can slot the rest of her life - motherhood, love, and the like - in between her art. On 'King' she sings, "I am no mother, I am no bride, I am king," as she grapples with the realisation that, unlike her male idols and counterparts, she feels forced to make decisions about her identity and desires, like starting a family while trying to perform her art. This tension is felt throughout the record as she navigates her own tendencies to self-sabotage ("I don't love you, I just love the bomb, buildings falling is the only thing that turns me on"), and self-mythologise ("I used to move into the future, bring it all back, let it bleed through my fingers, a treasure in my hands"). In perfect Welch fashion, she makes an album about her existential thoughts that feels like a collective cathartic release after being trapped in our homes and minds during the pandemic. [KB]
KEY TRACKS: 'Girls Against God', 'Free', 'Morning Elvis', 'King'.
#3. 'PREACHER'S DAUGHTER' - ETHEL CAIN
BECAUSE: "It's just not my year," belts Ethel Cain on the euphoric anthem 'American Teenager' from her debut album, 'Preacher's Daughter' - but 2022 has been proving that statement untrue again and again for Cain. From releasing her first studio album earlier this year, to big-time modelling (think: Miu Miu, Calvin Klein, Givenchy), and performing with her idol Florence Welch, the world of Ethel Cain has bloomed and flourished. Her album plays out like a folklore story being passed down from ear to ear - and it wouldn't be an Ethel Cain album without Americana ("Another red heart taken by the American dream"), romanticism ("Where you told me even if we died tonight, that I'd die yours"), and biblical references ("God loves you, but not enough to save you"). Best listened to in the most mildew-scented pick-up truck you can find, sister songs 'American Teenager' and 'Thoroughfare' are made to be listened to with your head out a car window, and with the album's infectious lyrics and unwavering imagery, it makes for the perfect sonic recipe. With topics of mid-western cannibalism and the effects of a mother on her child explored throughout the record, it is a no-brainer why Cain is influenced by the likes of Gillian Flynn's 'Sharp Objects' and Luca Guadanigno's 'Bones and All'. When we chatted to her earlier this year, she told us that her then-unreleased track 'A House In Nebraska' was her favourite song she had ever written - and we now know why. It is perhaps the most pure Ethel Cain song she has released to date with soiled romanticism accessorising every line - no one can make a dirty mattress on the second floor sound more appealing than Cain. [LJ]
KEY TRACKS: 'American Teenager', 'Thoroughfare', 'Strangers', 'A House In Nebraska'.
#2. 'BEING FUNNY IN A FOREIGN LANGUAGE' - THE 1975
BECAUSE: "When I've seen people being funny in a foreign language, it's the height of intelligence, and, therefore, the height of empathy. I think that if everybody was able to be funny in a foreign language, it would probably save the world," explains The 1975 frontman Matty Healy about the very-The-1975 title of the band's very-The-1975 new album. Recorded between England's Real World Studios and New York's Electric Lady Studios (with co-producer Jack Antonoff), the 11 tracks of 'Being Funny In A Foreign Language' all boast Healy's signature wit, as well as a heightened sense of intimacy and dramatic flair. In other words: Healy gets very real on this album. Contemplating whether the concept of true love is possible in a world where we've been sold ideas of sentimentality, Healy considered during the writing of this album: "Are these earnest things like love and connection and community and wanting possible - and are they obtainable against this neoliberal hellscape that we live in?" From the updated self-titled opening-track ("I'm sorry if you're living and you're 17"), to the earnest 'I'm In Love With You' ("Don't fuck it, you muppet!!"), forthright 'Wintering' ("Now mum's not a fan of that line about her back she said it makes her sound frumpy and old / I said 'WOMAN! YOU ARE 64 YEARS OLD!'"), and vulnerable 'When We Are Together' ("The only time I feel I might get better / Is when we are together"), Healy lays it all on the line without the ostentatious wordplay he tended to hide behind in the past. The working-title for this album was "At Their Very Best" and it's not inaccurate - 20 years into making music together, no one does self-aware/sincere/sax-y pop songs better than The 1975. [SG]
KEY TRACKS: 'About You', 'Oh Caroline', 'Happiness', 'Looking For Somebody (To Love').
#1. 'WET LEG' - WET LEG
BECAUSE: Wet Leg get it. They just really get it. "I don't need no dating app to tell me if I look like crap / To tell me if I'm thin or fat, to tell me should I shave my rat / I don't need no radio, no MTV, no BBC / I just need a bubble bath to set me on a higher path," lays out Wet Leg's Rhian Teasdale in the first-rate anxiety anthem (and closing-track on their debut album), 'Too Late Now' - an example of the duo's magnificent proficiency at conjuring up in song-form every late-night thorny feeling you've ever had. On their self-titled debut, there's a Wet Leg song for every mood: from indifferent ("Alright, you're a good guy / Alright, whatever helps you sleep at night"), to truth-talking ("I don't wanna have to be friends / I don't wanna have to pretend / I don't wanna meet your girlfriend / Hope you choke on your girlfriend"), apathetic ("I don't wanna go out / It's been getting me down"), and irritated ("I don't wanna follow you on the 'Gram / I don't wanna listen to your band"). And you don't need to write hate mail to your ex anymore, Teasdale has already done it for you with the indelible zinger: "When I think about what you've become / I feel sorry for your mum." There's also no one else that could write an ode to French furniture (first popularised in the 16th century) and have the vibes be this immaculate. No one else could make lobster claws cute. No one else is turning their "longest and loudest scream" into regular therapy during live performances. It's just a fact: no one else is doing it like Wet Leg. [SG]
KEY TRACKS: 'Too Late Now', 'Loving You', 'Supermarket', 'Ur Mum'.
If you want to listen to all ten albums, one after the other / all together, then this playlist is for you:
Load next