The Best Albums Of 2021.
Compiled by Alex Siber, Lola Jacob, Rose Riddell & Shahlin Graves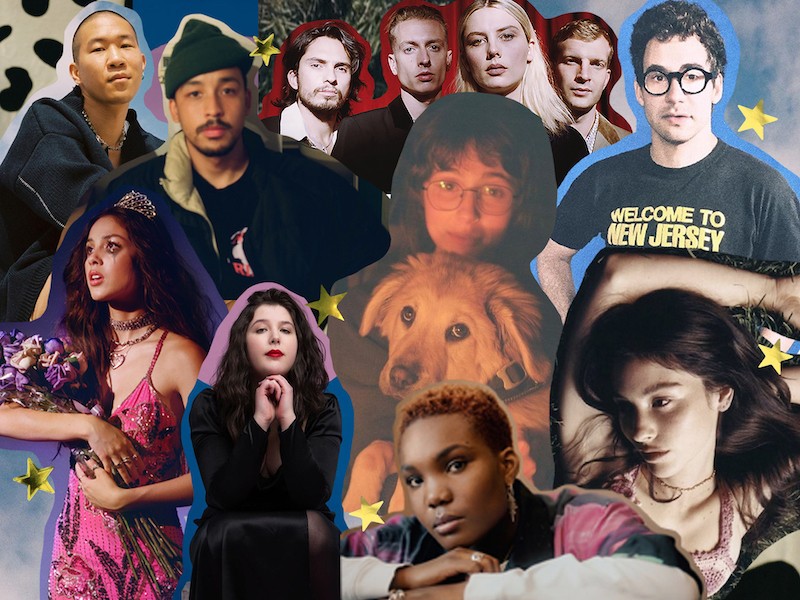 If there's one thing that the worldwide pandemic has given us, it's that songwriters are universally more honest, than ever before. The world could explode tomorrow, so you may as well say what's on your mind, right?
Every one of the below albums helped us endure 2021.
We hereby present to you our final decision on 2021's Best Albums (click here for our Best Songs Of 2021 list!)...
#10. 'BLUE WEEKEND' - WOLF ALICE
BECAUSE: "I'm angry, and your choice to call me cute has offended me, I have power, there are people who depend on me," Wolf Alice frontwoman Ellie Rowsell sings on the 'Blue Weekend' standout, 'Smile' - encapsulating a common feeling amongst women of being condescended to, and choosing to instead welcome the emotion anger for what it is: powerful. Wolf Alice has always felt powerful, but it's in this new collection of work where Rowsell particularly embraces the power in allowing yourself to feel everything - whether she's feeling anxious at a party in Los Angeles ('Delicious Things'), acknowledging the impact a broken relationship can have ("You fucked with my feelings," she sings on 'Safe From Heartbreak [if you never fall in love]'), or exploring the two sides of friendship with the bookending chapters of the album, 'The Beach' and 'The Beach II'. [RR]
KEY TRACKS: 'Smile', 'The Beach II', 'The Last Man On Earth', 'No Hard Feelings'.
#9. 'COLLAPSED IN SUNBEAMS' - ARLO PARKS
BECAUSE: 2021 has been the year of Arlo Parks. Wildly loved and adored by her peers in music, and with her debut album 'Collapsed In Sunbeams' perfectly encompassing all that is so warm and bright about Parks, we can completely understand why. Similar to a truth-talk from a good friend, Parks' songwriting is both charming and dynamic, with memorable moments including 'Black Dog' ("I would do anything to get you out your room / Just take your medicine and eat some food"), and 'Hope' ("You're not alone like you think you are / We all have scars, I know it's hard"). Parks is openly vulnerable and affectionate on her debut, and it doesn't get any more authentic than this. [LJ]
KEY TRACKS: 'Hurt', 'Eugene', 'Black Dog', 'Just Go'.
#8. 'HOME VIDEO' - LUCY DACUS
BECAUSE: It's said that you'll spend your life trying to heal your inner child, and 'Home Video' is Lucy Dacus applying the salve to her own wounds. Placing the listener in the world of Christian youth culture in Richmond, Virginia, Dacus looks back on the tribulations of growing up, with the transporting 'VBS' ("In the summer of '07 I was sure I'd go to heaven / But I was hedging my bets at VBS"), and confessional 'Triple Dog Dare' calling out a disapproving parent who forbade her to see a crush ("How did they betray me? What did I do? / I never touched you how I wanted to"). To look back at your childhood self with love and care is hard work. To not blush or shrink back from reminders of who you used to be is even harder, but Dacus lets these memories wash over her. On a former flame, she reflects, "When you told me 'bout your first time / A soccer player at the senior high / I felt my body crumple to the floor," in 'Cartwheel', and highlights her younger self's romantic naivety, recalling, "Concrete holding heat from the daytime / Picking petals to see if you will be mine," in 'Partner In Crime'. [LJ]
KEY TRACKS: 'Hot & Heavy', 'First Time', 'Brando', 'VBS'.
#7. 'SUPER MONSTER' - CLAUD
BECAUSE: At first glance, the self-portrait on Claud's debut album 'Super Monster' is a colourful, joyous image of one Claud Mintz. Take a closer look, and you'll notice even more intricacies - roads, smaller characters, expressions of confusion, houses, moons, stars, and still more. Much like the 13 songs that make up the album, on each listen you'll notice more and more about the songs. The songs are stories of Claud's coming-of-age and exploration of oneself. On the opening track 'Overnight', they relatably berate themselves for falling too fast, before diving in and experiencing total confusion on 'In or In-Between'. Friends pop up throughout the album, with a Melanie Faye guitar special on 'That's Mr. Bitch To You', Nick Hakim appearing on 'Ana', and enlisting Shelly (Claud's project with best friends Clairo, Josh Mehling, and Noa Frances Getzug) for album closer 'Falling With The Rain'. Released as the first signing on Phoebe Bridgers' record label, Saddest Factory Records, Claud has also toured this year with (fellow Best-2021-Albums compatriot) Bleachers for the album, with more tour dates scheduled for 2022 in support of the excellent project. [RR]
KEY TRACKS: 'Falling With The Rain', 'That's Mr. Bitch To You', 'Overnight', 'This Town', 'Jordan'.
#6. 'THIS IS WHAT IT FEELS LIKE' - GRACIE ABRAMS
BECAUSE: "Hey, I feel like I might say the wrong thing / I hung up when I started calling / You probably would've laughed then if you had seen it happen," reminisces Gracie Abrams on 'This Is What It Feels Like' project highlight, 'Rockland' - just one sentiment in a comforting stream-of-consciousness that resonates with relatable observations and pillowy instrumentation. More powerful than a weighted blanket, Abrams exudes big main-character-POV energy ("Count all the people who hate me," she jests in 'Alright') - and there's endless solace to be found in the musical diary of a young woman never apologising for (or holding back from) taking up time and space to detail her subjective emotional experiences. [SG]
KEY TRACKS: 'The Bottom', 'Alright', 'For Real This Time', 'Rockland', 'Better'.
#5. 'GELATO' - BOYLIFE
BECAUSE: "I haven't heard too many songs where people can express their confidence and their brokeness at the same time, but that's what I'm living," boylife shared with us about his song, 'superpretty' - just one of the twelve glorious songs on his debut album, 'gelato', a project that the genre-fusing artist compiled over the past five years. There's moments of absolute sweetness, where strings swirl in 'baddreams' as Ryan Yoo sings mournfully, "'Cause nobody touch me like you used to," contrasting moments of ecstatic horniness in the equally addictive 'amphetamine' ("It sounds just like Heaven / When you're screamin' my name"). Much like when you put your favourite tub of gelato back into the freezer, 'gelato' is an album that you'll find yourself coming back to time and time again. [RR]
KEY TRACKS: 'amphetamine', 'hoon', 'superpretty', 'peas', 'dio'.
#4. 'ABSOLUTELY' - DIJON
BECAUSE: When you can't stop looking over your shoulder, who will remind you of your future? On 'Absolutely', Dijon burrows like an animal in the folds of spoiled memory, his lyrics conjuring polaroid snapshots of Friday football games, dirty laundry tossed through the town grapevine, and, at the bottom of the photo pile, someone now spending their nights with somebody else. His collaborators help him look ahead again. The gorgeous heartbreak bender is as much Americana jam band as it is group exorcism led by loving friends  — their instruments act as grief counsellors in a 32-minute emotional roulette. Whether packing enough volts to jumpstart a fallen rocket on defiant lead single 'Many Times' or gliding over gospel chords on early favourite 'The Dress', which wraps a breakup sex invitation in the sonic suit of a wedding song, Dijon's voice is electrifying. He'll hover over single syllables like a dreidel approaching its final spin or stretch, as he does on euphoric closure closer 'Credits', until you half expect to hear his vocal chords snap. After years of beloved singles and EPs, his full-length debut delivered. Top 5 top 5 top 5 top 5. [SIBER]
KEY TRACKS: 'Scratching', 'Big Mike's', 'Many Times', 'Rodeo Clown', 'The Dress'.
#3. 'SOUR' - OLIVIA RODRIGO
BECAUSE: Every generation needs a connecting artist. Someone to remind the masses of a certain period in time, the emotions felt, and the relationships built - and Olivia Rodrigo's 'Sour' has been soundtracking and connecting the younger generation of music-listeners and heartbreak victims for the last year. The break-out star came onto the scene prepared to tell her truth with confessional tracks like 'enough for you' ("Don't you think I loved you too much to be used and discarded? / Don't you think I loved you too much to think I deserve nothing?") and the bratty and delightful 'brutal' ("And I'm so sick of 17 / Where's my fucking teenage dream?"). From inscribing her sentiments on a bedroom floor, to being chorused by young people in bedrooms dwelling about their very own first love and heartache, and with one of the best single roll-outs of the last few years, Rodrigo emphasises that she's here to stay with her 11-track heartfelt rollercoaster of a record. The album's nucleus, 'traitor', and 'favorite crime', are two further knockouts. As Rodrigo piloted her collaborator/producer Dan Nigro, her talent for songwriting, and her crystal clear creative vision, she was able to perfectly encapsulate the chaos, spectacle, and complete honesty of what it's like being a teenage girl. [LJ]
KEY TRACKS: 'deja vu', 'traitor', 'brutal', 'favorite crime', 'happier', 'jealousy, jealousy'.
#2. 'TAKE THE SADNESS OUT OF SATURDAY NIGHT' - BLEACHERS
BECAUSE: As the saying goes, good things take time, but great things might take even longer. Bleachers fans had a long four years of waiting since 2017's triumphant 'Gone Now', but what followed is an album befitting of the wait. After many whispers of "soon", and live streams of new songs sneakily popping up, 'Take The Sadness Out Of Saturday Night' saw its release mid-2021, and it's undoubtably Jack Antonoff's most robust piece of work as Bleachers. Though succinct in length - only ten songs comprise the album - each song pulls you into Antonoff's world. I can only imagine how songs like 'Chinatown' and 'Stop Making This Hurt' must sound, listened to whilst hurtling down a highway in Antonoff's hometown of New Jersey. Five sets of sibling songs make up the project, in which, Antonoff looks at similar ideas from different perspectives - one of the themes most compelling, being his acceptance and acknowledgement of grief. A uniting emotion, Antonoff asks, "Who am I without this weight on my shoulder?" in 'How Dare You Want More', contemplating how identity is built by the emotions and experiences that shape each of us. Recorded during a time when touring was an impossibility, Antonoff united his live touring band to give the album a feeling of raw power - and credit where credit is due, this album wouldn't sound how it does without Evan Smith, Mikey Hart, Sean Hutchinson, Mike Riddleberger, Zem Audu, and Antonoff's longtime sound engineer; Laura Sisk. [RR]
KEY TRACKS: 'Don't Go Dark', 'How Dare You Want More', 'Chinatown', 'Stop Making This Hurt', '45'.
#1. 'SLING' - CLAIRO
BECAUSE: It should be impossible to repeat significant moments of connection, like the first time you hear a song that really resonates, or the unbreakable eye contact that accompanies a pet deciding to bestow upon you unconditional love, but on her sophomore outing, 'Sling', Clairo warmly draws you into a safe space where repeat listens always feel equally as momentous and thought-provoking: from beginning ("I'm stepping inside a universe / Designed against my own beliefs," she opens in 'Bambi', steeling herself to rail against the music industry), to enlightened end ("I'm doing it for my future self / The one who needs more attention / I'll forget to forgive and hold it all in / I'm old with some resentment," she concludes in 'Management'). "To me, this album is a collection of feelings that I never allowed myself to explore," wrote Clairo in an email to fans around the release of lead single, 'Blouse' (which addresses her own experiences of sexualization in the workplace). Continuing, she explained: "It's filled with topics and experiences that were far too emotional or intense to unravel. Motherhood, sexualization, mental health, and a lot of my own mistakes and regrets. When I first got my dog, Joanie, all I wanted to do was create an environment that was safe, inviting, and secure. After I had done this, I realised that I hadn't put the same kind of effort into my own life. Comfort. Stability. These are things that I never felt I deserved, and therefore, never allowed myself to have. The idea of getting a home and cementing myself in one place has been a huge fear of mine. But, it has also given me the courage to open up and accept that I too could enjoy life." Licking her wounds, the fuzzy nostalgic tapestry of 'Sling' is the sound of Clairo choosing herself ("Know myself better than I have in years / I don't know why I have to defend what I feel," she asserts in 'Harbor'), learning how to heal in plain sight instead of bottling hard feelings up, and a reminder that growing up is a constant (and ever-changing) process. [SG]
KEY TRACKS: 'Management', 'Harbor', 'Amoeba', 'Bambi', 'Just For Today', 'Little Changes'.
If you want to listen to all ten albums, one after the other / all together, then this playlist is for you:
Load next