Call Mini Mansions for a good time!
Call Mini Mansions for a good time!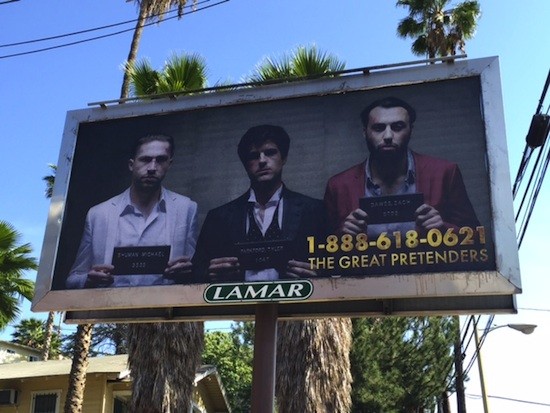 If you find yourself cruising down Sunset Boulevard, you may notice a small but alluring billboard featuring indie pop/rock band Mini Mansions. The billboard, located near the intersection of Sunset and Westerly in the Silver Lake neighbourhood of Los Angeles, pictures all three band-members: lead singer and guitarist Michael Shuman, bassist and drummer Zach Dawes, and keyboardist Tyler Parkford.
What is most intriguing about the billboard is the glistening phone number situated at the bottom right. Upon dialing the number, you are directed to an operator who prompts callers to leave a voicemail for the band. Cool!
The trio recently released sophomore album 'The Great Pretenders' last month via Capitol Records.
You can check out their newest single 'Vertigo' featuring Arctic Monkeys frontman Alex Turner below. If you like what you hear, give them a call!
P.S. Click HERE to read our recent MM interview.
Load next