An Ariana Grande x feminism appreciation post.
An Ariana Grande x feminism appreciation post.
Ariana Grande's new album 'Dangerous Woman' is a reflection of Ariana's ideas about women, sexuality, feminism and more - it's a proud statement about being who you are, and loving yourself.
Ariana has always been a strong feminist, not being afraid to speak out about issues - speaking frankly in interviews, and calling out sexism within the industry. She's a role model for all her fans, and is having a positive impact while combatting these major world issues.
In celebration of this, we decided to compile just a few examples of when Ariana has exemplified this - check them out below…
#1. Her recent interview with Billboard in support of 'Dangerous Woman' sees her talking about the inequality that appears between the representation of female and male artists in the industry. She said:  "If you're going to rave about how sexy a male artist looks with his shirt off," says Grande, "and a woman decides to get in her panties or show her boobies for a photo shoot, she needs to be treated with the same awe and admiration. I will say it until I'm an old-ass lady with my tits out at Whole Foods. I'll be in the produce aisle, naked at 95, with a sensible ponytail, one strand of hair left on my head and a Chanel bow. Mark my words. See you there with my 95 dogs."
She spoke further about the need for the media to associate women with a male counterpart, saying: "I'll never be able to swallow the fact that people feel the need to attach a successful woman to a man when they say her name. I saw a headline -- draw your own conclusions [on the subjects] because it'll be so much drama that I don't want -- they called someone another someone's ex, and that pissed me off. This person has had so many great records in the last year, and she hasn't been dating him forever. Call her by her name! I hate that. Like, I'm fuming. Sorry. You opened up ... I need to take a sip of water and breathe. Don't get me started on this shit."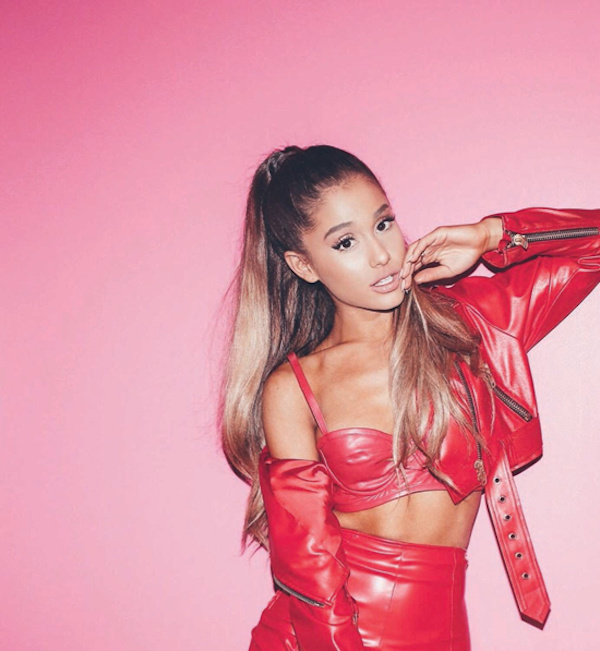 #2. She's been passionate about the association that women in the music industry get when they've dated another famous musician - as it's something she herself has experienced.
In this YouTube clip, she tells a story about how an in an interview she was asked to "talk about boys" - something that is all too common, even for remarkably successful female artists in their own right.
#3. In what must've been a painful interview for Ariana to do - two men asked her which would she choose to live without, her phone, or make-up. She calls them out on asking such a ridiculous question, but then they go on to joke about how only women can use the unicorn emoji.
#4. She took to Twitter last year to post an open letter about sexism and misogyny - even citing a Gloria Steinem article from 1969. It's incredibly inspirational, read it below: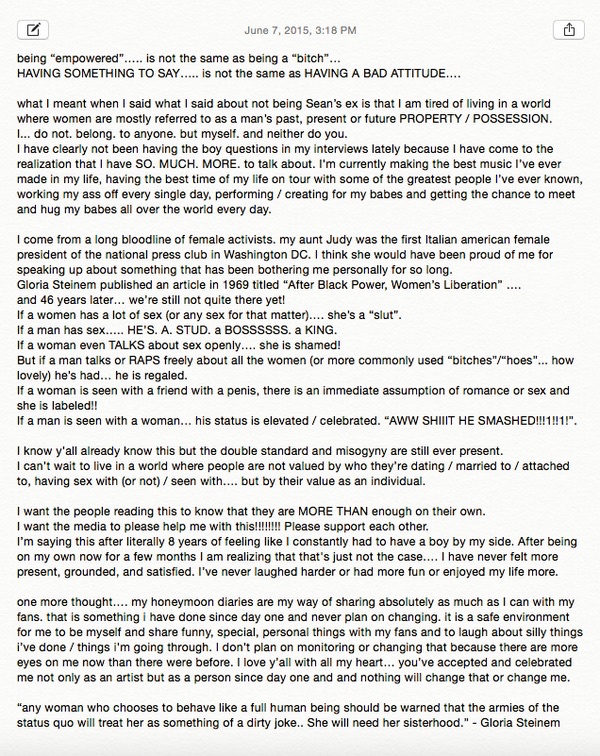 She's posted further notes on her Twitter about celebrating body image - and it's just so important that a woman with 39 million followers is sharing stuff like this: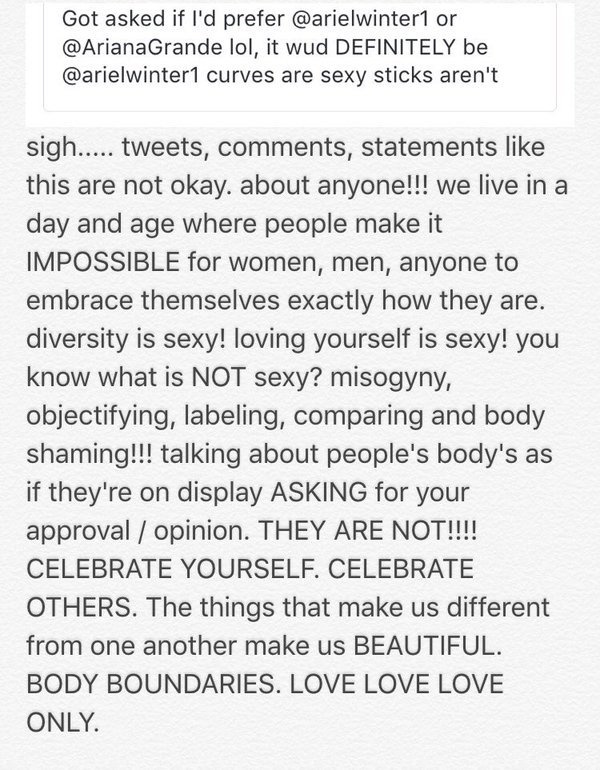 #5. She spoke in a radio interview with 97.1 Amp Radio about her support Kesha's ongoing struggle in court, saying: "I don't think a male artist would be in the same position right now."
Listen to the full interview below:
Ariana Grande's album 'Dangerous Woman' is out now - click HERE to purchase it.
Watch the 'Dangerous Woman' music video below…
Load next