Review: The Weeknd - Barclays Centre, New York.
Review: The Weeknd - Barclays Centre, New York.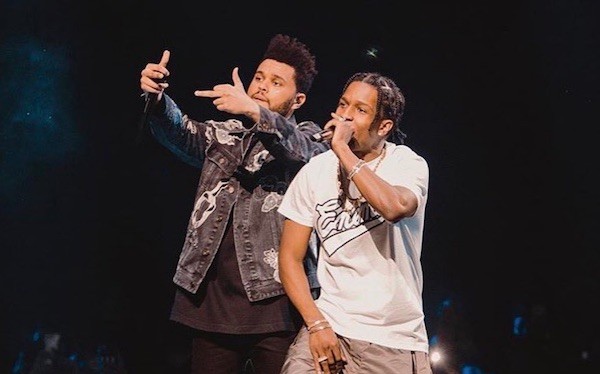 Tuesday night isn't typically a night for getting 'turnt' - however, at Barclays Center on Tuesday night, about 18,000 New Yorkers were doing just that, thanks to The Weeknd and his 'Starboy: Legend Of The Fall' tour that was in town. Last night was the first of two shows scheduled at the venue, and it showcased his distinctive R&B sound - but not only that, a tour which has been entirely constructed to represent Abel as the Starboy that he is.
The show featured not one, not two, but three opening acts - 6lack, XO signing Belly, and brothers of party hip-hop, Rae Sremmurd, each bringing a little more enthusiasm as it edged closer to Abel taking to the stage.
If you've seen any photos floating around on the Internet of The Weeknd's 'Starboy: Legend Of The Fall' tour then you'll know to prepare yourself for an incredible production - with an enormous spaceship that wouldn't look out of place in a 'Star Wars' film ominously hanging over the seated area and catwalk of the arena. The incredibly well-designed machinery moved into various formations throughout his 90-minute set, from the opening-song 'Starboy' showing a circular lighting installation around Abel on the catwalk, to luminous red LED lighting that followed.
"This has got to be the biggest party in New York right now," Abel Tesfaye declared - a statement that no-one in the arena would disagree with; a wild party that continued for a solid hour-and-a-half set of 26 songs.
After a cover of Future's 'Low Life' came the first special guest of the night, with Belly returning to the stage to perform his song 'Might Not' with The Weeknd. And the guest appearances throughout the show didn't stop there - from Nav, A$AP Rocky, Playboi Carti, Rae Sremmurd, and French Montana, it was almost a hip-hop pop-up show, with each new act earning a new and equally as excited reaction from the audience. And no-one was as excited as The Weeknd himself, who seemed even more comfortable on stage with others around him (other than his three-piece band), acting as a hype-man for their raps in some instances.
Though the set-list was predominantly made up of newer songs [from his latest album 'Starboy'], fans were treated to some older cuts such as 'Wicked Games' (from his 2011 'House Of Balloons' EP), and 'Crew Love' (his 2011 collaboration with Drake).
The show was a veritable array of talent from Mr. Starboy - from his unforgettable and flawless falsetto, to his enviable stage presence, to his dance-moves in 'Rockin' that Michael Jackson would be proud of.
A final mash-up of his two final songs 'Secrets' and 'Can't Feel My Face' had the entire arena on their feet - and the energy continued through to his final encore song, 'The Hills', which left the whole audience in awe of Abel's entirely unique sound and talent.
Set-List:
Starboy
Party Monster
Reminder
Six Feet Under
Low Life (Future cover)
Might Not (Belly cover - with Belly)
Sidewalks
Crew Love
Often
Acquainted
Or Nah (Ty Dolla $ign cover)
Some Way (Nav cover - with Nav)
Tell Your Friends / Die For You
Wicked Games
Angel
Earned It
Lord Pretty Flacko Jodye 2 (A$AP Rocky cover - with A$AP Rocky)
Magnolia (Playboi Carti cover - with Playboi Carti)
In The Night
Rockin'
Black Beatles (Rae Sremmurd cover - with Rae Sremmurd)
Unforgettable (French Montana cover - with French Montana)
Secrets
Can't Feel My Face
I Feel It Coming
Encore:
The Hills
Load next