Lorde - Laneway Festival make-up show, January 2014.
Lorde - Laneway Festival make-up show, January 2014.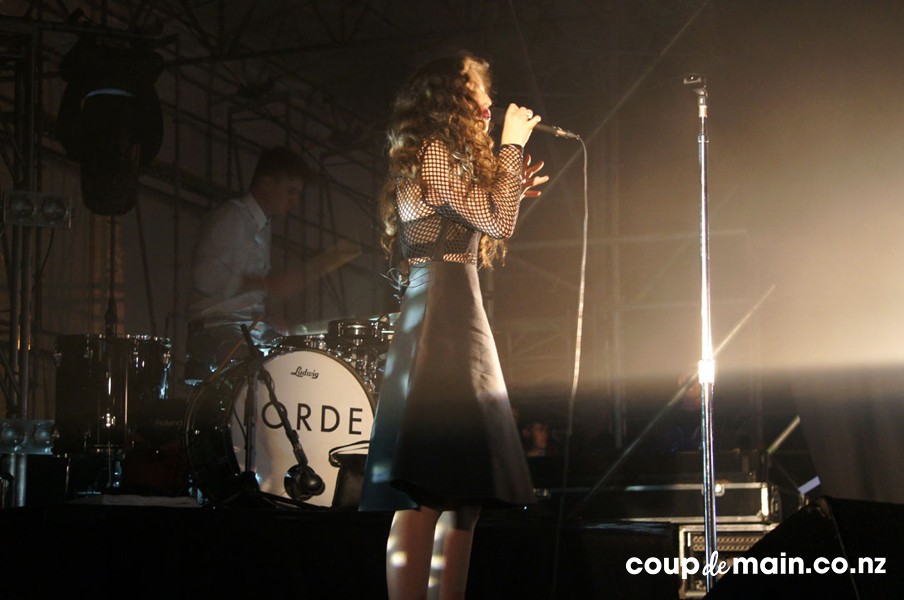 Homecoming. No not the overzealous traditional American prom with too much pink tulle, nor Kanye West's ode to his hometown Chicago. This is the kind of homecoming where you perform to a near sold-out crowd of 10,000 in Auckland after stepping off a thirteen-hour flight from Los Angeles.  This is the kind of homecoming you get when you've won two prestigious international music awards and performed live to over 25 million people. This is the kind of homecoming you deserve to get when you're Lorde.
Slowly walking on stage amongst the illusion of smoke and strobe lights to the introduction of 'Bravado', a darkened silhouette masked everything but the tips of glowing curls. Singing the first verse side-on to the audience, it wasn't until the chorus kicked in that she turned to face the masses - some which had been queueing since 2pm.
Lifting from a bow and with a sly smile, she lunged straight into the fluctuating crescendo of 'Glory And Gore' and the deep, commanding drum beats of 'Biting Down', whilst a simple "Don't you think that it's boring how people talk?" revived audience screams.
As per usual, each song allowed for her body to become an extension of her vocals - from the jerk of the torso to the swaying of arms and flicking of hair, Lorde became a literal personification of her lyrics. Just guessing here, but I think her dancing is also the source of all her magical powers.
Surprising the crowd with the first of two covers never before performed live, she delved into Son Lux's 'Easy' and later an elegiac rendition of fellow Grammy nominee James Blake's 'Retrograde'.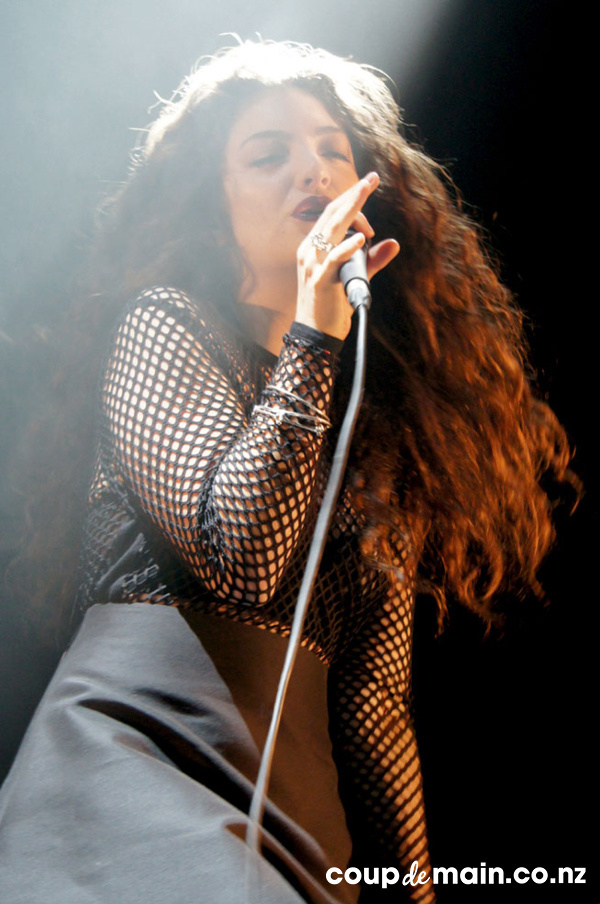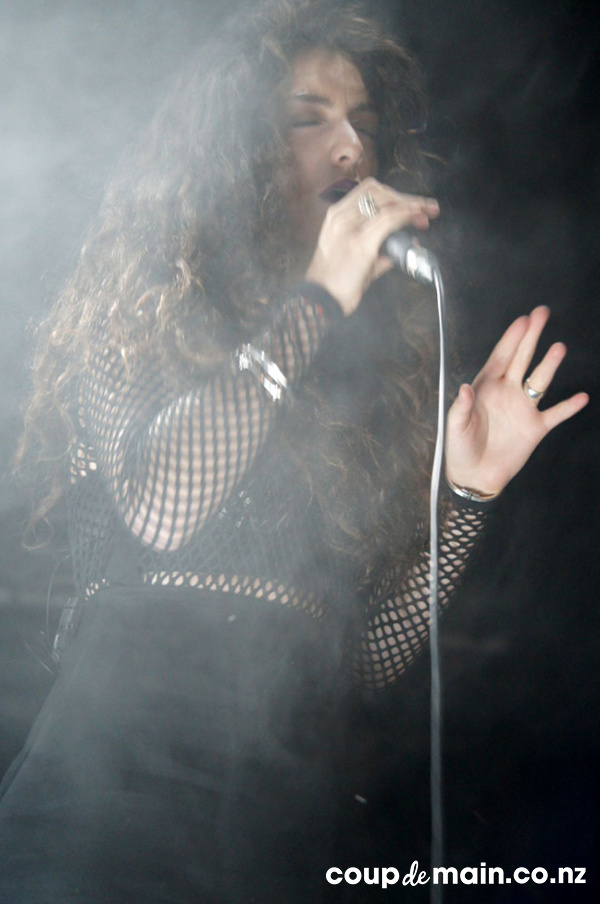 Kneeling at the front of the stage to become somewhat of a storyteller for 'Swingin Party', it wasn't until the cluster of hands lunged at her during 'White Teeth Teens' that we were provided with a subtle reminder of just how famous and beloved, Lorde is.
Finally deciding to address the "pesky" little reason why she was forced to skip Laneway festival, Lorde declared "Sorry to swear, but I fucking won two Grammys!" - no one could have said it better. 
With the request to "light it up like the Staples Centre" thousands of previously handed out glow sticks were snapped to help illuminate the darkness for 'Royals'.
With risk of sounding cheesy, it's the new and improved New Zealand anthem.
Conducting the audience through the resounding echo of the track, the line "we're bigger than we ever dreamed" accurately encapsulated the incomprehensible events of Monday.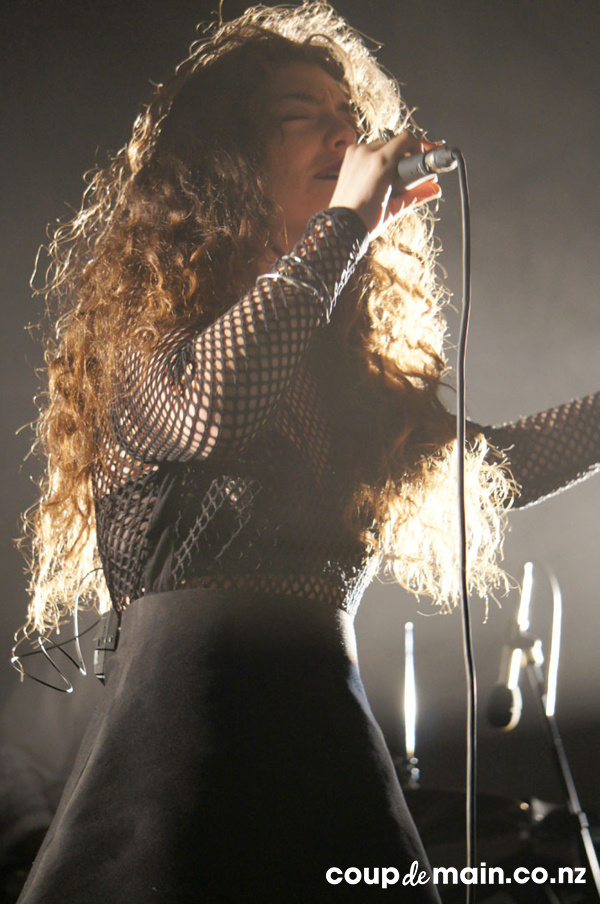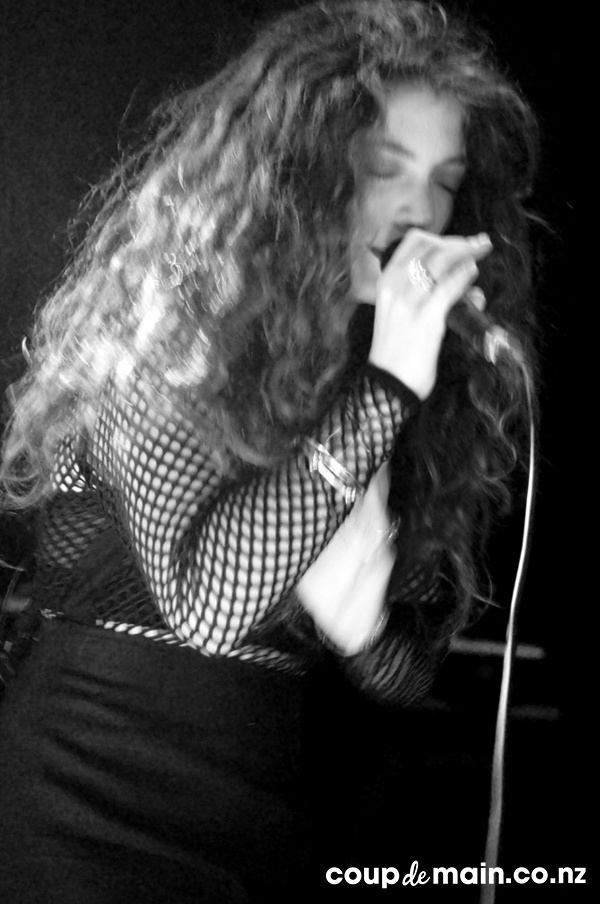 As she was showered by what came dangerously close to being an all out glow stick war, Lorde's beaming grin revealed how humbled she was by all the fuss. When the Sky Tower is lit to look like a gold Grammy purely in your honour, you know you've made it.
Nearing the end of her set [much to the cries and series of "noooo!'"s courtesy of the crowd] she explained the significance of performing 'Ribs' at her own Laneway make-up show - "We started writing it on a Monday and then at 4pm came to Laneway... It's crazy to think that I'm playing it here after writing it a year ago with this very festival in mind".
Unmistakably, this was her best show yet. The air of confidence she projected combined with complete audience rapport led to a buzzing performance. Whilst a special mention needs to be made to the stunningly silver-suited Ben Barter and Jimmy Mac, the night was a spirited toast to Ella Yelich O'Connor.
Welcome home Lorde, you were insane[ly good].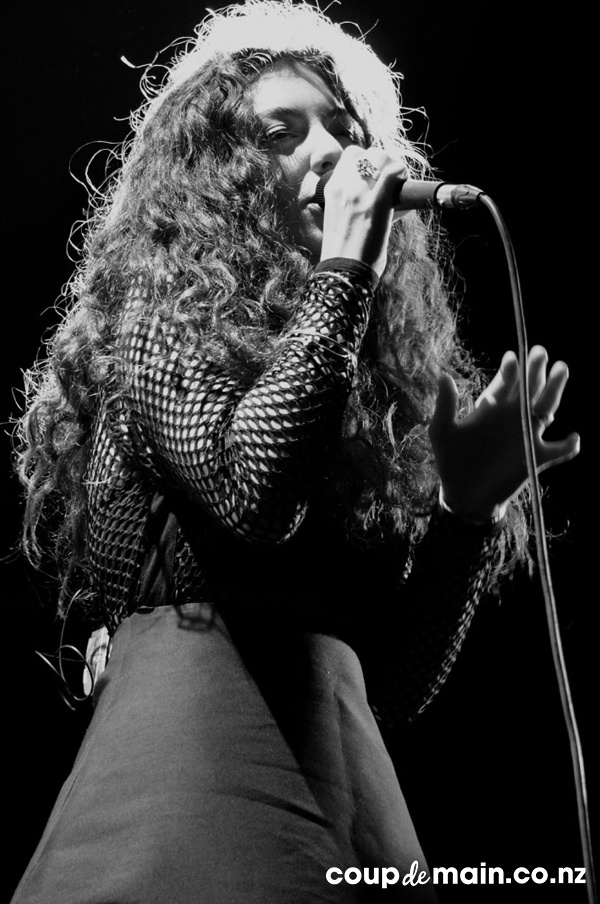 Setlist:
Bravado
Glory And Gore
Biting Down
Tennis Court
Easy [Son Lux cover]
Buzzcut Season
Swinging Party
400 Lux
White Teeth Teens
Royals
Retrograde [James Blake cover]
Team
Ribs
A World Alone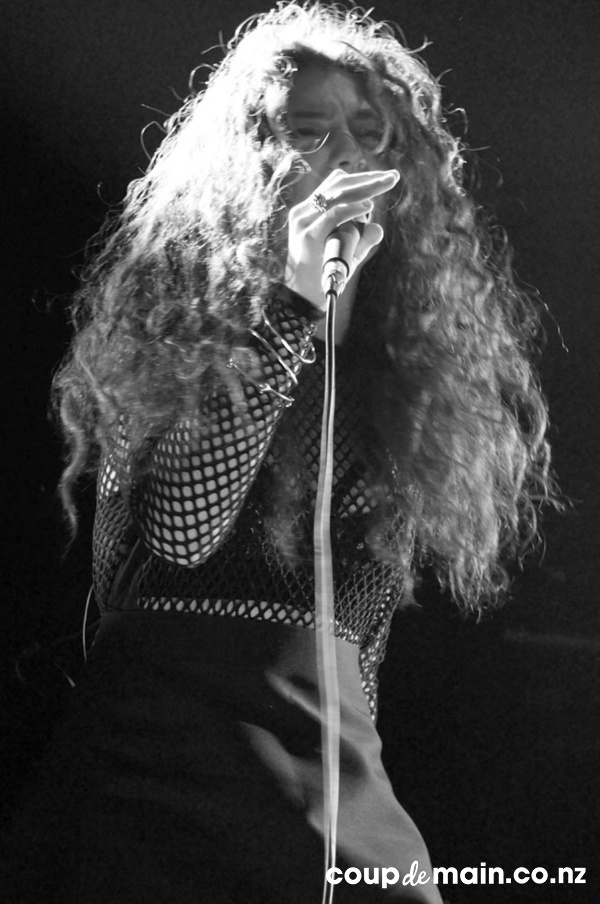 Load next