Interview: Panic! At The Disco's Brendon Urie is "very ready" to return to New Zealand.
"Oh my god I've missed you guys," says Panic! At The Disco frontman Brendon Urie all in one breath enthusiastically down the phone-line. And ahead of P!ATD's return to New Zealand next week, it seems the feeling is mutual with only very limited tickets left available for the band's show at Vector Arena next week on February 2nd - which was upgraded after originally selling out the Logan Campbell Centre.
We caught up with Urie at the end of last year - a conversation during which there could be no doubt at all about the sincerity of his excitement...
"I like to have creative minds around me to help push that energy, I like to keep a relaxed vibe and have people who have a different kind of brain in the same direction. You know, when everyone is working creatively but everybody has got a different idea to throw into the bowl."
COUP DE MAIN: Congrats on your Grammy nomination for Best Rock Album! You started off the year with 'Death Of A Bachelor' debuting at #1 on the U.S. albums chart and now you're ending 2016 with a Grammy nomination. What a year!
PANIC! AT THE DISCO - BRENDON URIE: Thank you so much! It's crazy! Yes! It's kind of daunting, I didn't know how to respond this morning, just thinking about it, it kind of caught me off guard in the best way possible. It's pretty cool. Thank you!
CDM:When we last talked to you back in February, you promised to push your booking agent for a return to New Zealand, so thank you for making good on your promise.
BRENDON: <laughs> I'm glad it worked out! I've been pestering him for long enough, I would have hoped he might have finally caved in and said, 'Yeah!'
CDM: Your fans are obviously very excited, having sold out the original venue so fast that you're now playing an arena.
BRENDON: Awww, so cool! That is the coolest thing! Wherever we play-- just the fact that we're coming back; I'm excited!
CDM: Do you have any favourite anecdotes from past times that you've been here?
BRENDON: Definitely! We've had a few days off the last couple times, and I think the last time we were there it was around 2008... wow, geez that's so wild. It's so crazy, oh my god, it's been a while! But I remember the first time we went to Auckland we went to the aquarium [Kelly Tarlton's] and we each got a little souvenir keychain, which I still have - I still have a picture of me in my sweet weird girl's striped hoodie and my stupid red glasses. I look like an idiot, but you know what, I had the best time of my life, it was so awesome I can't wait to go back!
CDM: Last time you were here, you brought along Cobra Starship and The Academy Is... for the tour as well. Have you stayed friends with any of those old Fueled By Ramen bands?
BRENDON: Yeah, I've seen a few of those guys over the past few years. I think the last time I saw them was maybe a year ago. Yeah! I saw a couple guys from The Academy last year, I saw Gabe [Saporta] last year... it's so crazy to think about where everybody is now too, because they're all having families and just kinda chilling out in the country, which is nice. It's awesome.
CDM: Your current tour opens with a cartoon car-chase soundtracked by Dick Dale's song 'Misirlou' from 'Pulp Fiction' - why did you decide upon that sequence as the tour's opening calling-card?
BRENDON: That's right! Yeah! It was between that and... what else was I going to do? I had something ridiculous, something like a Russian techno song, but that was more just for me because I thought it was hilarious. But it was more of like a circusy song, like <sings circus music>, a little bit hokey, so then I just took the intro from one of my favourite movies of all time, the Dick Dale 'Pulp Fiction' intro. It just kinda worked out that way, it's so fun.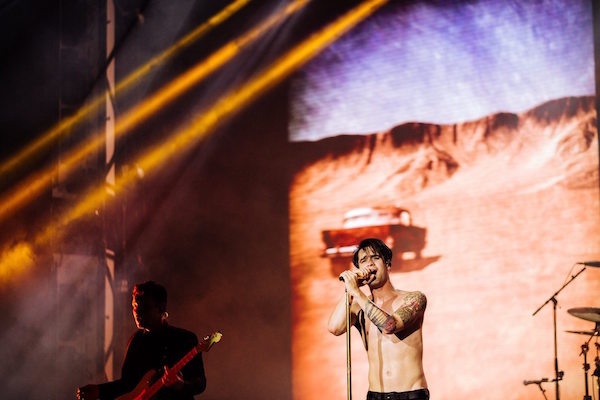 CDM: Recently, some bands have been letting fans requests songs for the set-lists of shows they're attending by voting online or via other means. Is that something you'd ever consider doing?
BRENDON: Maybe. It's a weird thing. With the Panic show I like to have everything pretty much mapped out. Not like things I say, because that's pretty off-the-cuff and I never really know what I'm gonna say - banter stays pretty open - but in terms of the setlist, it's kind of like having a workout routine for me. It's nice to have that embedded, like muscle-memory takes over, because I have so many fucking lyrics that I have to memorise. <laughs> I'm thinking about getting a teleprompter to cut down that work, my brain is pretty tired. I like having that set thing, but who knows. It might be a fun thing for a smaller set to have fans pick exactly what we do, it might be kind of crazy, but not this time around! We're doing the set that we're really proud of that we built up for the last Summer tour.
CDM: If you did ever implement this, I'd vote for 'Nearly Witches (Ever Since We Met...)'.
BRENDON: Oh nice, I love that one!
CDM: I saw you perform it live in Australia once and it was magical.
BRENDON: Man that's awesome, yeah for sure!
CDM: You've been touring with your friend Dallon Weekes since 2009 now, who has his own band, The Brobecks. Do you have a favourite song of Dallon's?
BRENDON: He sent me one years back when I was working on 'Too Weird To Live[, Too Rare To Die!'] - he sent me a song called 'Far Too Young To Die'. It wasn't fully finished yet, but he sent me this idea, and it was like, 'Oh this could be something.' And that's still one of my favourite ones that we've worked on together.
CDM: When we talked earlier this year, you mentioned loving the freedom of writing alone and finishing ideas on your own for 'Death Of A Bachelor'. Is that why you decided to have Dallon return to being just a touring-member?
BRENDON: Yeah. Everybody kind of finds a place over time - and the more that you work with people and the more that you know people, you feel things out and you feel each other and the vibe out, you know exactly what each other's strengths and weaknesses are. That's really how it goes, and I guess I fell into where I am at now by just pursuing my strengths. So luckily, I get to do the things that I feel confident in and that I get to work on the most. Not saying that I've hit a peak where I'm don't have to work anymore because I'm still very much a hard worker, and work ethic is so much of production to me. So the fact that I get to just work alone is a treat, because I really do love that. And that's remained the same from the beginning, I've always done that, I've always wrote on my own and worked on my own. Within the past, I'd bring ideas to the band and some would stay and some would get blown down, so it wouldn't really be all my songs. But now it's dangerous because I get to do whatever the fuck I want. <laughs>
CDM: But now you're a Grammy-nominated solo artist, so you're totally justified in doing whatever you want!
BRENDON: I KNOW! It's crazy. I guess so! So crazy.
CDM: You played guitar, bass, and drums on every song on the latest album except one. Was it important to you to do it all yourself instead of hiring session musicians?
BRENDON: Yeah, for me, when I'm recording something I have the idea already in my head. So it's more like letting the person-- if I couldn't explain it perfectly, it would drive me crazy to not have it recorded exactly as I hear it. That way, it is just easier for me to do it. When I have a thing in my head, especially in the past, I would try and explain it to someone else, whether it be in the band or to a producer, and they would be like, 'What? Just get up there and fucking play it, man.' So I would do that in the past, there were pieces here and there where I had done that on previous records, but now it's all me. When I just go, 'Oh I have an idea! Let me get up there and sing it, or let me go play the drums real quick because I know exactly what it should sound like.' That's how it goes now. It's easier for me to work that way, but it doesn't mean that I do everything on my own. I like to have creative minds around me to help push that energy, I like to keep a relaxed vibe and have people who have a different kind of brain in the same direction. You know, when everyone is working creatively but everybody has got a different idea to throw into the bowl. I love that, I love working with people like that!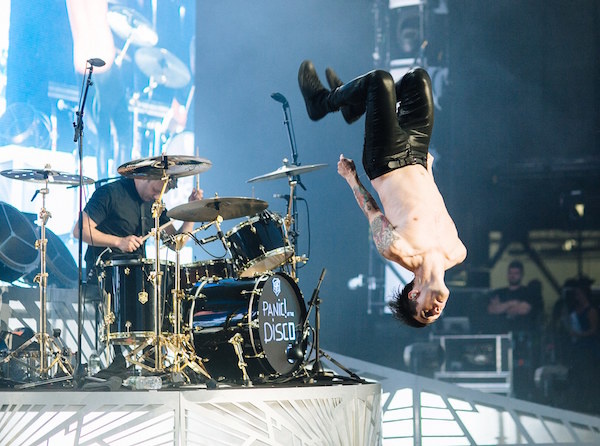 CDM: You've been writing songs for over a decade now, so how do you 'know' when a song is finished and ready to be shared with the world? Is there a special feeling that you get?
BRENDON: Sometimes, yeah. Sometimes a song is done and it is everything that I wanted it to be. Other times I just have to say, 'All right, I want to put this record out because working on a song over and over is driving me crazy.' So that happens sometimes. But more often than not, yeah I get to record exactly the song I've wanted and once I've hit the last vocal where I feel it's getting too, I guess convoluted, or too popular with just one sound that's getting beaten to death, then I just stop and say, 'Okay I think it's done.' Then I start asking other people's opinions. 'Hey do you think this song is done?' I'll ask management, I'll ask bandmates... get a general consensus.
CDM: 'LA Devotee' is my favourite song on your latest album, it's forever stuck in my head, so it was rad seeing Noah Schnapp from 'Stranger Things' in the music video. How did that casting come about?
BRENDON: That was cool! That was a really serendipitous thing because me and the director Brendan Walter were talking ideas and I was just stuck. I was like, 'I don't really know what to do? I don't want to copy the lyrics literally, I don't want to do a literal video, so let's figure out ideas.' And Brendan Walter came back to me with, 'Hey, what about a cult?' I was like, 'Fuck yeah! I love that!' I love any religious imagery just from growing up that way. And then the next day I think, we got an email from Noah Schnapp and his people with, "Hey, I've been a fan of Panic's for a little bit, I would love to do something in the future if you've got anything." So we e-mailed him immediately. "Hey man, we're doing a video if you wanna do it for the song?" He was like, "Cool, I love that song, let's do it!" He was really cool, one of the most talented people I've ever worked with, so it was really nice to be a part of it - and just being a fan of his and 'Stranger Things' in general! What a special thing to have!
CDM: And lastly, do you have a message for your New Zealand fans ahead of the tour?
BRENDON: First off, let me say, holy shit it has taken us so long to come back! So I'm sorry for that, but I'm not sorry that we're coming back, ultimately because, oh my god I've missed you guys. I just want to say thank you to everybody who has been supporting us, especially in New Zealand. It's wild! That's the other side of the world. So just to be able to come there... and for something like performing for you guys! Let's just have a good time! I'm so excited! Be prepared to sweat - it's going to get very loud and very, very hot and sweaty, so I'm very ready for that and I cannot be more excited!
Panic! At The Disco play Auckland's Vector Arena next week on February 2nd. Very limited final tickets are available here.
Watch Panic! At The Disco perform 'Death Of A Bachelor' live (with The Roots) on The Tonight Show below...