Five New Zealanders helping shape the world of pop music.
Five New Zealanders helping shape the world of pop music.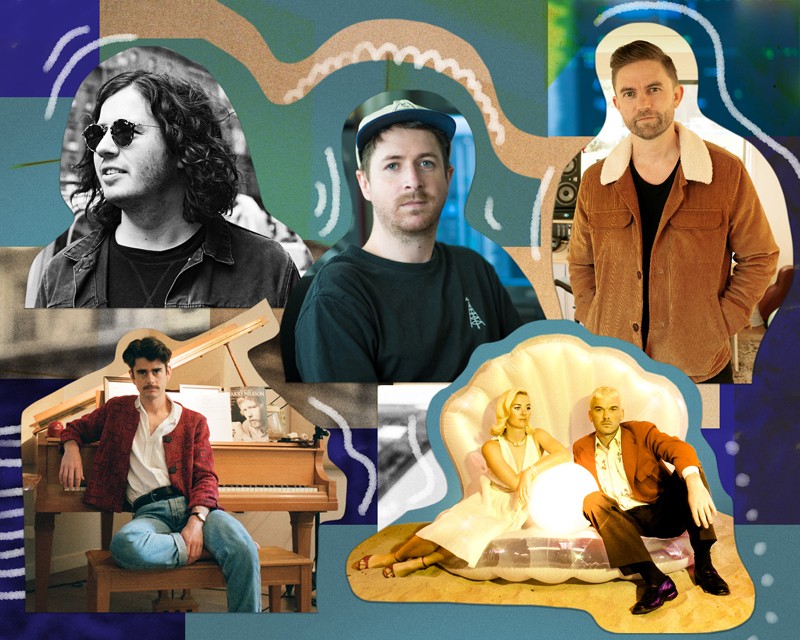 In celebration of the end of New Zealand Music Month fast-approaching, we're highlighting five New Zealanders helping to shape the global sound of pop music today - through their work with not only fellow New Zealanders, but with artists from all over the world.
Despite only being a country of five million, New Zealand is responsible for helping to create some of the biggest songs in the world in recent times - from Taylor Swift, Dua Lipa, to Lorde and BENEE, to rising artists like Gracie Abrams, Lennon Stella, and more, there's often a New Zealander involved in the writing or producing of the song.
We spoke to Georgia Nott (Broods), Joel Little, Josh Fountain, Leroy Clampitt, and Sam De Jong about each of their working processes, recent career highlights, and more...
GEORGIA NOTT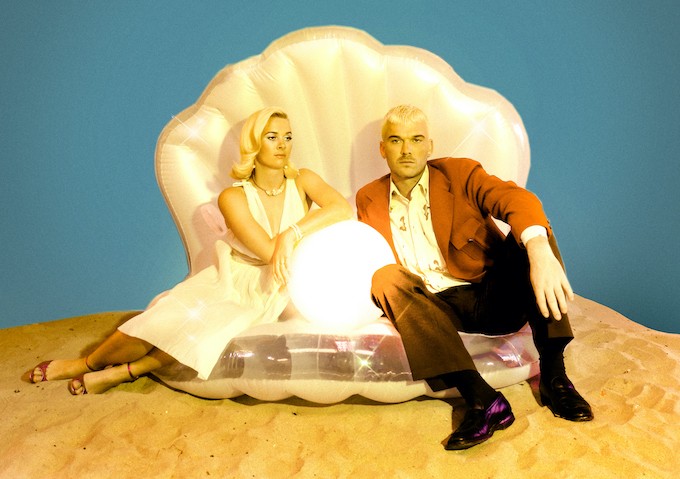 The frontwoman of New Zealand duo Broods, Georgia Nott has released three albums with her brother Caleb Nott, which has seen them tour with the likes of Tove Lo and Taylor Swift. Their latest album 'Don't Feed The Pop Monster' is somewhat a reflection on the world of pop music, and saw them work with Joel Little and Leroy Clampitt (who also are part of this feature!).
Nott also released a solo project 'The Venus Project' in 2018, an all-women project which saw her spotlight fellow women in the industry, from producers, engineers, writers, and creatives.
CDM: What do you think the most important element of writing and recording music is?
GEORGIA: The spaces between the pen to paper / press record moments. The moments of sitting in the sun with your collaborators and talking. The solo walk that you go on before heading into the studio. The taking time to listen to your own ideas. Sometimes the most beautiful ideas have soft voices and you need to have silence to coax them out.
CDM: You co-wrote on Marina's song 'Emotional Machine' from last year - how did that experience come about?
GEORGIA: Marina actually turned up to our first ever London show, opening for MØ. She's been a cheerleader from the beginning. I hadn't seen her in a while when we all did that session but we all bonded pretty quickly. Now we've been on tour together and sung that song together for her fans. It's funny how the seeds you plant along your way all grow at different speeds, all coming into fruition however many months or years later.
CDM: Is co-writing on other people's projects something you want to continue doing? Have you wanted to delve into production yourself as well?
GEORGIA: I love writing with other people for their projects when I like the music and I feel like I would be helpful. I can only really be helpful if I feel connected though. I don't really go searching for it too much, though. I think there is such a thing as overdoing it. You can only wring yourself out so much. You need that space! As for producing, I do delve. I just think my style is more staring at clouds, than staring at screens.
CDM: You worked on 'The Venus Project' in 2018, a project created entirely by women. Why was it so important to you to shine a light on women (especially those who work in behind-the-scenes roles like producers, engineers) and utilise them in every possible outlet of the project?
GEORGIA: It might sound strangely selfish but, I kind of just wanted to work with women for myself. I wanted to learn from them. I've learnt a lot from working with women in this industry and I think sometimes I crave their guidance. I was at a time in my life that I needed it, even though at the time I wasn't quite aware of just how much. Also, I was just getting pissed about anti-feminist people and I'd prefer to lash out with art haha.
CDM: Did you find the experience different, working in rooms of all-women, as compared to other writing/recording scenarios you've been in?
GEORGIA: It was inspiring. At the time I felt empowered in my industry but looking back a few years later I think it empowered me in every area of my life. I hadn't had the most female energy around me throughout my career and doing that project made me remember how potent women are. How potent I am and how I should never be ashamed to be. I felt like I was a part of a dope ass coven or something! I got some of my own magic back.
JOEL LITTLE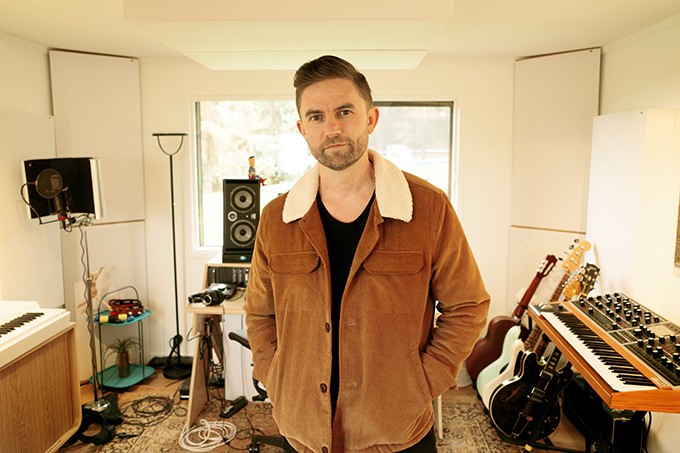 Joel Little arguably helped to define the modern sound of pop music with Lorde's debut album 'Pure Heroine', but prior to this Little found his start in music in pop-punk band Goodnight Nurse, and moved into the production world with Kids Of 88.
After the success of 'Pure Heroine', Little started to work on more projects such as fellow New Zealanders Broods, before branching into the world of pop with acts such as Taylor Swift (he co-wrote and produced four songs on her 'Lover' album of last year), Tove Lo, the Jonas Brothers, James Bay, and many more.
CDM: What do you think the most important element of recording/producing is?
JOEL: It's hard to nail it down to any one thing, there are so many elements that need to combine to have a song feel right. Maybe in general it's just staying true to who the artist is, doing everything you can to to bring out their strengths and help them say what they need to say in the best way possible.
CDM: Do you have a specific working process as a producer, or does it differ every time you work on a song?
JOEL: It's different every time, depending on who I'm working with. I really don't like to force my process on to people, I just adapt to however the artist likes to work. Everyone is different creatively, so some people will come in with something that they really want to say and we'll figure out the music and melody based on that, or maybe they'll need me to make something musically that evokes an emotion in them, so the rest of the song can stem from that. I've found it really helpful to be able to work in different ways with different people.
CDM: What have been some of the most memorable projects you've worked on?
JOEL: I'm really lucky, there have been a lot. I'll always cherish making 'Pure Heroine' with Lorde, that was one of those magical collaborations where you just click with someone and you both become better because of it. We genuinely just had a lot of fun making that record, pushing ourselves and experimenting without any real goal except to make something we were proud of. Working with Taylor Swift was obviously another massive career highlight, she's one of the all-time greats, just scarily talented, and every day with her was just a really enjoyable and satisfying experience. I could keep going, Broods are like family to me, I loved working with Khalid and Imagine Dragons, I got to write with Mark Hoppus from Blink-182 who is a massive hero of mine. I've been very lucky, there have been a lot of great moments.
CDM: Is there something that draws you to working with certain artists?
JOEL: Usually the thing that I gravitate towards first is their voice. If I hear something unique or special in it that I find inspiring that's a lot more important to me than any amount of success they may have already had. My decision making process usually starts with, 'Do I think I can bring something worthwhile to this situation?', and then I just try and trust my instincts. If I don't think my contribution will make an artist or their project better then I'll stay out of it.
CDM: What are three pieces of equipment you would recommend to a producer starting out?
JOEL: Find some speakers you can trust, they don't have to be expensive, just listen to a bunch of your favourite songs and get used to the way things are supposed to sound coming out of them. We made the whole first Kids Of 88 record on tiny stereo speakers, they weren't even proper studio monitors. A decent mic is important, again doesn't have to be crazy expensive, something like a Shure SM7B is really versatile. And secondhand is totally fine. We recorded 'Royals' on a Rode K2 mic that I got on TradeMe for $600. You also need a good little audio interface, both the Universal Audio Apollo Twin and the Apogee Duet are great. I've used both on songs by big artists.
CDM: What song do you think is a 'perfectly' produced song?
JOEL: I would say 'Cry Me A River' by Justin Timberlake comes pretty close to being perfect. The production on that (and all of Timbaland's production really) was a big influence on me.
JOSH FOUNTAIN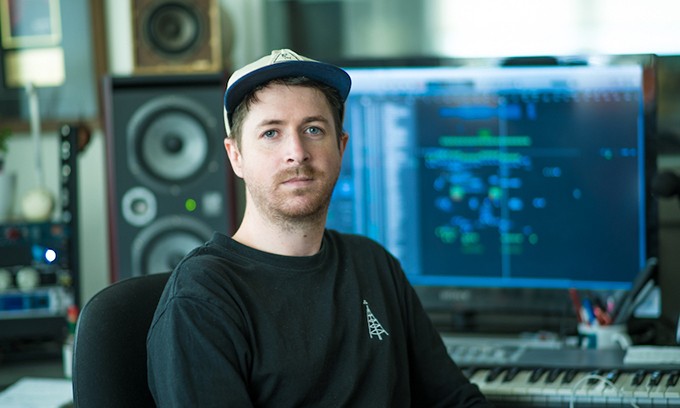 Having taken home NZ Producer Of The Year last year at the NZ Music Awards, Josh Fountain's distinctive production talents have seen him help a number of local artists foster their sounds, including Thomston, MAALA, Paige, Openside, and more.
For the past two years, he's been working closely with BENEE out of Golden Age Studio (taking it over after Joel Little relocated to Los Angeles), from her very first release 'Tough Guy', to her most recent 'Stella & Steve' EP and its breakout hit 'Supalonely'.
CDM: You've been working with BENEE for a few years now, what's it been like working with her from the very beginning of her career and helping her find her sound?
JOSH: It's been amazing to see BENEE grow as an artist! She's always had a unique and amazing voice but she's really developed her own writing style and manages to put so much of her own personality into the songs she writes. When we first started working together we weren't sure what her style would be so we just tried everything - the more we worked together the more we figured out what she likes and dislikes and it started to take shape. I don't know if even now she has a set 'style'... She could sing anything and it will always sound like a BENEE song just because of her lyrics and voice!
CDM: Do you have a specific working process as a producer, or does it differ every time you work on a song/project?
JOSH: Every artist has a different way of working. Some like to be really hands-on with playing instruments etc, some need me to be a bit of a cheerleader and be an ideas bouncing board, some artists sit quietly on the couch and work on lyrics while I put together the music. There's no set way. Typically though if I'm working with someone for the first time I like to have a good chat with them first and get to know them a bit; what they're going through, what they're listening to etc. I try to create an environment where they feel as comfortable and open to new ideas as possible.
CDM: What are three pieces of equipment you would recommend to a producer starting out?
JOSH: I think if you have access to a computer and the internet I would recommend:
- Logic Pro X (I use this software and reckon it the best for creating music. It comes with everything you need and sounds great).
- A cheap audio interface and mic to record vocals/instruments.
- A pair of headphones.
That's everything you need!
CDM: What do you think the most important element of recording/producing is?
JOSH: From a technical standpoint I'd say the most important element is sound selection and making sure whatever you're recording sounds great at the source rather than trying to fix it later on. Ultimately though, my goal as a producer is to help the artist get what they are hearing in their head out to the world - a lot of the time that means putting my own ego aside and keeping things simple and making sure everything I do is servicing and strengthening the song!
CDM: What's an example of a 'perfectly' produced song?
JOSH: Ooh good question! I think recently Dua Lipa's 'Don't Start Now' is pretty close to pop perfection... Sounds deceptively simple the first time you hear it but it's such a great arrangement and there are so many little hooks / ear candy bits to keep you interested on repeat listens. Ian Kirkpatrick produced that one and there's a great video on YouTube of him breaking down how he made it.
LEROY CLAMPITT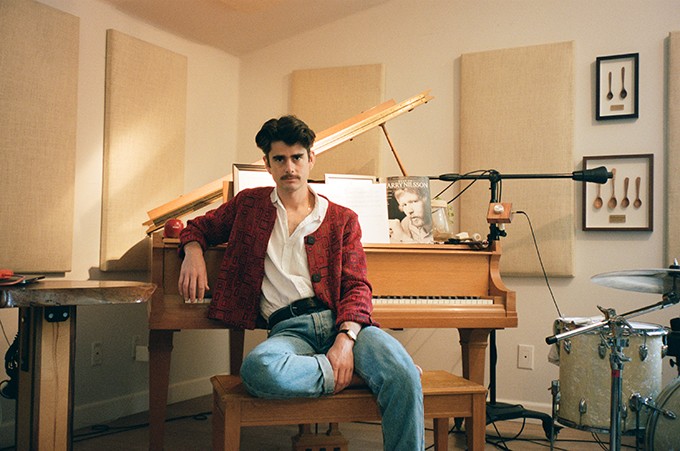 First garnering attention for his work on Justin Bieber's 'Company' song from 2016 (which he worked on with fellow New Zealand producer Gladius), Leroy Clampitt, who also works under the name Big Taste, has fostered long-standing working relationships with artists like Phoebe Ryan and Madison Beer, who he's worked with on projects for a number of years.
CDM: What do you think the most important element of recording/producing is?
LEROY: I don't know if I have a substantial answer for this but I will say I feel like people can really pick up on the emotion put into a performance, more than any technical stuff. Especially vocals. It's easy to forget to let yourself feel the emotion of the song. I think really great producers help facilitate an environment where artists can deliver meaningful performances.
CDM: What are some of the biggest lessons you've learnt about production and writing over your years of work?
LEROY: Trust your collaborators. People work better when they don't feel like they have to fight for your trust all the time. On that same idea, hang onto your ego, don't let that shit anywhere near your friends.
CDM: What are three pieces of equipment you would recommend to a producer starting out?
LEROY: Laptop with some recording software. Most common is Logic. I use Protools mostly. Ableton's great. FL Studio, Reaper, Studio One, Cubase, they're all dope.
Mic. Best bang for your buck is a Sure SM7 but whatever you can get your hands on.
Audio interface. That's what gets the sounds from your mic, or guitar, or whatever into your computer.
CDM: Do you have a specific working process as a writer and producer, or does it differ every time you work on a song?
LEROY: It's different every day. I love it for that. If it's a day when I have a writing session with people, we kind of just hang out and listen to each other 'til someone has an idea or brings up an idea they had earlier, then we just follow it. Sometimes it comes easy, some times you've got to work for it, but there are so many approaches for turning an idea into a song. If something is not working just try a different approach. The worst that can happen is you write a shit song or no song.
CDM: Who are some producers you admire/look up to?
LEROY: Man, I mean, Brian Wilson—been really soaking in his work this year. George Martin, Phil Spector, Rick Hall. I guess more contemporary people would be Imogen Heap, Rick Nowels, Rick Rubin. Max Martin and everyone over at his publishing house. Alex Hope, she is from Australia but lives here. Kito, she's from Australia and lives here too, super dope. Diplo. Louis Bell. Ian Kirkpatrick. Jason Evigan - we just finished a song together and I'm super excited about it.
SAM DE JONG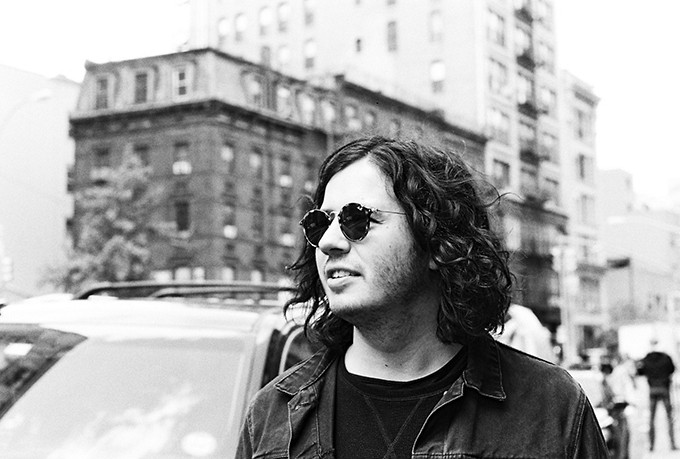 First starting out in the music industry as a touring drummer, Sam De Jong began to write and produce music with New Zealanders like MAALA, Nomad, and Robinson, before moving to Los Angeles and extending his client base to rising artists like Gracie Abrams (he worked on 'Stay' with her), Lennon Stella, CYN, and more.
CDM: What do you think the most important element of recording/producing is?
SAM: I think a producer/co-writer's main job is to figure out what the artist wants to say and then to create a world in which that can be presented in the most authentic way. I've always thought it's important to 'listen' to a few things: to the various influences they are combining, to the message they're trying to portray, and to what's happening in the wider musical landscape so you can help carve out their niche.
CDM: Do you have a specific working process as a producer, or does it differ every time you work on a song?
SAM: It differs with every artist, but generally, we'll begin with a conversation about whatever's going on in their world. I'll usually have prepared a simple starting point musically, whether that is some chords or a beat. Sometimes that doesn't even end up being used but it breaks the ice and starts the conversation. It's important to quickly identify which hat you need to put on for each session, as every artist has varying strengths and your job is to fill in the blanks.
CDM: What have been some of the most memorable projects you've worked on recently?
SAM: It was a cool experience working in Nashville with Lennon Stella on a few songs for her debut album. Also excited to have 'Empty Love' out with GRACEY which we wrote in London pre-lockdown. It's amazing having Ruel on the song too!
CDM: Are there any producers that you admire / look up to?
SAM: Yes, heaps haha! I'm a big fan of Jeff Bhasker, Malay, Jack Antonoff, Ian Kirkpatrick, Stint, Ariel Rechtshaid, and of course Timbaland.
CDM: What are three pieces of equipment you would recommend to a producer starting out?
SAM: A good computer is key, some great headphones or monitors, and something that sparks musical ideas - a guitar, midi keyboard, synth. I always love finding weird musical toys on eBay that make interesting, unique sounds.
Load next