Adidas Originals x Pharrell 'Tennis Pack' = latest collab.
Adidas Originals x Pharrell 'Tennis Pack' = latest collab.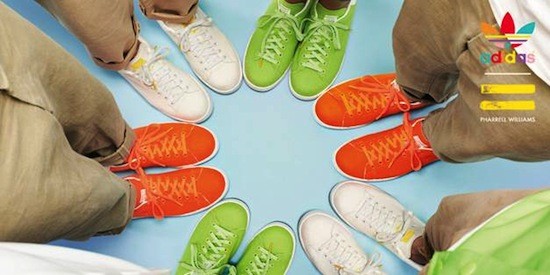 I have a question: Does Pharrell ever sleep? With the second delivery of his 'Tennis Pack' collaboration with Adidas Originals about to hit our shores, I am very much thinking along the lines that Pharrell is in fact an extra-terrestrial creature whose ability to excel in everything is purely due to the fact that he only needs to plug himself into a wall and recharge. He ain't got no time for sleep. 
This drop features three Superstar Track Jackets in bright orange, fluorescent yellow/green and solid white, as well as a playful take on the Stan Smith sport performance sneakers - even made out of the same felt material as tennis balls. 
"The collaboration between adidas and Pharrell Williams is built on a vibrant sense of optimism, highlighting the importance of equality. Featuring a cast of millennials of all races, ethnicities, and genders, the campaign depicts people from all walks of life, coming together in ways that signify unity and acceptance. Aerial views of groups forming shapes and symbols are combined with portraits of pairs of people sharing "real", often-times poignant and personal moments. These colorful, fun, and optimistic scenes epitomize and embody the spirit of Pharrell Williams and his ongoing work with adidas Originals."
Check out more designs below...
Load next