Interview: The xx on returning to New Zealand in 2018.
Interview: The xx on returning to New Zealand in 2018.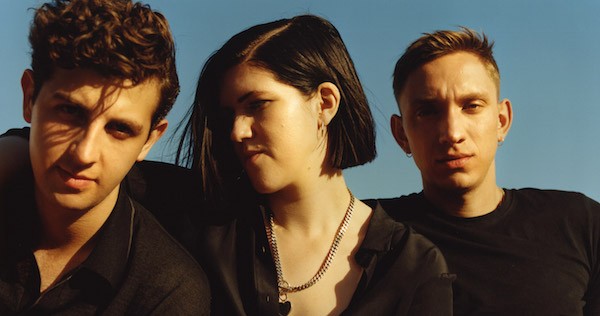 Romy Madley Croft is excitedly telling me that her and the rest of The xx are planning to arrive to New Zealand several days before their show, so that they can properly explore the country - and rightly so, it's the bands first show in eight years in NZ, the last time they were here was a short trip on the Laneway Festival circuit.
It's on their latest album 'I See You' where the band are at their most honest and genuine - with each other, and with their fans. It's made even more real when Croft tells me she saw fans upset at the price of their embroidered denim jackets, and decided to make more cost affordable options instead - "We definitely see them!" Croft enthuses.
We spoke with Romy about their upcoming return, their new Christmas sweaters, and working with Ryan Tedder…
...'I See You', it's basically a message to the fans as well.. Being in the front row when we were younger and thinking people can't see us [fans], and then realising that when we [The xx] went on-stage and were a little bit more confident to look out, we can see so many of them.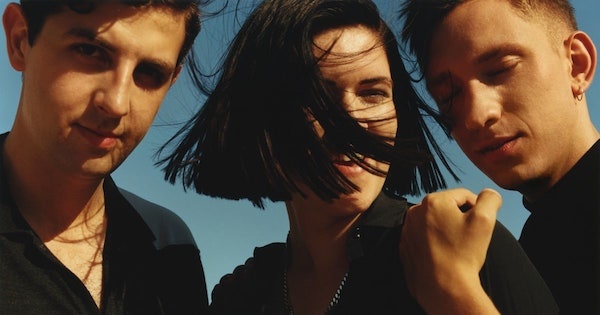 COUP DE MAIN: When I spoke earlier this year to Oliver, he was telling me about how your last visit to New Zealand was very short and he was hoping to return, so we're super excited to see you live in January next year in New Zealand - it's been so long!
ROMY - THE XX: Oh yeah, we're so excited. We've always been so sad that it hasn't worked out for us to come back, not really sure what happened, but we were always saying, 'We've got to go back to New Zealand.' We had such a lovely time when we came - I've got friends in New Zealand, they've told me such wonderful things. We're going to come a few days before the show starts and hang out a little bit.
CDM: And you're playing the same venue that Florence + The Machine played when she was in New Zealand in 2010!
ROMY: Oh, that's cool!
CDM: Last time you were in NZ was to play Laneway Festival, seven years ago, back in 2010. Do you have any favourite anecdotes or memories from Laneway?
ROMY: Gosh. I just remember it being the furthest I'd ever been away from home, we were still pretty young, and just kind of trying to take everything in as much as I could. I found a Facebook album that I made during that time, and I think I called it, 'I went to the other side of the world and I didn't even see a beach,' or something. It was photos from us in Australia and in New Zealand just at an airport. <laughs> Like Oliver said, it was that sort of trip, Laneway moves pretty fast - but it's so good the way you get to meet so many other bands, and hang out with them, I love it for that. And to get the opportunity to come to New Zealand was just very special for us, especially seven years ago, we were still pretty new.
CDM: It's rad you're gonna have time to explore - so many artists come and have no time off, I always feel bad for them!
ROMY: Yeah. Have you got any tips? What would be your top things to do?
CDM: Piha is a beach on the West Coast, it's a black sand beach.
ROMY: That sounds incredible.
CDM: And also Waiheke Island is super nice.
ROMY: That sounds amazing. Thank you!
CDM: A very important question: I love the new Christmas sweater that you guys just brought out, which was designed by your Aunt Cheryl! What made you want to create that special piece of merch?
ROMY: Yeah! <laughs> We love merch, and we love being involved in designing it and coming up with ideas for it, we just find it really fun. My aunty is a knitwear designer, and when I go over at Christmas, she's like, 'Oh, I made this jumper for this band, or this company,' and I was like, 'Wouldn't it be fun for us to have one?' So it was cool. I wanted it to be not too Christmassy, I wanted it to be not too religious, and open to anyone, however they celebrate. We kept it Wintery-themed!
CDM: I also really love the Levi's x The xx denim jackets that the three of you have each been wearing/made as merch - what was the decision process behind which lyrics was on each of your jackets?
ROMY: It's funny actually, I remember I designed one in Mexico just before Coachella, it's funny going back to Mexico now… but we just realised, I think they take a lot of bands around Coachella to customise jackets - I remember they said it to us a few years ago and we never did. I thought, 'Oh, let's do it this year,' and I was fiddling around and thinking about lyrics that would work for us individually - simple, and that would be wearable. For the boys, Jamie doesn't like to wear anything 'too much', so I thought Jamie's could be his sample lyrics, which are in 'Say Something Loving', the "before it slips away." Then what Oliver sings in 'On Hold'. And I just really wanted a jacket that had the word romantic on it, to be honest.
CDM: Yours is my favourite!
ROMY: Oh, thank you. I always remember writing that song ['I Dare You'] - I was wondering whether it was too much to actually sing the word romantic, even though I love what it meant. Now it's one of my favourite parts of the song, and I love that word, so I thought that's what I'd like to have on my jacket. It was just so cool the way that people on social media-- fans were messaging us saying, 'What are these jackets? Please can we get them?' There was so much demand that we decided to make them - and then we made hoodies and T-shirts as well, because we knew that the jackets were quite expensive. They just had to be that much because it was how much they cost, but people were getting a bit upset, so we made more affordable ones too.
CDM: That's really cool that you guys cater to your fans' demand.
ROMY: We definitely see them! It fits in with the title of the album 'I See You', it's basically a message to the fans as well. I think it's a good thing about playing shows is-- Being in the front row when we were younger and thinking people can't see us [fans], and then realising that when we [The xx] went on-stage and were a little bit more confident to look out, we can see so many of them. It's kind of like a little message in that.
CDM: Prior to the 'I See You' writing, you worked with a few different people in LA, including Ryan Tedder - who said that he was on a short-list of people that you wanted to co-write in LA with. Why did you want to write with Ryan Tedder in particular?
ROMY: I'm a big fan of pop music, especially the emotional pop ballads, and I think that he, in terms of 'Halo' and 'Bleeding Love', and these big emotional songs and working with Adele, I felt like he seemed like a guy who could tap into some pretty big emotions and have some amazing melodies. I was really hungry to learn, really, from people like that, who've been doing it a long time. I'm a massive fan of Sia, and I think he was just someone that I was really excited to meet. He's incredibly talented and very fast, the song that we worked on together came together very quickly, it was a big learning experience for me. He was a really nice guy.
CDM: And what was it like to work with Benny Blanco? Was that in the same session?
ROMY: Yeah, Benny's brilliant. He's such a lovely and warm-- Makes you feel really at ease. I think it's a real skill to have especially in a songwriting environment, because to get the most honest things you have to open up and be pretty vulnerable, and he's just so good at reading a situation and encouraging different parts of how to develop a song, and hearing bits that I wouldn't have heard. He's brilliant.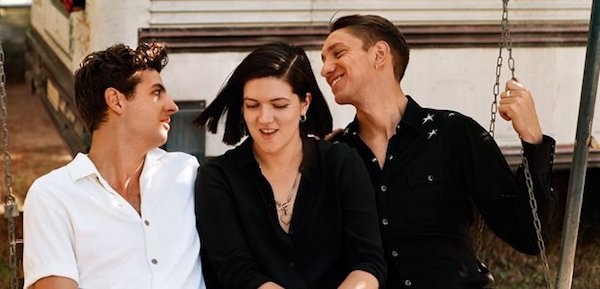 CDM: I heard that you play every single guitar part before you go on stage at a show - is this something you gradually started doing, or have you always done it?
ROMY: No, I didn't used to do it! Oliver and I, the past two tours for the past two albums, we never used to do vocal warm-ups, and we never used to do anything to prepare for the show in a way. It was very quite strange, we just went from sitting down, just hanging out, to just walking on stage and doing it. I don't know if it's age or more nerves, but for this album we're definitely singing out a lot more. We knew that we wanted to make sure we could sing it properly and protect our voices, so we do some vocal warm-ups now, and I just got into this nervous habit of playing all those little bits of the guitar riffs. Now it's become a thing that I do - sometimes if I don't do it, if time disappears, I overthink it in the show, and I think I'm going to play it wrong. It's silly because I've played them millions of times. Tomorrow we play, and we haven't played for three weeks, and that'll be the longest that we haven't played the whole year, so I'm definitely going to have to go through all the parts tomorrow. <laughs>
CDM: Do Oliver and Jamie each have things that they do before a show?
ROMY: Oliver really spearheads the vocal warm-ups which is nice, he makes sure we do them. He plays the things we sing to off his iPad, he's great at doing that. Jamie, he started sometimes to get a keyboard backstage and warm up a little bit. We always joke and say to him that he just needs to do finger stretches! Honestly, I think he just needs to grow more arms for all the things he does. I guess it's difficult for him because he doesn't do the vocal warm-ups, so he's just sitting in the other room when we're doing them. I think he's bored of it now. It's the same thing everyday, I think he's kind of sick of hearing them. <laughs>
The xx play Auckland's Trust Arena on January 11th - click here to purchase tickets.
Watch The xx's new short film 'We See You Berlin' below…
Load next